Update: Elle has lost 100+ pounds.
View this post on Instagram
---
Transformation of the Day: Elle lost 60 pounds, going from a size 20 to a size 12. She's a 32 year old mom from Toronto who began paying close attention to what she ate and the lifestyle choices she made after giving birth to her daughter. Working out at home and using MyFitnessPal to really understand what she was eating made a big difference. Check out her journey.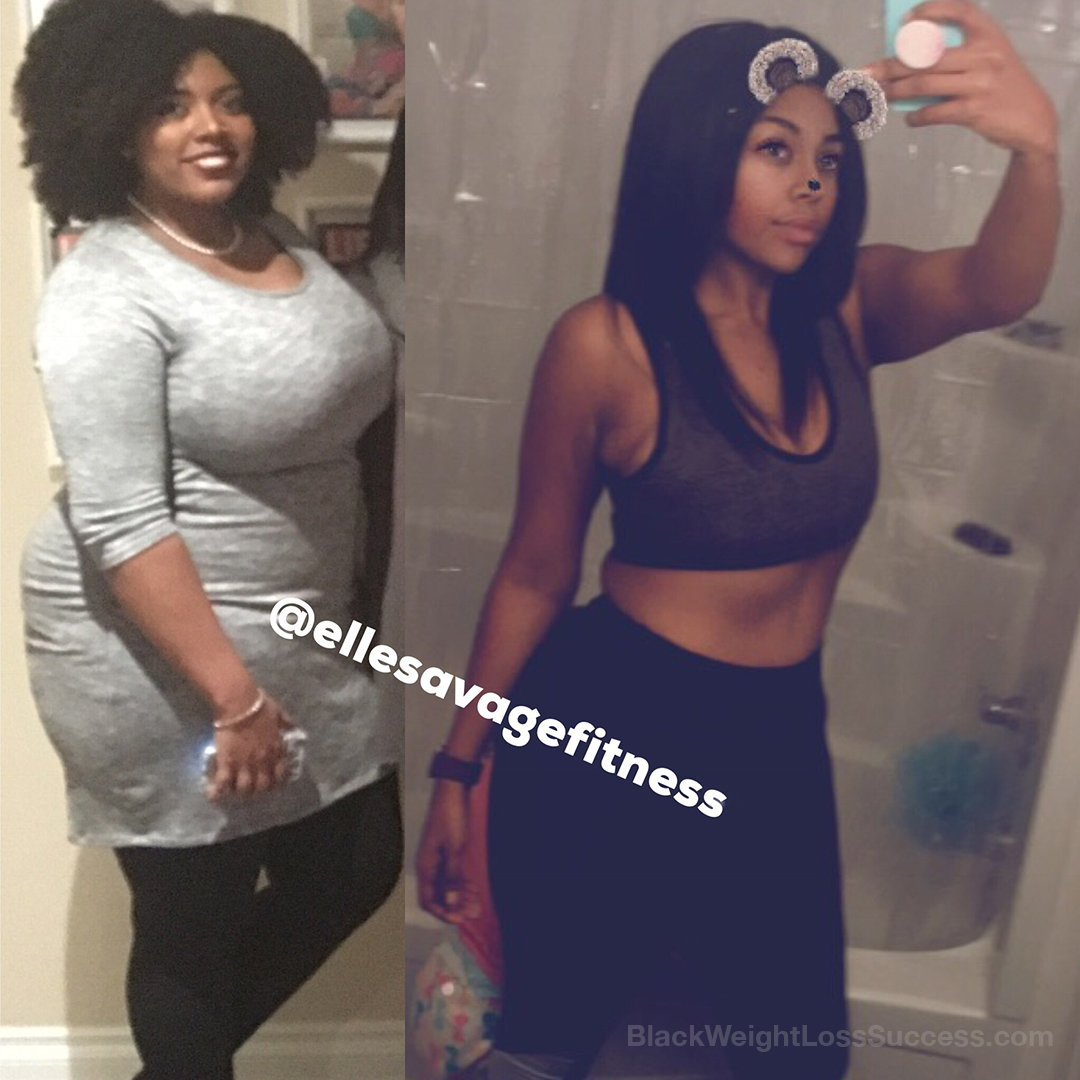 What was your motivation?
There are two answers to this question for me. My main motivation to get in shape was my daughter. After she was born (in 2015), I began to pay closer attention to what I was consuming. I wanted to make smart, healthy choices and model that behaviour for her. Now, I want her to see her mom living an active lifestyle and eating healthy and follow in my footsteps.
The second part of my motivation came in March 2017. After weeks of procrastinating, I joined a Biggest Loser fitness group with strangers. My pride and money was on the line! I was determined to place in the top 3 so I could take home some cash and bragging rights! (At the end of the first 8 week round, I ended up losing 12% of my body weight and came in 3rd place.)
What inspired you when you wanted to give up?
There were days when I didn't want to work out or wanted to go back to old eating habits, there still are those days! But when I think about how HARD it was to just take that first step and START… I know I can't stop.  I've come too far and put in so much work that going back is not an option. Now I have other people saying that I've inspired them and that is the most rewarding thing I could ask for. I didn't expect to be an example for others, but I'm happy to share my story and hope to inspire the way others have inspired me.
How did you change your eating habits?
The single most beneficial thing I did in regards to my eating habits was keeping a food journal! I used MyFitnessPal app. For me, it wasn't about what I was eating but how much I was eating. I was CLUELESS about calories… How many were in what foods and how many I should be taking in each day. I used to just eat what I wanted without a second thought. The moment you have to record every single thing you put in your mouth you begin to realize how out of control you are. At least that's what happened to me. When I started out, I believe my daily calories were 2100, this was based off my height/weight at the time and activity level.
My Achilles heel has always been/will forever be carbs. I love, love, love carbs! Who doesn't? The first thing I had to do was end my love affair with bread. I stopped buying it because when a loaf came into the house it was gone within days. As far as adding foods to my routine, I just tried to increase my protein. I stuck mainly to lean meats: chicken breast, turkey, seafood. I also increased my veggies and tried to swap out junk (sweets) for fruit. And I tried to ONLY drink water. Limited pop, juice, milk, etc. I gave myself one cheat day a week!
What did your workout routine look like?
When I first started out, I was committed to working out 5 days a week. I refused to get a gym membership because I was too cheap! If I could do it at home for free, why pay? I went to YouTube! Someone suggested Jillian Michael's 30 Day Shred so that's what I did. And on days when I wanted to switch things up, I would again turn to YouTube and find a PopSugar fitness workout to do. Sometimes, I was in the mood for kickboxing. On days I didn't really feel like working out, I would do a dance routine workout. Eventually I went back to an old favorite, Insanity by BeachBody, but that was after getting my body used to working out regularly. I still workout 5 days a week.
What was your starting weight? What is your current weight?
My heaviest weight was north of 320 pounds and that was a month before giving birth in 2015. I stopped looking at the scale during my checkups after that point so I am not sure what my absolute highest was. After my daughter was born, I dropped a significant amount of weight from breastfeeding and when I began my journey in March 2017 I weighed 260 pounds. My current weight is 200 pounds and I'm 5'11 1/2" I've weighed 200 lbs since October 2017, so it's been 8 months. My transformation is still ongoing. I've lost the bulk of the weight I want to lose and am now switching gears to weight training in order to gain muscle mass. Strong is the ultimate goal!
What is the biggest lesson you've learned?
Number one is that anything is attainable if you do the work. Hard work pays off. I've been either overweight or obese my entire life and never expected to be able to go from a size 18/20 (XL-XXL) to a 12/14 (M-L). Accountability is key. In the past, I've dieted and exercised but never was able to sustain a routine that worked for me. The difference this time around is I am part a Facebook group of likeminded women. We keep each other motivated and hold ourselves accountable. Without the group I'm not sure I would have continued to be successful.
What advice do you have for others who want to lose weight?
Start where you are. Take the first step. It's the scariest and most difficult but will end up being the most rewarding. Don't compare your journey to others. Surround yourself with things and people that motivate you. Follow health and fitness accounts on social media and unfollow the food accounts.
Instagram: @ellesavagefitness