Transformation of the Day: Gigi lost 119 pounds. When she wanted to give up, she thought about all the simple things she was unable to do because of her weight. She exercised daily, meal prepped, used portion control, and found ways to make healthy food more fun. Check out her story.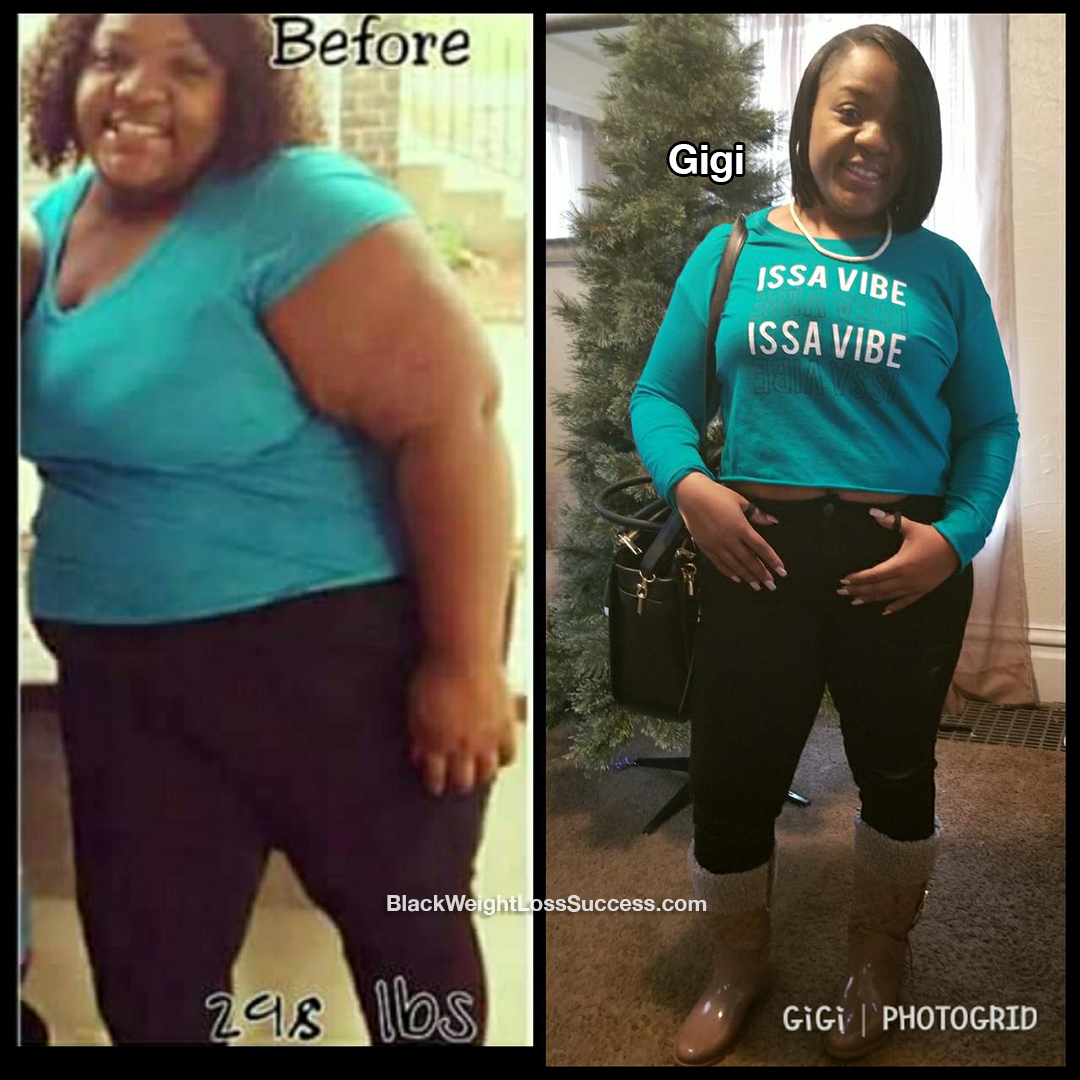 What was your motivation?
I was motivated by wanting to do simple things, like…
Being able to bend over and tie my shoe
Being able to cross my legs.
Running or walking at a fast pace without feeling like I was going to pass out
Shopping without stepping into the plus-size department.
Wearing a bathing suit and actually feeling good in it.
What inspired you to keep going when you wanted to give up?
I thought about everything that I knew my weight was preventing me from doing or having.
How did you change your eating habits?
Portion control was a critical factor in my weight loss. I meal prepped each week, and I never eat after 8pm. I gave up fast food and fatty fried foods. I eat my food baked or grilled skinless, instead of fried. I try hard to be very creative, which prevents me from getting sick of eating the same foods. I also did tons of research on foods that are fun yet healthy. I realize that salads do not have to be bland or boring. I learned how to put my own touch on things.
What did your workout routine look like?
In the beginning of my journey, I did nothing more than walking my backyard. My backyard is equivalent to about one and a half miles. I could only do half of that at that time. After outgrowing my backyard, I decided that I was comfortable enough to join a gym. I embraced cardio and eventually fell in love with it. I was completely dedicated to working out in the morning and the evenings every day.
What was your starting weight? What is your current weight?
My starting weight was 298 pounds and my current weight is 179 pounds. My height is 5'1″. I didn't have weight loss surgery. However, I am not opposed to surgery if that is what someone is considering. I highly recommend that people do whatever works for them.
When did you start your journey?
I started 2.5 years ago. I am still transforming, and I'm not done with this journey yet. I am fighting for my life every day.
What is the biggest lesson you've learned?
The biggest lesson I have learned is that consistency is key. Devotion is everything in this lifestyle. I also realized that stumbling is not falling.
What advice do you have for other people who want to lose weight?
I would advise anyone who desires to lose weight, for whatever reason, to remember that it doesn't happen overnight. Be mindful that this is a lifestyle change. That means it has to start in your mind. Once you change your mindset, the body will be forced to follow. Know that no one else can do this for you. You have to want this for yourself, and I do mean truly want this more than anything else in the world. Remember that you did not gain the weight overnight so you're going to have to be patient. Surround yourself with positive people who have your best interest at heart. Remember: When you start to lose weight, and you are reaching your goals, you may lose people in your life. Your circle may start to become smaller, and that is okay. Your real friends will stick around.