Transformation of the Day: Johnnette lost 37 pounds. This proud mom and Alpha Kappa Alpha soror is an overcomer. She experienced depression due to an ongoing medical issue and the loss of both her uncle and her fiancé. These challenges led to weight gain. By doing her research, seeking out help and leaning on her faith, she is releasing the pounds. Check out her story.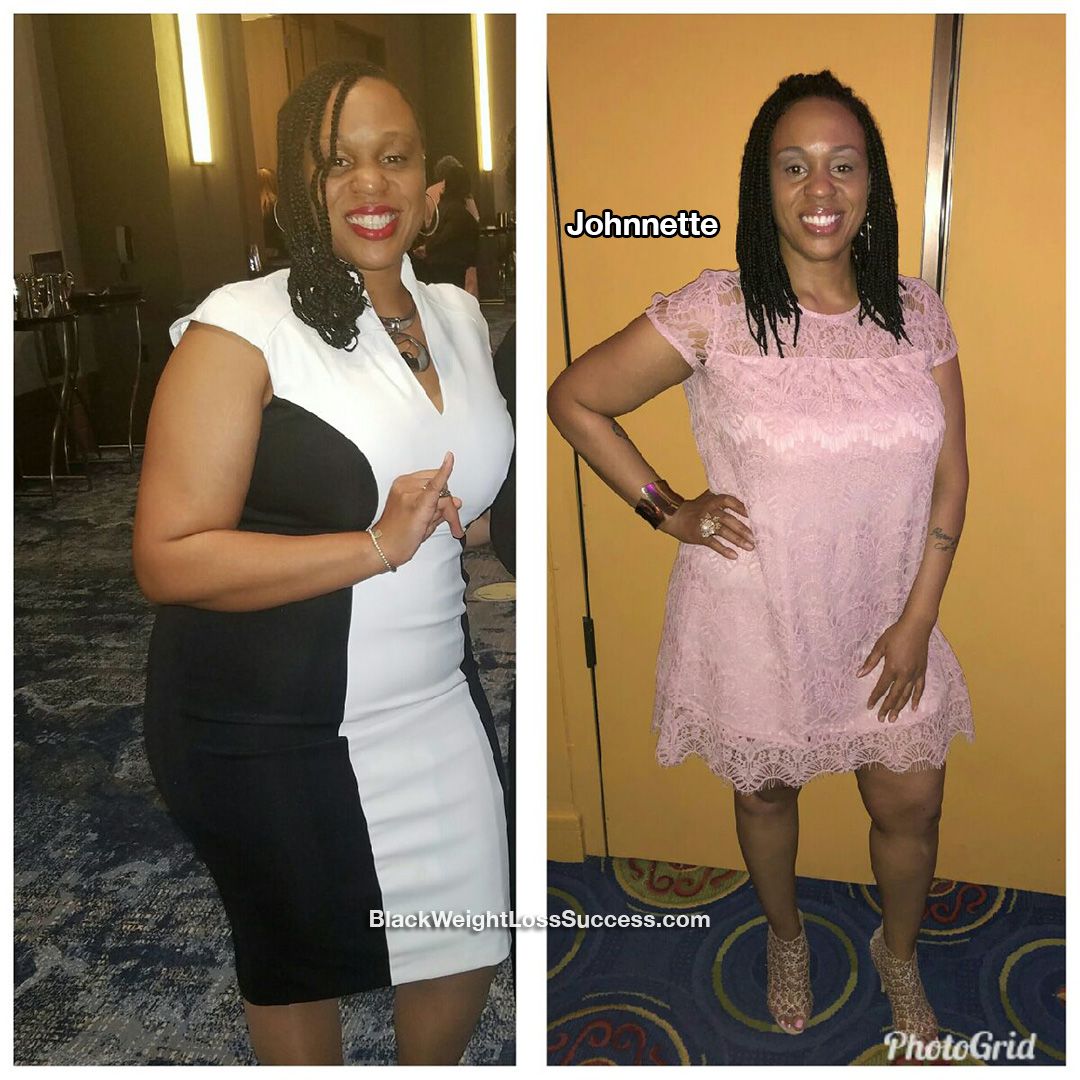 I am the mother of an amazing 23 year old. I'm also a member of Alpha Kappa Alpha Sorority, Inc. Over the past 8 years, I have experienced two sudden deaths that changed my outlook on life and on my health.
My weight has fluctuated most of my adult life. I was diagnosed with allergy induced asthma after a year of being exposed to mold at work. After two nasal surgeries, countless doctors' visits and several hospital admissions, I was finally diagnosed. During that year, I reached my heaviest weight ever: 220 pounds.
My weight began to creep up because I was severely depressed because my quality of life had changed. They were unable to find out what was causing my breathing issues, and that caused me to have to sleep in a recliner for an entire year. In addition to this, I was unable to work out. Once diagnosed, the medications they gave me worked minimally. I went from being extremely active to only being able to work out for short periods that would result in episodes of wheezing. This led to me having to use my inhaler as well as taking nebulizer treatments. I went to an allergist who recommended a weekly allergy shot. I am very leery about medications, so I started researching other holistic options. I read the book 'Eat to Live' and adopted the eating plan in hopes that I could possibly control my allergies with diet and lose the weight which has compounded my depression.
What inspired you to keep going when you wanted to give up?
I was blessed to have an uncle who allowed me and my then 10 year old son to live with him so that I could concentrate on school and not have to struggle for the rest of my life. He allowed us to relocate from Chicago to West Virginia to give us an opportunity at a better life. In 2010, my uncle by title, but father by role passed away in his sleep due to cardiac arrest at the age of 52. Heart disease runs in my family and after he was diagnosed with pre-hypertension, he read 'Eat to Live' and added the eating regimen to his already very active life. Although heart disease ultimately ended his life, he did everything in his power to combat it.
In 2016, I was engaged to the most amazing man ever. He went into cardiac arrest right after we went to bed and ultimately passed away the next day in the hospital at the age of 44. Whenever I want to give up I think about these two men who were full of life, but whose lives were cut short at relatively young ages.
My son motivates me and the thought of all the memories we will make motivates me. I also motivate myself, because I have so much to experience and accomplish in the future. I want to enjoy everything God has for me, and be healthy and confident while doing it!
How did you change your eating habits?
I initially cut out all meat and only ate tons of veggies, beans, brown pasta and brown rice, but in a year I only loss 13 lbs. In January 2018, I read one of your stories and the woman featured talked about Terry Starks. I went to his page on Facebook and contacted him. Then, I started his program in January 8th. During the first month, I lost 10 pounds by eating 5 times a day.
I continue to be meat free. I cut out beans and I eat very little dairy or pasta. I eat complex carbs such as brown rice and sweet potatoes. He introduced me to plant based proteins that don't have as many carbs so I no longer eat beans. After the first month, I fell off the plan because I was stressed at work and having some other emotional issues. I started praying more often and began my day with prayer, because this journey is mental and spiritual as well as physical. I needed to have strength over my emotions and actions. Now, I pray and follow Terry Starks' Program.
What did your workout routine look like?
I do cardio twice a day, 7 days a week.
What was your starting weight? What is your current weight?
My starting weight was 220 pounds. My current weight is 183 pounds. I am 5'4″.
When did you start your journey?
I initially started on January 1, 2017. It took me a year to lose 13 pounds and 4 months to lose 24 pounds.
What is the biggest lesson you've learned?
I've learned that this is a journey and that you have to be patient with the process. Also, God has to be a part of everything. Without Him, I will not be able to reach my goal.
What advice do you have for others who want to lose weight?
Be patient with yourself, pray fervently, and when you fall off…get back on. Also, don't compare your journey with anyone else's!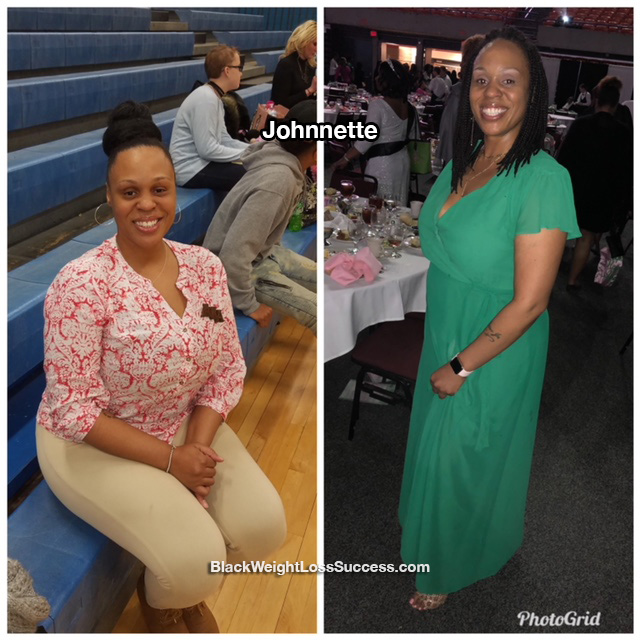 Disclaimer: Reference or link to any specific product, diet plan, exercise plan or service mentioned in the weight loss stories we share is for the information of our readers, and does not constitute an endorsement or recommendation by Black Women Losing Weight.