Transformation of the Day: Lessie lost 70 pounds. During a visit, her doctor explained that she was at high risk for diabetes. She thought about how that would affect her husband and four children, and something finally clicked. With faith, determination, portion control, and consistent workouts, she has transformed and kept the weight off for a year.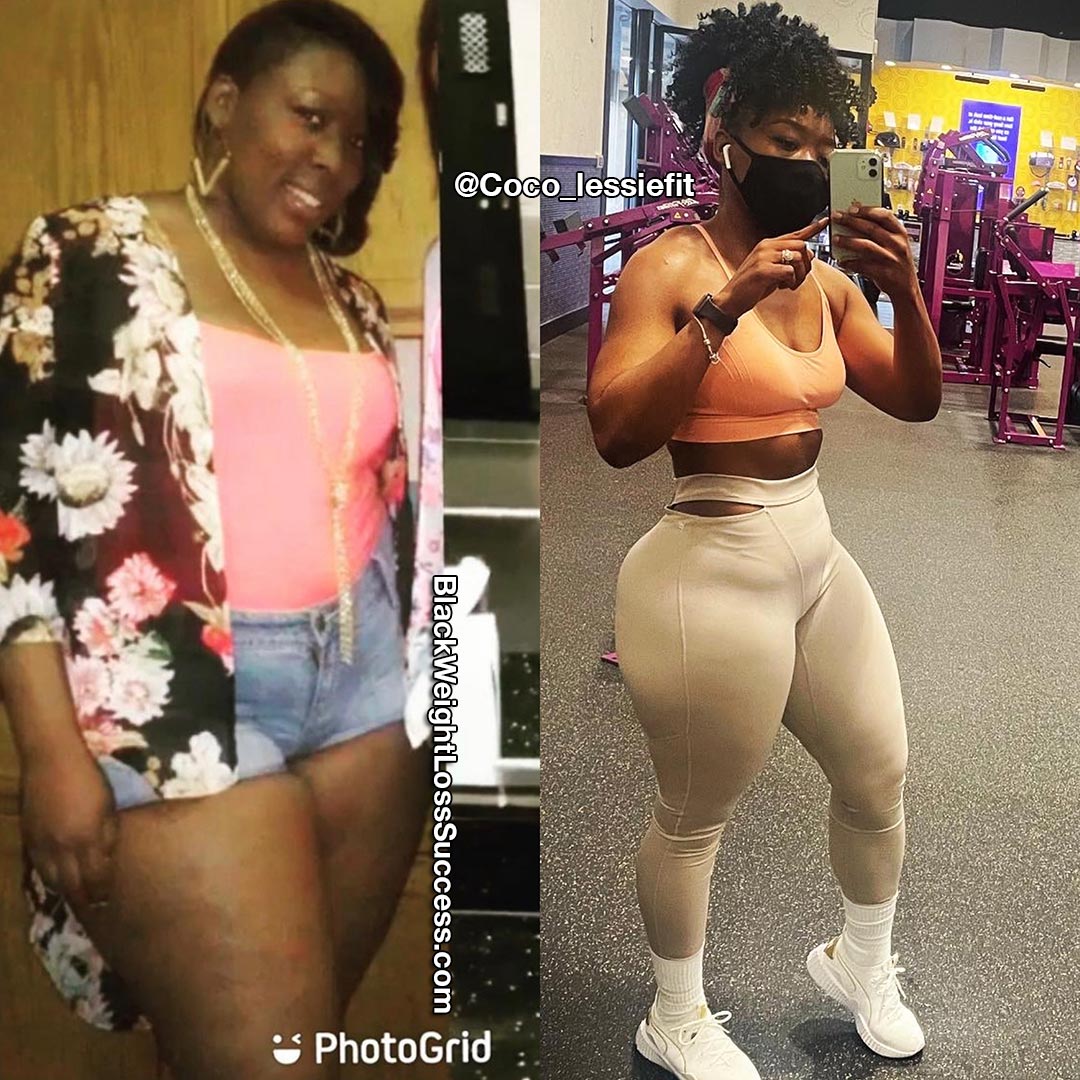 My journey started in 2018 and is very similar to most: visits to the doctor and warnings of diabetes and its repercussions. I understood the importance, but I lacked the motivation to change. I was depressed and unhappy with all the weight I gained. 
During one specific visit, my doctor told me how severe my situation was. They said I had a high level of risk due to my weight and age. I thought about how that would affect my husband and my four children, and something clicked.
By the end of 2018, I had lost 34 pounds with minimal dietary changes (I used portion control) and minimal exercise. This would be a huge accomplishment for anyone. However, I started noticing a lot of loose skin and worry and discomfort set in. Due to my hectic work schedule and raising a family, I didn't really have time to work out effectively. 
Things changed in 2019. After losing my job for speaking up, I decided to shift my focus and find my purpose. I turned to my faith, followed God's lead, and headed to the gym. I focused on my goals, let God lead me, found my purpose, and felt good about it all. Overcoming something that had been hindering my personal life for years gave me newfound confidence and peace.
This life reset gave me a feeling I knew I needed to share with women who struggled the way I did. More importantly, I wanted to reach black women who are struggling the way I did… black women who struggle with the fears of generational health complications. I wanted to encourage them, push them to do better, and help them go through the process without giving up. Thus Melan~aide was born. It's a movement meant to inspire and uplift women (but now my mission expands to men and children too).
How did you change your eating habits?
I tried extreme diets in the past and was always unsuccessful. This time, I leaned towards eating more protein and using portion control. I ate more veggies, and I drank smoothies and herbal tea! 
 

 

View this post on Instagram

 
What does your workout routine consist of?
I worked out 5 to 6 days a week at the beginning of my journey. I based all my workouts around repetition! No matter what the routine was, I would do full-body workouts. I would target a specific part of my body to focus on each week.
What was your starting weight? What is your current weight?
I started at 250 pounds. Now, I weigh 180 pounds, and I've been maintaining that weight for a year by building lean muscle! That's the primary tool that's helped me maintain a healthy weight and keep the weight off! 
What is your height?
I'm 5'5″.
What is the biggest lesson you've learned so far?
The biggest lesson I learned so far is I have to believe in myself no matter how hard it gets. Relying on others to validate what you consider an achievement will only set you back. Self-love is the top priority, and tapping into it will only set you up for success.
Is weight loss surgery part of your journey?
No surgeries and no extreme diets! Coming into this journey with nothing but God and determination have gotten me further than I've ever been on my journey with weight loss. 
Instagram: @Coco_lessiefit