Transformation of the Day: Joy lost 55 pounds. She was tired of feeling bad about herself and wanted to get back to her happy, joyful self. Instead of trying to make extreme changes all at once, she took it one step at a time and gradually changed her eating and exercise habits. Check out her story.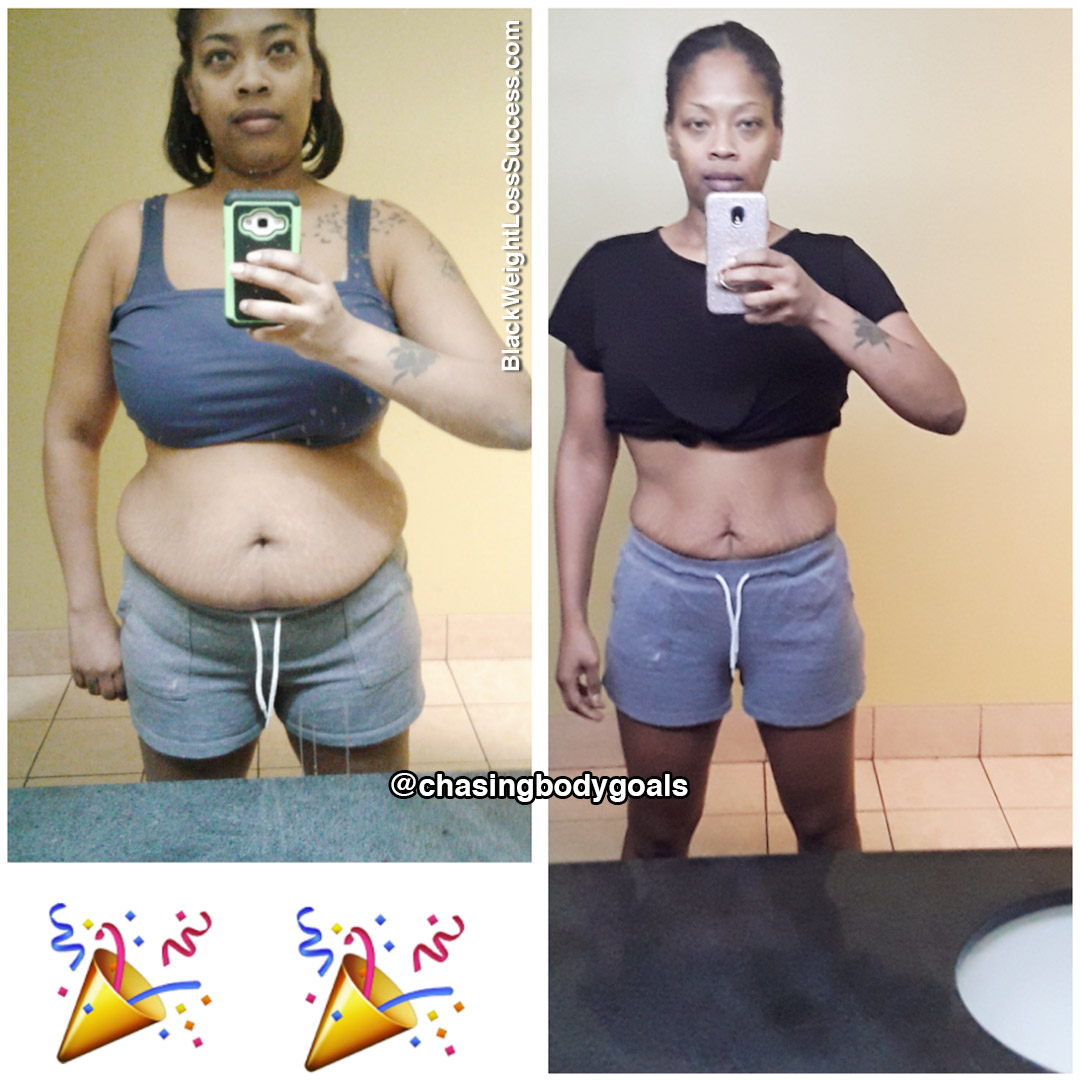 Starting weight: 222 pounds
Current weight: 167 pounds
Height: 5'11"
What was your motivation?
My motivation to get started on this journey was how bad I felt about myself. I had been feeling this way for years. It was time to at least give change a real try.
How did you change your eating habits? What did your workout routine look like?
I knew all that I was eating was wrong. I loved junk food, so I had to cut it. I started eating real food. That was my only focus at the time.
Instead of grabbing a snack cake and a soda, I would fix a real meal with meat and vegetables. I only drank water, or I added flavored sugar-free drink mix in my water. After I got my eating plan together (which took nearly a month), I joined the gym.
I would only walk for 20 minutes on the treadmill. I wanted to build some consistency in terms of going 4/5 days a week before doing longer, or more intense workout sessions. Weeks later, I added more time to my cardio and added a little weight training. I eventually switched to more weight training and less cardio.
Nearly 8 months later, I'm down 55 pounds. I've maintained my success for a couple of months. I enjoyed plenty of fruit and potatoes all summer. I continued to workout 4/5 days a week and was able to keep it steady.
My new goal is to lose another 10-15 pounds or so. I'm 5'11", and I like the way the 150's look on me, so that's where I am headed. My inspiration is my old self. Now, every time I start to get lazy or mess up badly, I feel so guilty. I never want to feel like my old self again. I gave everyone hell because of my own unhappiness with myself. Now, I'm back to my joyful self.
When did you start your journey?
I started on this journey at the end of January 2018, so I'm approx. 8 months in now. Weight loss surgery is NOT part of my journey. I would love a breast reduction and lift, but I hate the way the surgery scars look more than this little sagging skin that I have does.
What is the biggest lesson you've learned so far?
The biggest lesson that I've learned is that it takes time. You really do have to trust the process. I know it sounds cliche, but it's true. You can't expect to be overweight or out of shape for years, start a weight loss journey and correct everything in a couple of months.
What advice would you give to people who want to release the weight?
The best advice that I could give to anyone who wants to lose weight is to start already! Correct one thing at a time. Don't overwhelm yourself. For example… Cut bread and sodas. When you get control of that, change something else. Do the same with fitness. Start with a 20-minute walk, gain some consistency, then add 10 more minutes of another form of exercise. Before you know it, your diet is better, and you're working out for 50 minutes 4/5 days a week. Small steps.
You can follow me as I continue my journey @chasingbodygoals
Look at how I got rid of that belly naturally. If you're doubting yourself, I'm telling you that YOU CAN DO THIS!