Update March 2018: Almetria lost 175 pounds. She's kept the weight off and run a number of marathons and half marathons. Check out her update.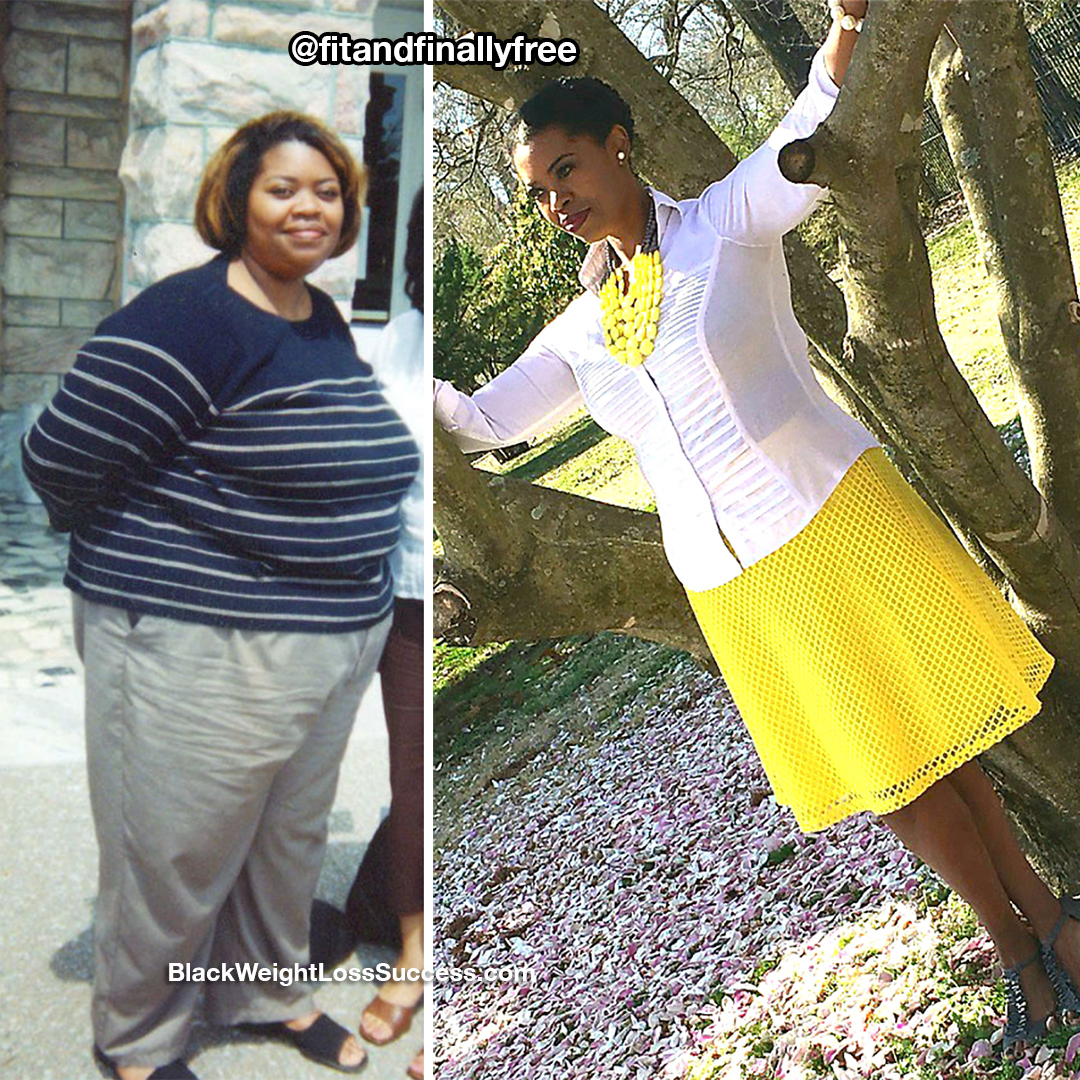 I'm still maintaining my weight loss and still running. I've completed runs over many smaller distances, over 14 half marathons and 2 marathons. I was also on two Ragnar 200 mile Relay teams. My running journey has officially come full circle because I'm now a RRCA certified running coach. Now, I can coach and help others achieve their dreams of running a 5k or taking their current goals to a higher level in terms of distance and ability. I'm also doing public speaking, teaching people how to prepare healthier meals and how to live their best life. @fitandfinallyfree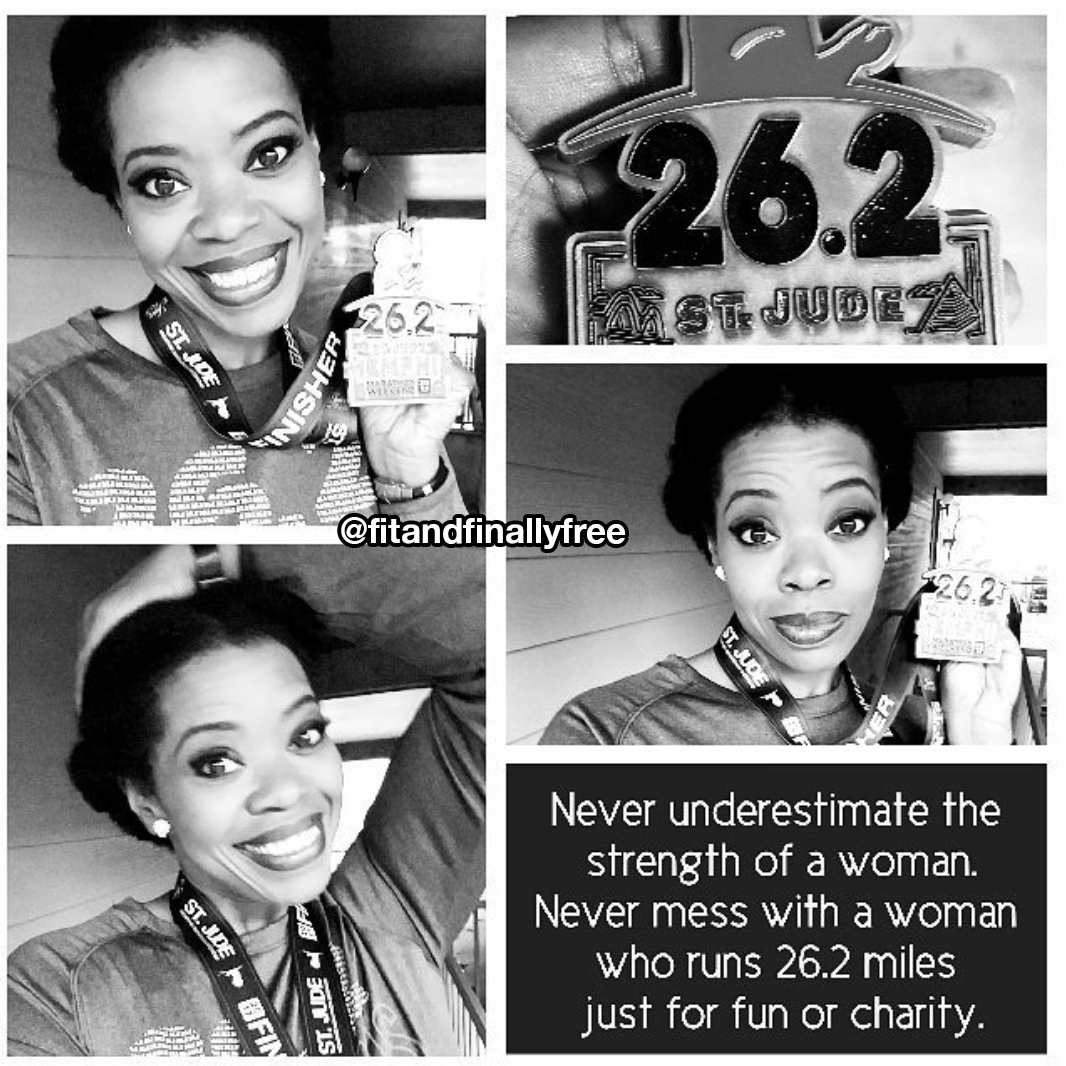 ---
Weight Loss Transformation of the Day: Almetria lost 175 pounds, going from a size 32 to a size 8.  While dealing with diabetes, depression and hypertension and having struggled with her weight for years, she took on the goal of being "Fit by Forty" and succeeded at changing her life.  She took action by exercising and educating herself on nutrition. Now, she is coaching and helping others.  She wrote in to share her story with us…
Hi, I'm Almetria – an entrepreneur, lifestyle and wellness coach, healthy recipe author, and avid runner. I am on a mission to live a fit and free life while helping others achieve their lifestyle and wellness goals. I struggled with weight my entire life and tried every diet known to man. The scales would go up and down, up and down until they finally kept going up with what seemed like no end in sight. In 2009, I got devastating news. News which I hoped never to hear. The D word… Diabetes. My grandmother, her sister as well as her mother had gotten it too. I knew it was hereditary within my family, but I thought I was invincible, like Superman. I thought that I could dodge the bullet in getting it, but I didn't. How could I not get it when I ate whatever I wanted, as much as I wanted, and I lived a sedentary lifestyle? Years before, I was diagnosed with hypertension. Here I was at 36 years old, in what some would call the prime of my life, suffering from two chronic illnesses. Self-hatred and depression constantly plagued me because I often wondered how I could do this to myself. I was my worse critic and enemy. It was at that moment in my life that I realized I was an emotional eater. Happy, sad, angry or indifferent– no matter how I felt, I turned to food as my comfort.
In the summer of 2009, I had to see 3 different specialists- an endocrinologist, cardiologist, and a pulmonary specialist, along with my primary care physician. I was 36 years old and felt as if I was 80 years old having gone to so many doctors. Yet, according to my age I was still young. I was in denial for the longest time about my chronic illnesses. Being overweight, diabetic, hypertensive and depressed was a dangerous game to play and I felt as if I was losing out on life. I was not honoring the body that God had given me. I was abusing it by not taking care of it mentally, emotionally, spiritually, or physically.
I knew I wanted to make a change. I started my weight loss and fitness journey in 2010 after being sick and tired of being sick and tired. I weighed 342 pounds and wore a size 32. That was the heaviest I had ever been. I wanted that to be the last time I ever had to see that number on the scale or tag again. It was my goal to become healthy, fit, and medication-free by the time I turned forty in December 2013. "Fit by Forty!" became my new mantra.
I didn't know how I was going to achieve my goal of losing weight, but I knew I had to start somewhere. At the time, I couldn't afford a gym membership, nutritionist, weight-loss pills, supplements or a personal trainer. Gastric bypass and Lap Band surgery weren't options for me (even if I could afford them), because I knew with sheer will and determination I could do this on my own without any extra means. I didn't have any help gaining the weight, so I felt like I didn't need surgery or other supplements to help me lose it either. I don't criticize others for having surgery, I just knew that it wasn't for me. This had to be a lifestyle change because temporary diets had failed me one too many times. So, I decided to do research on my own on how to eat and live a healthier life. I also used free outdoor resources such as walking through my neighborhood and the park.
I looked up exercise videos on Youtube and used my body as resistance for strength training. I had no more excuses. I couldn't let work, life, lack of time, money, willingness, or emotional roller coasters deter me from reaching my goal in achieving good health. Often times, health is the first thing to fall on the back burner and I was tired of putting me further and further down my list of things to do.
This weight loss journey was one of the loneliest periods in my life. I cried often and couldn't find any accountability partners to take this walk with me. I was in it to win it alone with the grace of God. I remembered listening to Bishop Walker of Mt. Zion out of Nashville on many of my daily walks. His sermons really helped get me through most days when I felt like giving up. It wasn't until later in my journey that I realized this was how it was meant to be; for it was unto Him that I would give honor and glory for my health, wellness and healing…not man. I did a 360 turnaround in how I ate and exercised. I would eat 3 meals and 2 snacks a day. I read every label and went by serving sizes. I learned how to balance my meals and used portion control. I meal prepped and planned what I ate. My palate had changed where I was eating things I never said I would. Now, I enjoy preparing new dishes and creating my own recipes. I switched out all of my white foods such as sugar, flour, pasta, rice and bread for whole wheat options. I learned about high and low glycemic foods, starchy vs. non starchy veggies, good and bad fats and about limiting processed foods. I learned how to grocery shop and other things about eating healthy to the point where I wanted to even learn more.  I decided to take online continuing education courses in nutrition from the University of Pittsburgh and Vanderbilt University.
Walking 2 to 3 miles daily turned into going to Zumba, ab labs, boot camps and eventually running. I figured out what my trigger points were when I wanted to emotionally eat and used exercise and other positive activities instead to fill the void or combat the emotion. I stepped up my prayer life and pulled away from people who were negative and emotionally draining me. I surrounded myself with positive affirmations because everyday wasn't going to be a good day but each day was another opportunity to get it right. Life has its derailments, but it is up to us to get back on track and trust the engineer. I began to become more sociable, and learned how to handle stress better. I finally was getting my life back and I was going full force with it. It was no turning back.
As of today, I accomplished my goal of being healthy and free by my 40th birthday! I have lost 175lbs, have been medication-free for 2 years, and I went from a size 32 to a size 8, but best of all, I am mentally, spiritually, emotionally and physically free. Last year, I decided to become an avid runner and joined a local group of Black Girls Run, which is a national organization that encourages African-American women to make fitness and healthy living a priority. I ran a few 5ks just to get my feet wet. In December 2014, I entered the St Jude Marathon in Memphis, TN and completed my first half marathon in 2 hours and 44 minutes. Here I am, weighing 342 lbs only 3 years before all out of breath to competing in half marathons. My current goal is to complete 50 half marathons in 50 states by the time I turn 50 which is my 50 by 50 campaign. By the end of April 2015, I will have completed six 5ks, one 15k, five half marathons and ran in four out of 50 states.
Many people had asked me how I lost the weight and what could I do to help them. I started a blog out of my need for personal accountability to myself to remain fit, maintain my weight loss, and to help others who are still in the fight. Fit and Finally Free is a lifestyle and wellness management company, blog and services dedicated to help, inspire, and encourage people the freedom to work, play and live well through a balanced life. I can be found at Fit and Finally Free on Facebook, fitandfinallyfree.com on the web and on instagram @fitandfinallyfree. You too can live a life that is fit and finally free.