Update: Shout out to Joy! She's lost 80 pounds.
---
Transformation of the Day: Joy lost 70 pounds. After high school, she experienced significant weight gain, but couldn't find the motivation to do something about the pounds. Two separate incidents where she was excluded due to weight limits served as her wakeup call. By working on the inside, she was able to transform on the outside.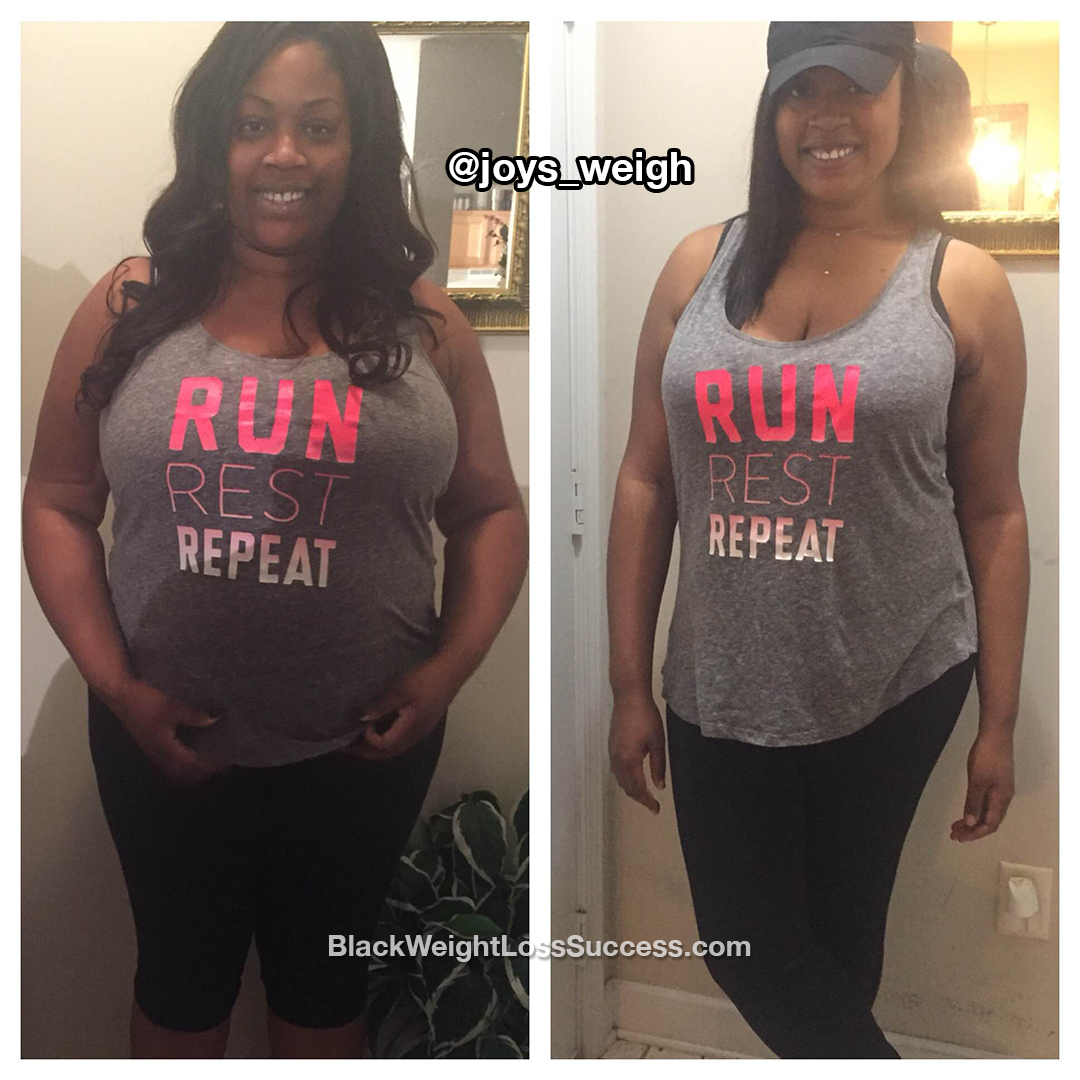 My name is Joy and I am 25 years old. My after photo shows me very much in the "during" stage as opposed to the "after" stage. I have lost 70 pounds so far and I have a lot more to go! I am 5'11″ and my starting weight was 303.4 pounds. Today, I weigh 233 pounds.
I have a more defined sense of resilience and strength. I was teased growing up for being different (my parents were born in Nigeria). Now, I embrace and promote my differences. My outer appearance now shows the love of self that I first had to develop on the inside.
What was your motivation?
I always wanted to lose the over 100 pounds that I gained so rapidly since graduating high school, but I could never stay motivated. At heart, I am very outdoorsy, but I felt self-conscious when doing outdoor activities, or I was too overweight to participate.
The last two incidents that pushed me to pursue weight loss were;
When I had to send my then 6 year old nephew on a roller coaster by himself because I could not fit on the ride AND…
When I tried to sign up for skydiving, but was turned down because I far exceeded the weight limit.
I am so grateful to God, because my spirituality keeps me going. God has revealed cognitive-behavioral practices to me that have changed my life. When I am discouraged, I take a look at my "Whys" that I keep in a journal. I would advise other people to do the same!
When did you start your weight loss jounrey?
I started seriously in Dec 2016, so it has been one year. I did not have weight loss surgery.
How did you change your eating habits?
I changed my eating habits by going low carb (I cut out a lot of carbs!), taking dietary supplements (ItWorks) and doing green smoothie cleanses. I used to eat out daily, and now I eat out approximately once per week.
What did you do in terms of exercise?
My exercise routine includes HIIT workouts and cardio on the treadmill. I work out 6-7 times a week.
What is the biggest lesson you've learned?
I've learned that if I did not change my relationship with food and stop using food to cope with stress, I would not have been able to commit to a healthy lifestyle. I also learned that I had to look at and change myself on the inside before I could commit to changing my outer appearance.
What advice would you share with someone who is just starting their weight loss journey?
I would advise them to use a journal or planner to organize their thoughts and goals. I would tell them to plan their workouts and meals, and stick to their plan. Don't be afraid to decline invites to restaurants. I would also recommend identifying people in their lives who are supportive and developing a healthy social support system.
Instagram: @joys_weigh