Update Oct 2019: Karen has released 89 pounds!
---
Transformation of the Day: Karen lost 81 pounds. After turning 50 last year, she decided that the latter part of her life will be better than the first 50 years. She embraced a plant-based diet, made fitness a priority, and transformed her mindset. Check out her story.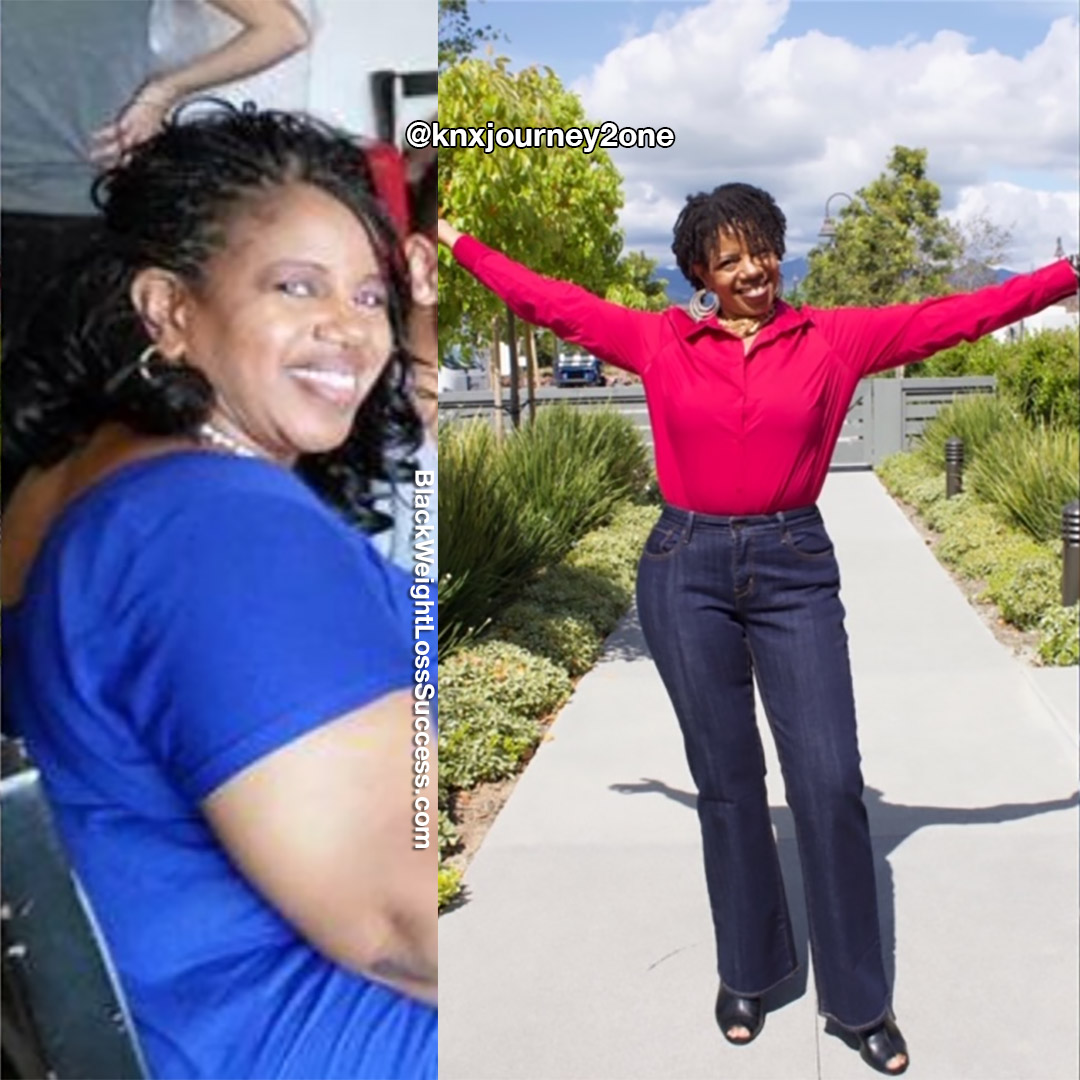 What was your motivation?
In 2018, I turned 50 years old after battling depression, emotional eating and feeling like I failed my son as a single mother,
I had an epiphany. I realized that I was NOT living life like a child of God who was made in His image and who is promised everything…especially Freedom. So, I held fast to the thought that the latter part of my life, the next 50 years, was going to be greater than the last 50. I had a mid-life crisis, I guess.
What inspired you to keep going, even when you wanted to give up?
I changed my mindset with the Word of God. The word helped to eradicate the lies I was believing, such as…
"You will never break free."
"You will always have to deal with this battle?"
I learned to forgive myself and committed to loving myself like God loves me. There was no way that I could go back to life as usual. I invested in a Lifestyle Coach and began putting into practice what I have learned over the years.
When I wanted to give up, I would pray and tell myself that I was worth it. I would say to myself that it is a journey, and it was going to be different this time. This time will be the last time. I was gentle and kind to myself. I kept starting over, no matter how bad I messed up the day before.
How did you change your eating habits?
I began a plant-based diet back in 2012I was still bound in my mind, so I continued to yo-yo diet from 2014 to early 2018. In April 2018, things began to shift. I cut out the sugary and salty foods. I went back to eating vegan and eating plant-based.
What did your workout routine consist of?
Due to the pain I was in and my inability to move for long periods, I started using the stationary bike for exercise. Eventually, I began walking on the treadmill or at the beach for 15-20 minutes at a time. Next, I incorporated the elliptical machine and walking on an incline. Because my diet was providing me with more energy, I was able to build up my endurance and stamina quickly. I started doing intervals of walking and jogging, along with weight lifting.
In the beginning, I worked out three times a week. I gradually increased it to 5-6 days a week with a day or two of rest.
What was your starting weight? What is your current weight?
My starting weight was at 220+ pounds, and my current weight is 139 pounds. My height is 5'4″.
When did you start your journey? How long did your transformation take?
I started my journey in April 2018. My transformation took about 8 months. I'm still in the process of toning and re-shaping my body.
Is weight loss surgery part of your journey?
No
What is the biggest lesson you've learned?
The biggest lesson I learned is that if you transform your mind and change what you're believing, you can Change Your Life! You have to be healed and whole in every area of your life, mind, body, and spirit. If one is out of alignment, it can affect your entire life.
What advice do you have for other people who want to lose weight?
Believe you can and you will. It's a journey, not a sprint. Take your time and Learn to Enjoy the Journey and Love Yourself In the Process. I used the word of God and the Spirit within to break the lies, the trauma of my past and break the negative self-talk I was believing. If I can do it, so can you!
I have started my own program called KnX Journey to Oneness so that I can help people break free from emotional eating, negative self-talk, and negative body image.
Facebook: knxone
Instagram: @knxjourney2one
Website: knxjourney2oneness.org