Transformation of the Day: Monique lost 62 pounds. She found her motivation after losing her mother and several other family members to colon cancer. She began to study food, ate healthier, high-fiber foods, and focused on colon health.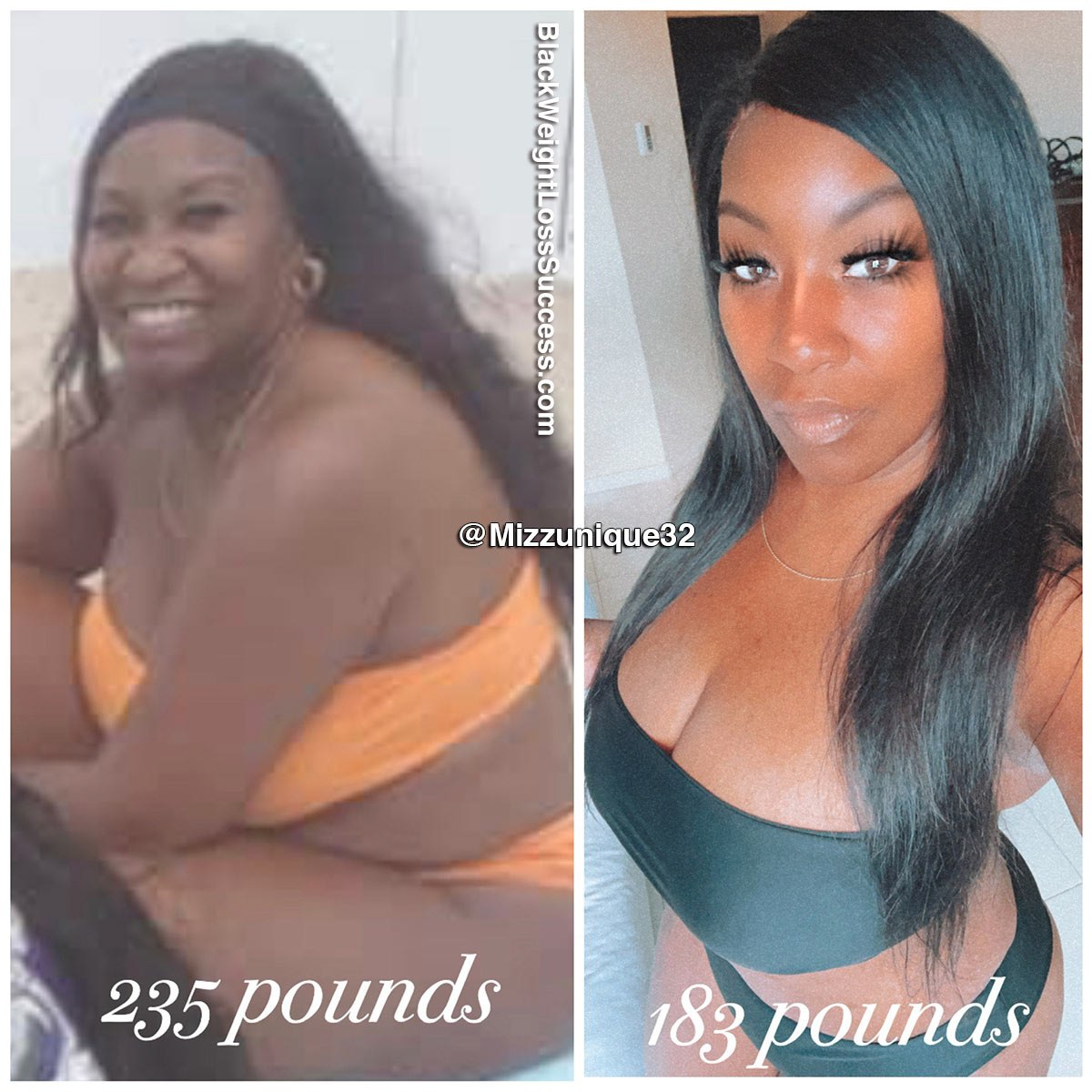 Social Media:
Instagram: @Mizzunique32 
Facebook: @Mosweightlosssoup
TikTok: Missnique978 
What was your motivation? What inspired you to keep going, even when you wanted to give up?
My motivation came after my mother passed away from colon cancer. I've lost my mother, grandmother, and at least five uncles and one friend to colon cancer. 
How did you change your eating habits? 
I started studying food. Dairy played a huge role in my family members' deaths. So I cut out dairy almost completely from my diet and stopped eating processed foods. 
I created Mo's weight loss detox soup. I eat up to 2 bowls a day along with my everyday meals. The soup has a combination of vegetables that are the highest foods with fiber, so it helps break down other foods that are hard to digest, like processed foods, dairy, and meats.
What is your workout routine? How often did you work out?
My go-to workout routine was Hip Hop Abs. I used to work out at least an hour a day until I got arthritis in my left knee. 
What was your starting weight? 
251 pounds
What is your current weight?
189 pounds
What is your height?
I'm 5'7″.
When did you start your journey? 
November 2021
Is weight loss surgery part of your journey?
I had a tummy tuck in 2009. I had gastric bypass surgery in 2016 and liposuction in 2018. However, I gained all the weight back, even after having all of those procedures, because I never changed my eating habits until November 2021. 
How long did your transformation take? 
Five months 
What is the biggest lesson you've learned so far?
Once you get your colon cleaned, everything else will fall into place!
What advice do you have for women who want to lose weight?
Your diet is the most important part of losing weight and keeping it off. I believe we all have compacted old food stuck to our colon walls which can lead to illness or staying overweight, even if we work out. Once you get rid of the old fecal matter and plaque, your colon can shrink back into its original size! That is the best lesson I've learned to date!
Disclaimer: Reference or link to any specific product, diet plan, exercise plan or service mentioned in the weight loss stories we share is for the information of our readers, and does not constitute an endorsement or recommendation by Black Women Losing Weight.