Transformation of the Day: Nicole lost 62 pounds. She's gone from having takeout for every meal and not exercising to working out six days a week and becoming a vegetarian. During her journey, our Zimbabwean sister also focused on her mental health.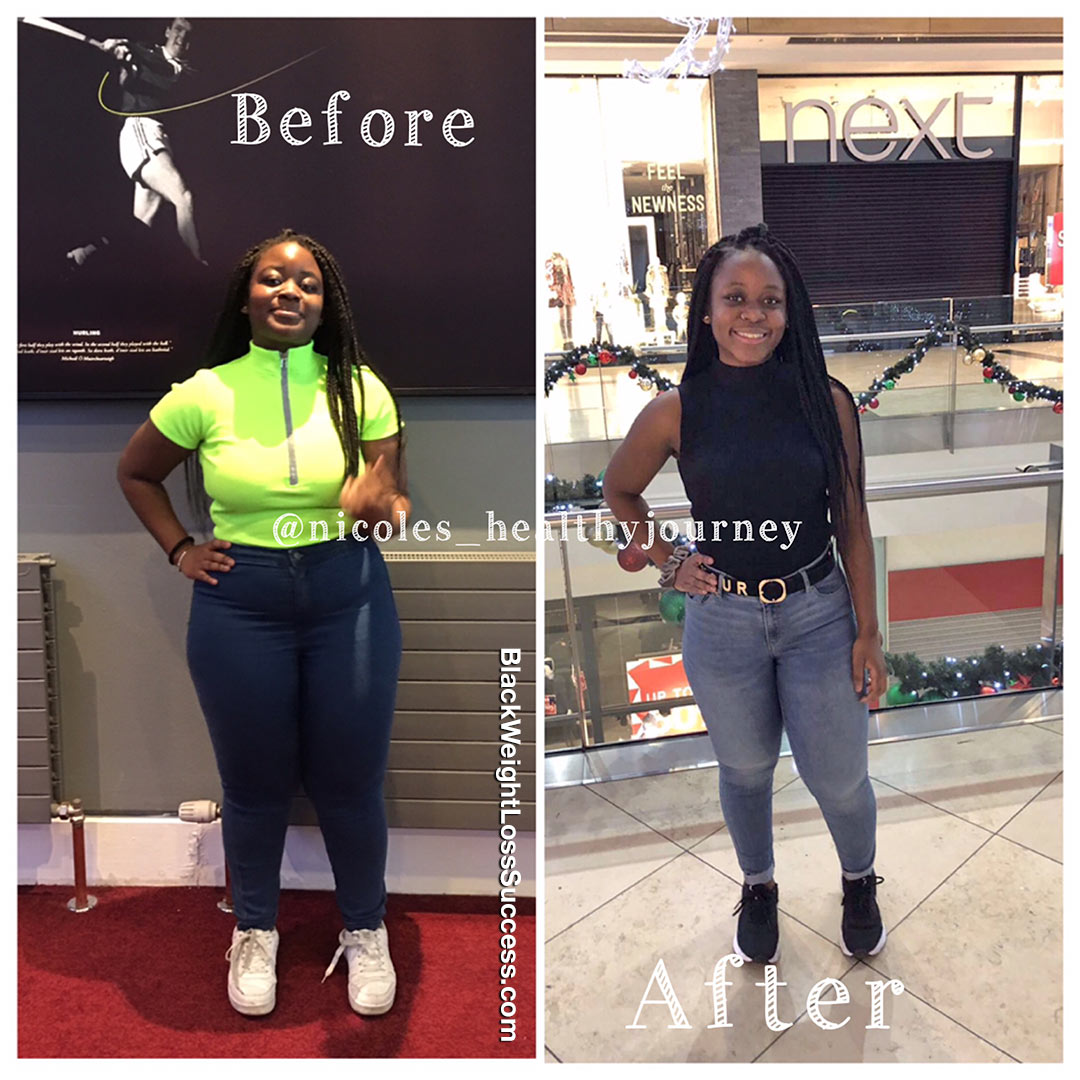 I did it! I've lost 62lbs (28.1kgs ) since February 2019. I went from having takeout for every meal, no exercise at all, and having very bad mental health to exercising six times a week. Now, I am a vegetarian, and I'm consistent with my nutrition. I'm always focused on my mental health as well.
What inspired you to keep going, even when you felt like giving up?
I think what inspired me to keep going when I want to give up was looking back at how close I was to having weight-related illnesses. I also think about how I need to be healthy to be around for my siblings, my niece, and my friends. I think about all the aspirations I have that I can't achieve if I let my weight get in the way. 
How did you change your eating habits?
Becoming a vegetarian happened naturally for me. I went from eating various types of meat to only eating white meat (fish and chicken). I then switched to fish only and became pescatarian. Eventually, I gave up fish and became a vegetarian. 
What did your workout routine consist of?
I started by doing at-home workouts and running outside. Three months into my journey, I joined a gym and did 80% cardio (on the treadmill, stairmaster, HIIT, and classes) and 20% weights. I'm currently doing 40% cardio and 60% weights. 
Starting weight/Current weight
My starting weight was 212 pounds, and I currently weigh 150 pounds. Just because I've reached my goal weight does not change the fact that I'll be continuing the journey and doing the same things. I have bigger and better goals for 2020.
What is your height?
My height is 5'2″. 
What is the biggest lesson you've learned?
I learned that it is okay to fall as long as you get back up. 
What advice would you like to share?
If you want to lose weight, start today. Little changes go along way. You have to be patient and trust the process. 
I wish I could explain how much has changed since I decided to restore my physical and mental health this year! Hard work and dedication pays off indeed! Thank you to everyone who supported me through this journey. I definitely will be posting more about my story.
Instagram: @nicoles_healthyjourney