Update: We have been following Shereen's story since 2018. She lost more than 100 pounds and gone from a size 22 to a size 12. Check out her update.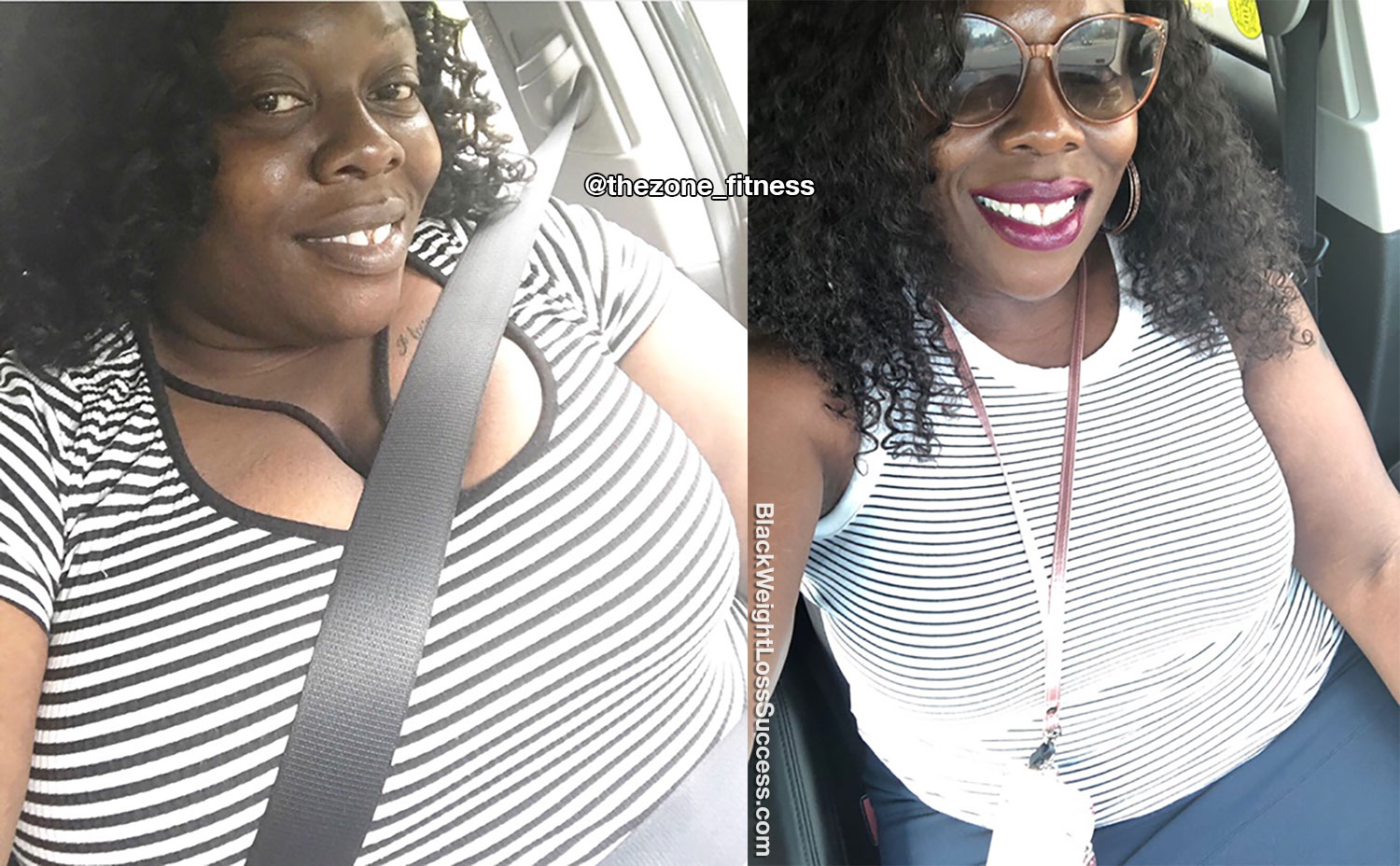 Since I began my journey, I have lost over 100 pounds. I've lost over 15% body fat and 16 inches off my waist. I've also gone from a size 22 to a 12!
I've been able to stay on track because I finally adopted the concept of 'lifestyle change.' I have learned to make delicious low-carb options, and I don't feel deprived in any way. If I want a cookie or a slice of cake, I will eat it in moderation. I understand that I can not eat poorly all of the time because I am predisposed to weight gain. So, I won't have a cheat day, but I will do a cheat meal once a month. 
Working out is a great stress reliever, and I love the results. The results keep me going. I'm curious to see how far I can go!
Mindset is the most important thing. Practicing mindful thinking is critical, as well. What you speak, you will live. Significant weight loss takes a lot of mental and physical power. Negativity will sap your energy, so negative vibes are not allowed in my space.
I am continuing my journey and recently started a motivational weight loss/fitness Instagram page: @thezone_fitness. I share workouts, positive messages, and real stories about the trials and tribulations I've faced during my weight loss journey.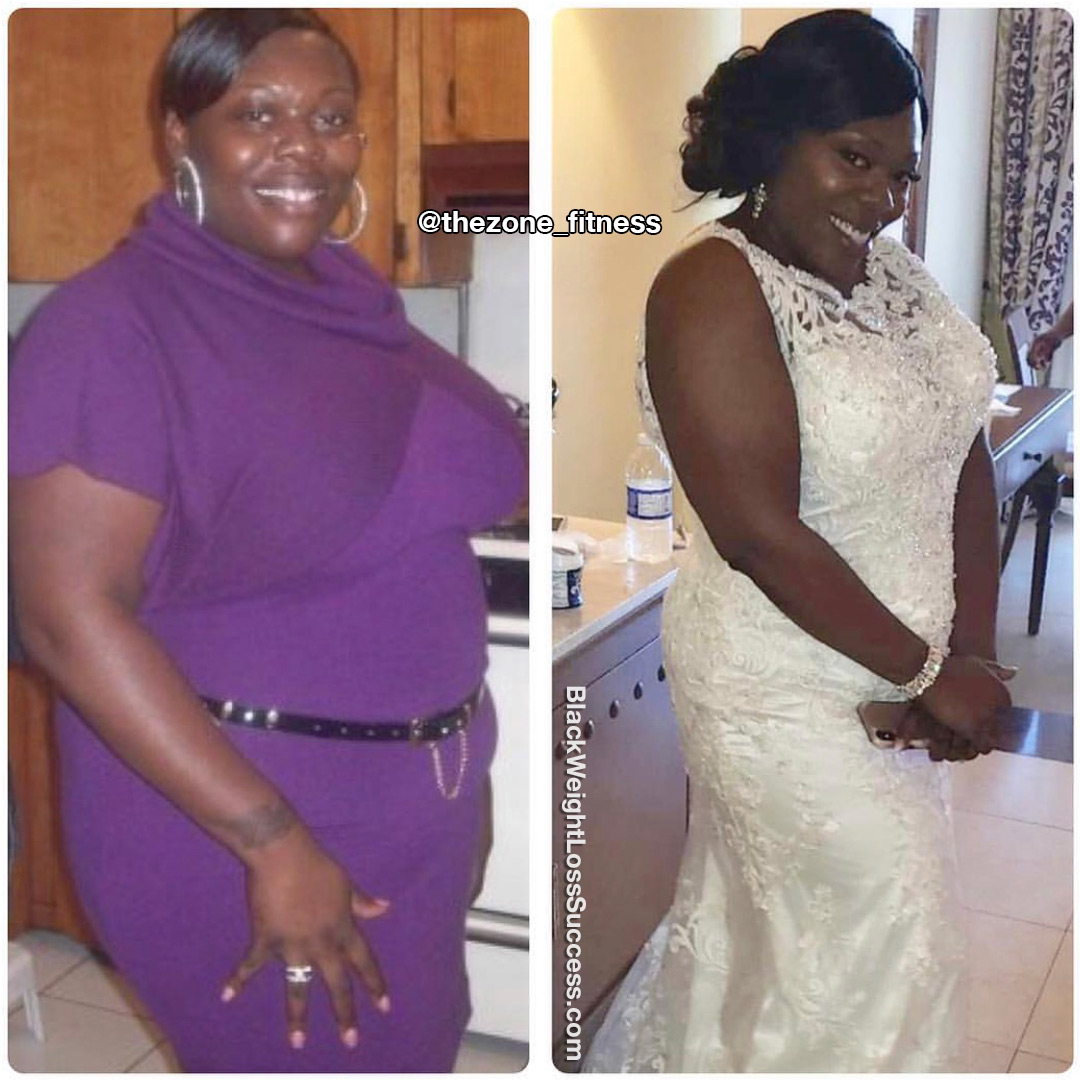 ---
Transformation of the Day: Shereen lost 45 pounds. She was in an on-again, off-again relationship with weight loss for years. Last year, she recommitted to fitness and made the conscious decision to change the way she eats in very specific ways. Check out her inspirational journey.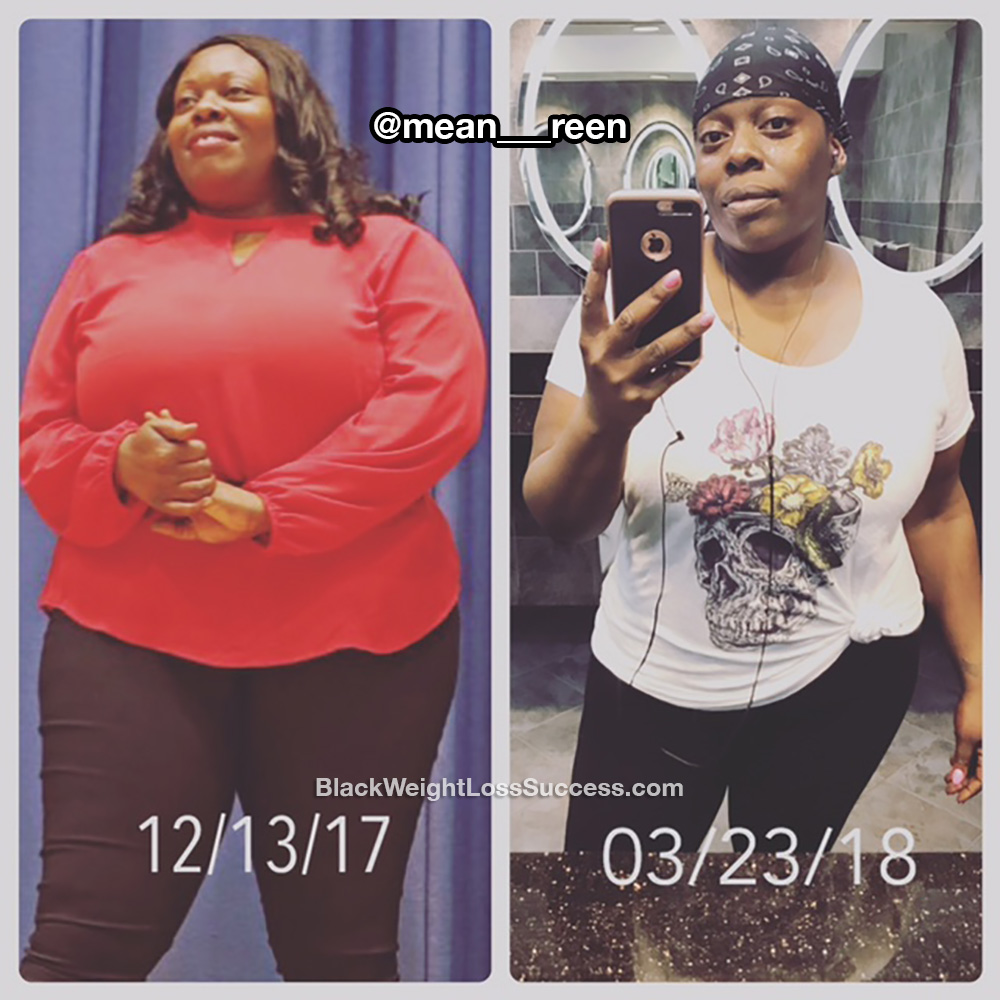 I've been in a on-again, off-again relationship with weight loss since February 2003 and after the birth of my daughter. I gained nearly 100 pounds while pregnant and tried every diet to lose the weight. In April 2009, I joined a gym and started working out consistently. I would bring my daughter with me and she was proud.
On 09/02/09, my only child Kimani passed away at the age of 6 years old. After her death, I got involved with a boot camp and had great success. In 2012, I moved to a different state and slowly started to gain weight.
In October of 2013, I started my first independent weight loss journey. I lost 50-60 pounds and was feeling great! However, life happened and I lost focus of my fitness goals. By 11/28/17, I purchased a home and wrote/directed a play that was set to be performed on 12/13/17 (also the day my love surprised me with a beautiful proposal). I was so focused on my goals at the time that I neglected my weight.
On 11/28/17, I decided to make a serious commitment to change the way I eat. I began seeing a nutritionist and committed to working out consistently. I do not weight myself daily and I allowed myself a 'cheat' once a week. I set realistic goals for myself and I trust the process. I'm also focusing on being mindful of my thoughts as words have extreme power. It's been about 3-4 months so far. I'm still working!
How did you change your eating habits?
My diet is simple:
Eat all the veggies you want.
Eliminate bad carbs (rice, bread, etc) and replace them with with good carbs. (quinoa, low carb pasta, etc. – Your good carbs have fiber and protein.)
Limit sugar/sodium intake.
Drink plenty of water.
Eat enough protein.
Take daily vitamins.
If you must have a drink, have vodka and seltzer.
Allow yourself a 'treat meal' every once in a while.
What did your workout routine look like?
I workout 5/6 days a week. 3 days a week, I do an hour of cardio, use light weights and do bodyweight exercises. The other 2 days I do 20-30 minutes of cardio and 1 hour of weight training. I work out alone with my music and it is so therapeutic. When I get bored, I will take strength training or cardio classes at my gym. I will also begin kickboxing soon.
What was your starting weight? What is your current weight?
My starting weight was 275 pounds and my current weight is 230 pounds. My height is 5'6″
What is the biggest lesson you've learned?
I've learned to make the conscious decision to change the way I eat. In the past, I would eat healthy until I got to my goal weight (or close to it) and then I would go gradually start eating with reckless abandon. No more! This time my journey has a different focus. Of course my aim is to lose weight, but I am also working on improving my physical and social environments. Those who are fueled with negativity and those who are not focused on their own personal development are henceforth released from my life, just like this excess weight.
What advice do you have for other people who want to lose weight?
You can workout all you want, but if your diet isn't right the fat isn't going anywhere. Fitness lives and breathes in the kitchen. I'm learning how to eat to obtain AND maintain my fitness goals. These workouts are just a bonus!
YOU MATTER! Do it for your health.
---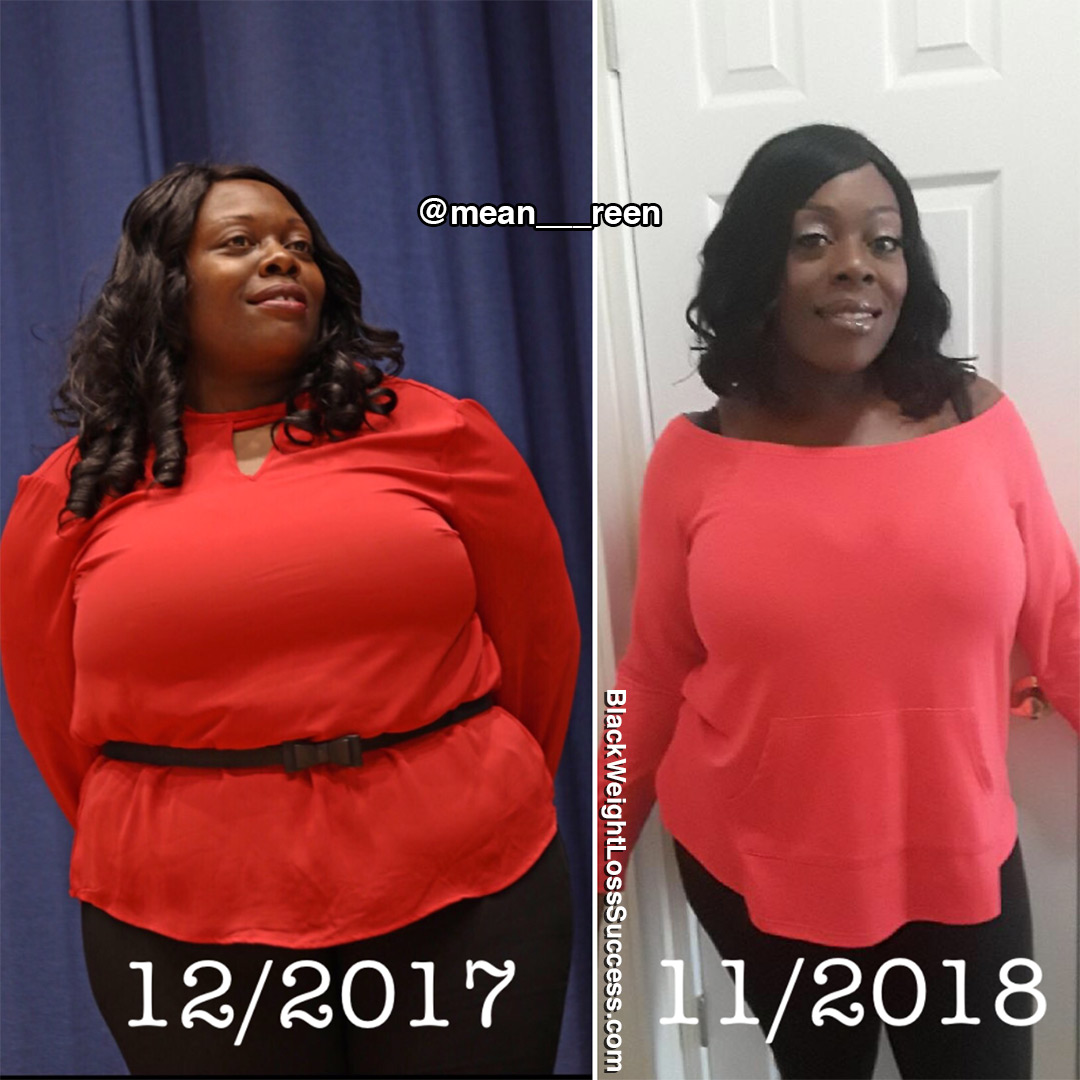 Update: "I've lost an additional 15 lbs for a total of 85 lbs lost in less than one year! It can be done! @mean___reen"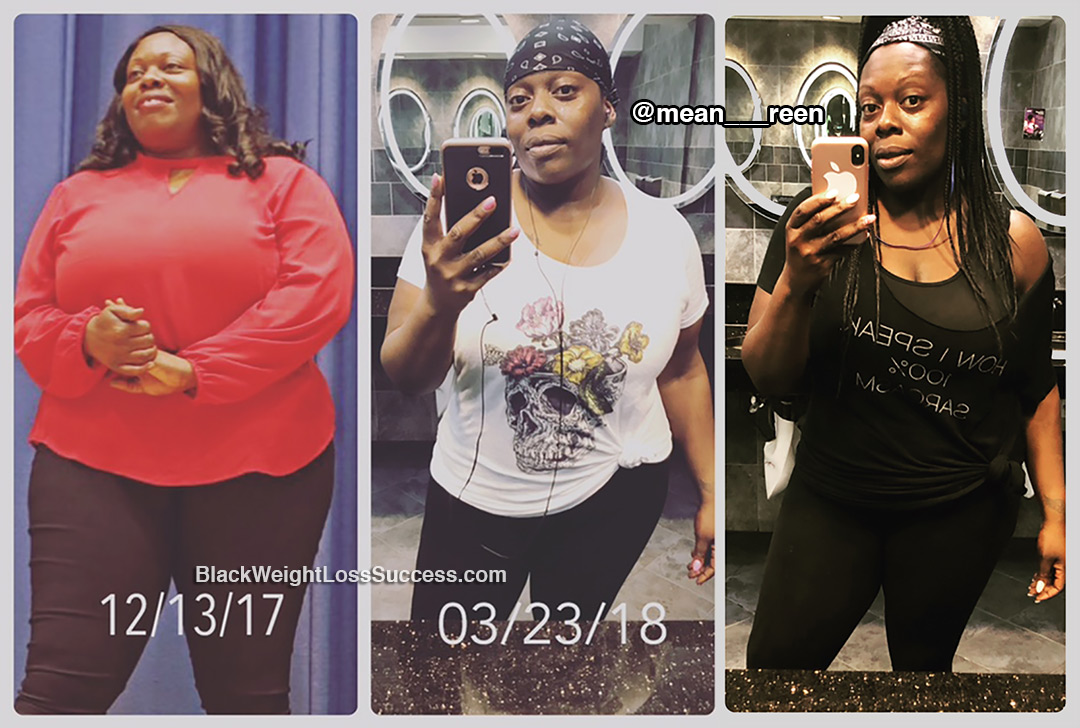 Update Aug 2018: "In May, I was down 57 pounds. Today, I have lost an additional 13 pounds for a total of 70 pounds down in 7 months. What I am most excited about is that I've lost 12.5 lbs of body fat and lost 3.5 inches off my waist. I also gained 4 pounds of muscle! I just want to inspire someone else to get fit. It can be done!"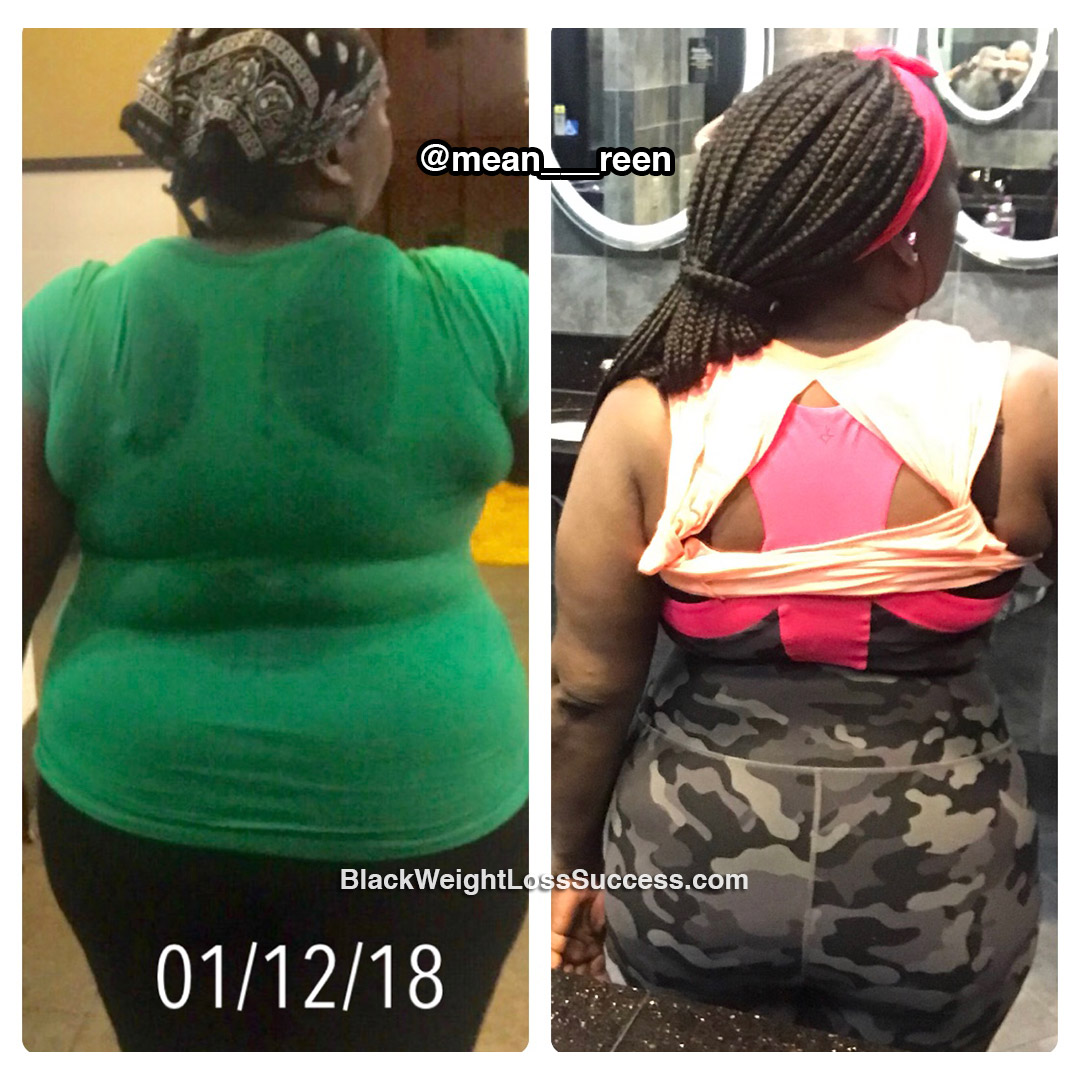 Update May 2018: Shout out to Shereen. She wrote in to share that she lost an additional 12 lbs. That's a total of 57 pounds gone in 5 months.