Transformation of the Day: Shuntá lost 42 pounds. She was tired of the weight loss rollercoaster, and she wanted to avoid a family history of illnesses, like diabetes and high blood pressure. This mom truly put in the work to get results, by monitoring her food intake with MyFitnessPal and putting in work at the gym. Check out her story.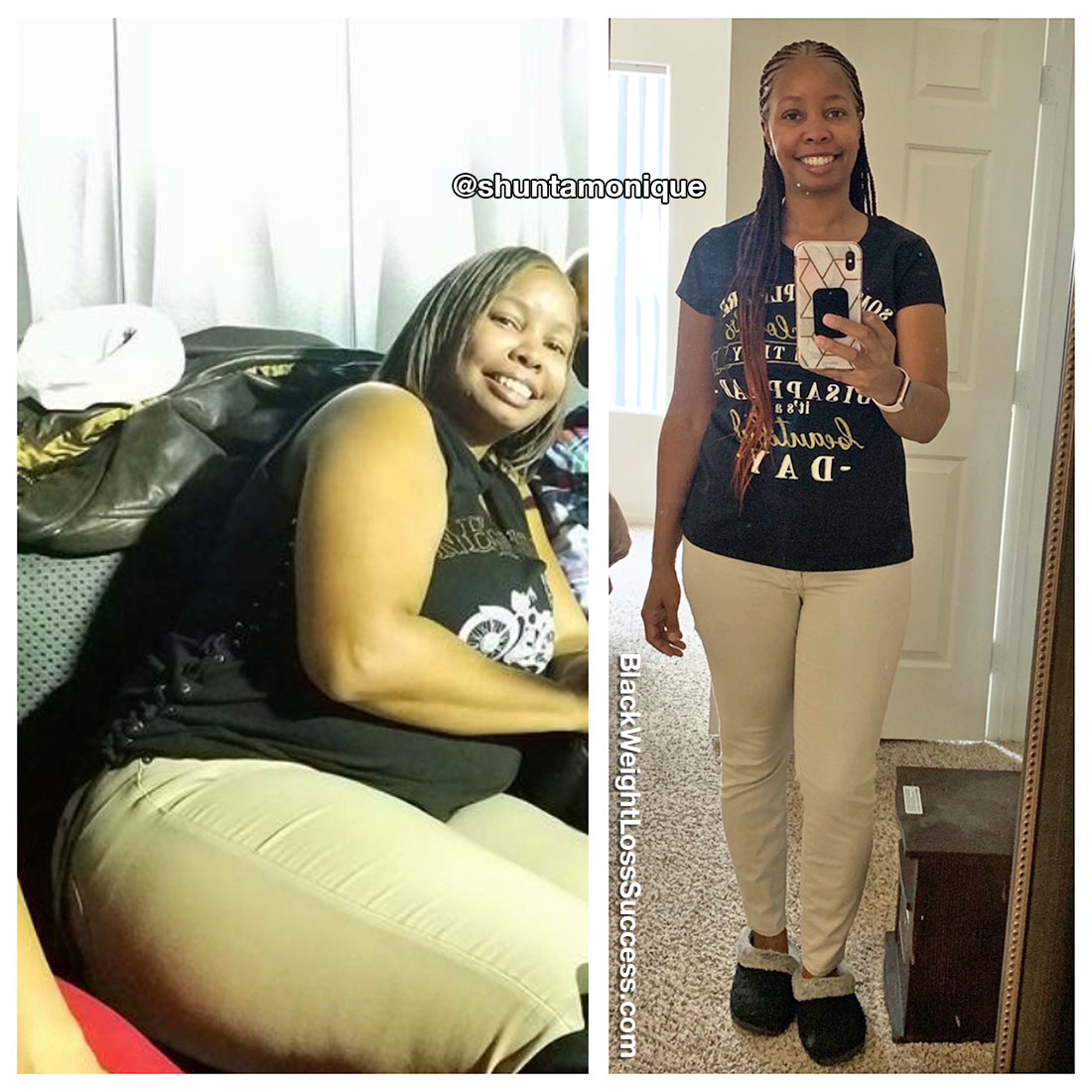 What was your motivation?
My friend took a photo of me (my before picture), and I was like, "Wow, I'm huge!" I wanted to lose weight, and I wanted to be healthy. My parents had several health issues (including, diabetes, high blood pressure, and stroke). I want to prevent these things from happening to me. I also had a closet full of clothes that I could no longer fit, and it was really discouraging.
What inspired you to keep going, even when you wanted to give up?
My husband and children inspired me. I also pushed myself because I knew that once I lost the weight, I would be able to maintain the weight. After years of yo-yo dieting, I realized I needed to make a lifestyle change instead of trying another diet.
When did you start your journey?
I started my fitness and health journey on Tuesday, October 30, 2018.
How did you change your eating habits?
I had to find out what my triggers were and what caused me to keep gaining weight. I have completely stopped eating bread! I eat low carb and low sugar now. I also cut out soda, and I only buy organic fruits and vegetables.
I took out all of the unhealthy snacks in my house and replaced them with healthy snacks. I bought a juicer and now make my own fresh juice at home. I cook more at home as well. I cut out the majority of fast food restaurants.
I do intermittent fasting (16/8). I fast for 16 hours, and I have an eating window of 8 hours between 12pm – 8pm. I use the MyFitnessPal app to track my weight progress and to track my macros. I focus on tracking my carbs, fat, sugar and protein, but I am not doing Keto.
What did your workout routine consist of?
For the first four months (10/3118 – 2/9/18), I worked with a trainer for 30 minutes twice a week, and I worked out on my own for an hour 3 days a week. I did 30 minutes of cardio and 30 minutes of resistance training. Currently, I do a HITT workout 3 days a week for 20-30 minutes and resistance training 2 days a week for 30 minutes.
What was your starting weight? What is your current weight?
My starting weight was 195 pounds. My current weight is 152.7 pounds, but I am looking to get down to 145 or 140 lbs by the end of May 2019.
What is your height?
I am 5'6"
How long did your transformation take?
As of April 10, 2019, it has taken me 5 months and 11 days to lose 42.3 pounds.

What's the biggest lesson you've learned?
I've learned about delayed gratification! I've truly learned how to resist temptation and cravings.
What advice do you have for others who want to lose weight?
You have to set yourself up for success! Get rid of the unhealthy snacks and junk food (out of sight, out of mind). Have a workout routine to do at home for those days you don't feel like going to the gym. Limit the number of "cheat days" you take.
You have to make this a lifestyle change because it's more than just a diet! Get an accountability partner if you think you might go back to your old habits.
Instagram: @shuntamonique and @allaboutfitwomen