Transformation of the Day: Tamar lost 118 pounds. Her motivation was her daughter, whom she never wanted to put in the position to have to care for her due to her unhealthy choices. After 1 year and 6 months of eating healthy food and walking, this 42-year-old feels fantastic.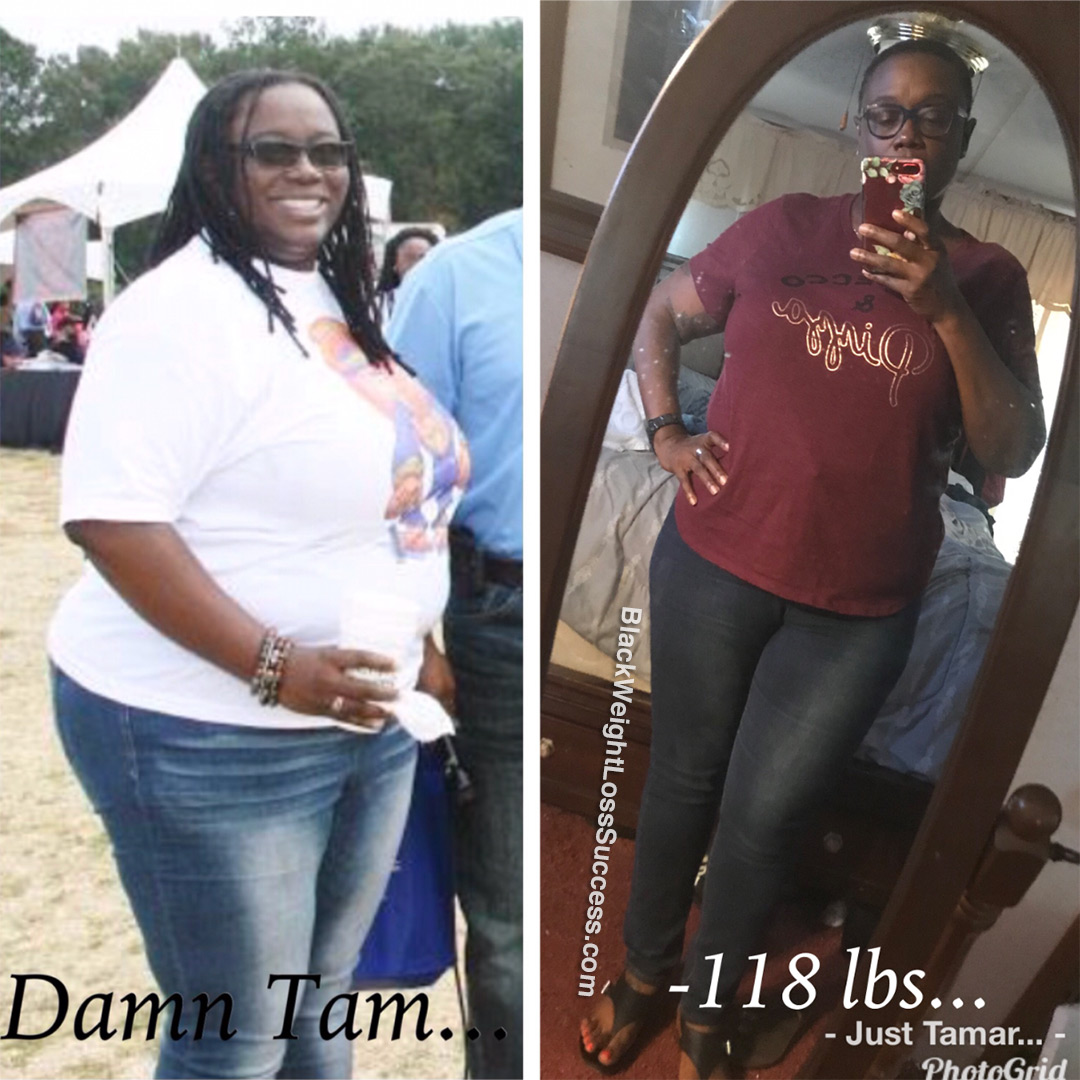 What was your motivation?
My name is Tamar, and I'm from Charleston, SC. What motivated me to lose weight was my 9-year-old daughter, and my will to live for her. I've watched episodes of My 600 Lb Life, and I don't ever want my daughter to be put in a position to have to take care of me because my eating is out of control. Also, I was diagnosed with hypertension and pre-diabetes.
How did you change your eating habits?
I stopped eating fast food, fried foods, sweets, and sodas. I increased my water intake from about 16 ounces a day to between 100-200 ounces a day. I've incorporated a lot more veggies and fruit into my eating routine. I read labels and count my calories, sugars, sodium, and fats obsessively!
What does your workout routine look like?
For exercise, I walk a lot, and I run behind my daughter.
What was your starting weight? What is your current weight?
My starting weight was 363 pounds in 2017. In 1 year and 6 months, I've lost 118 pounds. I'm 5'10″, 42 years old and I feel amazing. My biggest cheerleader, my Grammy, left me back in June. I'm glad she got to see me at my new weight before she died… 245 pounds!
What is the biggest lesson you've learned so far?
The biggest lesson that I've learned is that weight loss is not only a physical journey, but it's also a mental journey as well. I see how much better I look and feel now, and I refuse to look like the girl on the left again!
What advice would you share with people who want to lose weight?
My advice to anyone trying to lose weight: Start the journey that you feel is best for you. Some people have surgery. Some are forced to get on medication like I was. Your journey may be nothing like mine, and that's ok. Don't let anyone or anything distract you.
Instagram: @just.tamar