Transformation of the Day: Tamira lost 61 pounds, and she has worked to keep the weight off since 2014. She found a way to eat healthier while still enjoying the foods she loves. Check out her story.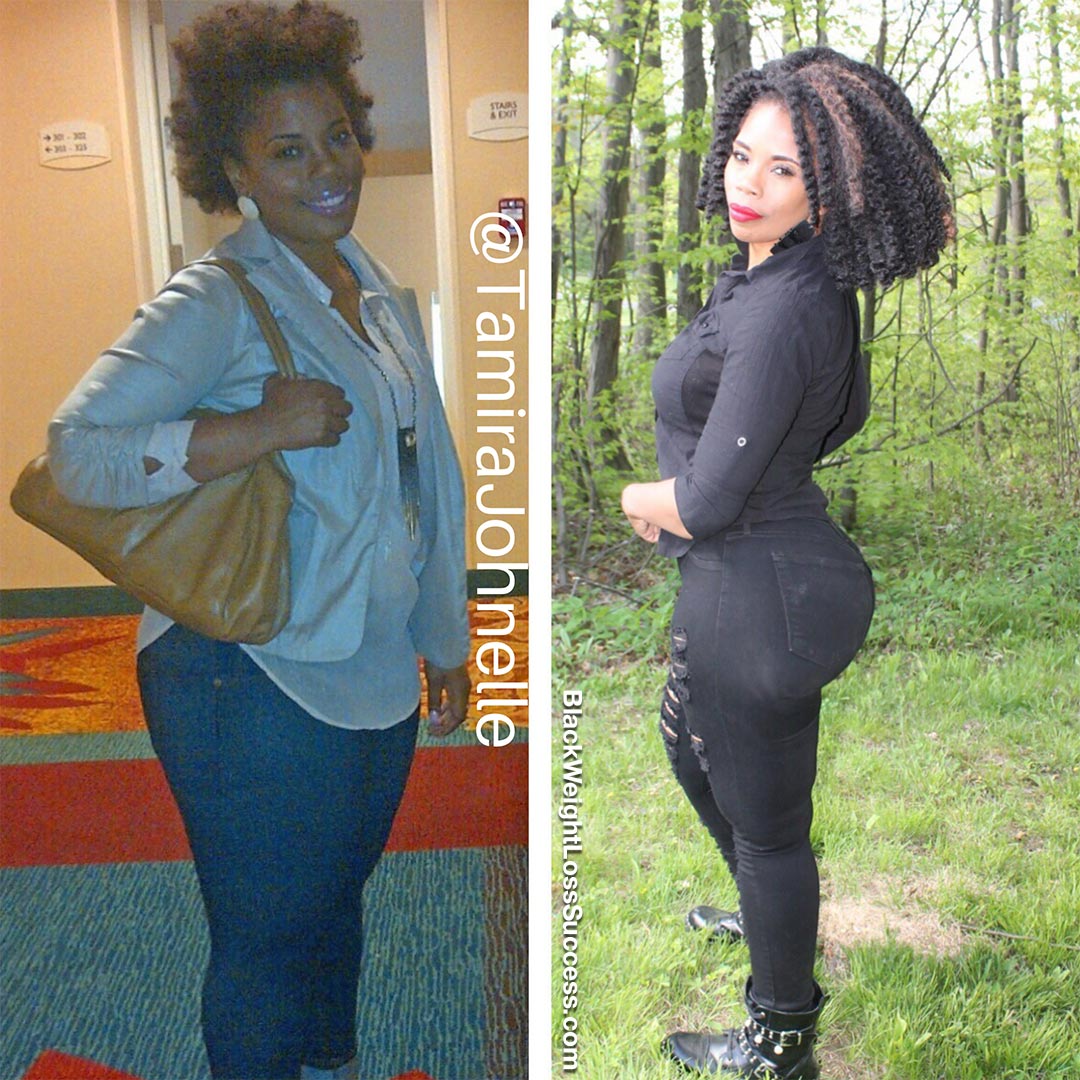 What was your motivation? What inspired you to keep going, even when you wanted to give?
I wanted to be healthy and wear certain clothes. I was addicted to feeling good, so I never wanted to give up.
I wore a size 18. My goal was a size 10. 7 months later, I could wear a size 4/6. I didn't realize I was that small. I wanted to be a firm and solid 6/8 at that point. I gained 10 pounds so I could be a little thicker.
I never thought I would be happy with gaining 10 pounds. The only way I can describe it is if you're one weight when you start and 7 months later you are 60 pounds heavier, It's quite shocking. I absolutely love where I am today. I had to learn to love myself before I could get a loving transformation.
When did you start your journey? How long did your transformation take?
April 2014. It took 7 months.
How did you change your eating habits?
I actually intensely educated myself on foods so much to the point that people would notice that I was smaller than the previous DAY. I had a major impact where I lived, so much so that I ended up coming out with an online course because so many people had so many questions for me. They saw that I still ate cake, ice cream, grass-fed beef, and other foods that people who want to lose weight don't generally eat.
I don't keep refined sugar in my pantry, and that WAS my weakness. Every once in a while I'll eat it if I'm out of town. I was a sweets fanatic, so I replaced the refined sugar with things like raw and organic honey, organic maple syrup, pure coconut sugar, etc.
What did your workout routine consist of?
I run 5-6 days a week and strength train three days a week.
What was your starting weight? What is your current weight?
My starting weight was 210 pounds. (April 2014). In Oct 2014, I weighed 149 pounds. (I felt so small at this weight. I was a size 4)
My current weight is 159 pounds. (size 8)
What is your height?
5'3″
Is weight loss surgery part of your journey?
No
What is the biggest lesson you've learned?
I don't have to cut carbs.
What advice do you have for people who want to lose weight?
BELIEVE you can Do it and you WILL achieve it.
Instagram: @tamira_johnelle