Shout out to Dr. Ebony. We shared her story back in 2016 and she is still going strong. She shared her progress with us and shared what she learned about accepting her body after she competed in a bodybuilding competition. Check out her update.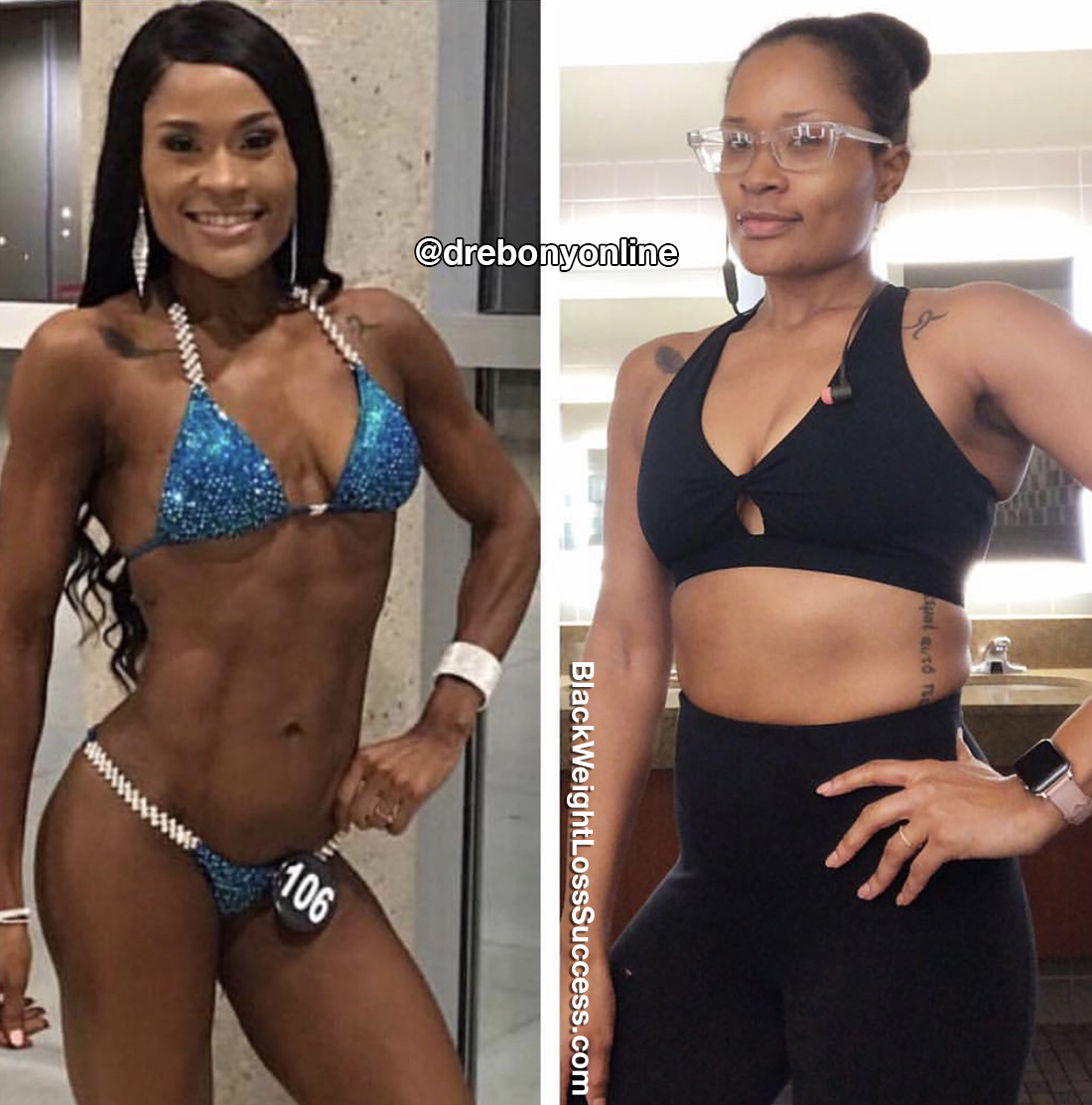 I lost 55+ pounds and have kept it off for over 12 years. Last summer I competed in my first bikini competition and struggled to accept my real body again after the competition. I think this is a great story to share because sometimes we as women can compare our bodies to unrealistic images and we don't realize that those bodies we are comparing ourselves to don't tell the whole story.
Well, as someone who did do a bodybuilding competition, I can say that the competition photos and bodies are unrealistic images of health and that accepting your body for where it is, is the real work!
I remember feeling a little sad a month after my bikini competition because I lost the abs I finally had for the first time in my life! But, as I've grown and am learning more about body acceptance at all levels, especially when competing, I realize that my body on the right is just as good as my body on the left when I competed. They are both my #bodygoals because there was a time when I was 55+ lbs heavier. I prayed and worked to look how I look right now! As I do my work and learn to accept myself for where I am today (and, realize that the competition body is only temporary), I am reminded of how good it feels to be where I am and look how I look right now…back fat and all!
What is your motivation?
I stay motivated by always working on something! Every week I set a new goal to work towards. This keeps me motivated when I want to give up.
How did you change your eating habits?
I changed my eating habits by focusing on what I can add to my meals instead of getting wrapped up in what I could not have. When I changed my perspective in this way, creating meals became more exciting and not
burdensome.
What is your workout routine?
Right now, I work out six days per week. I work a different body part every day and do a little cardio.
Starting weight/Current weight
I started my journey in 2004 and lost 55+ lbs within three years. I've kept it off since 2007. Now, My weight is 142 pounds. My height is 5'5″.
What is the biggest lesson you've learned?
I've learned to be gentle and compassionate with yourself. We are so hard on ourselves, and you cannot make progress and change if you don't have some patience and gentleness with yourself.
What advice would you like to share?
I would tell others to stop comparing themselves to people. I would tell them to get tunnel vision on their journeys! Don't worry about what everyone else is doing. Just focus on being better than you were yesterday.
Instagram: @drebonyonline
Website – drebony.com