Transformation of the Day: Ebony lost 63 pounds with healthy eating habits and at-home workouts. Having been a self-described serial quitter in the past, she transformed her mindset and learned how to be disciplined.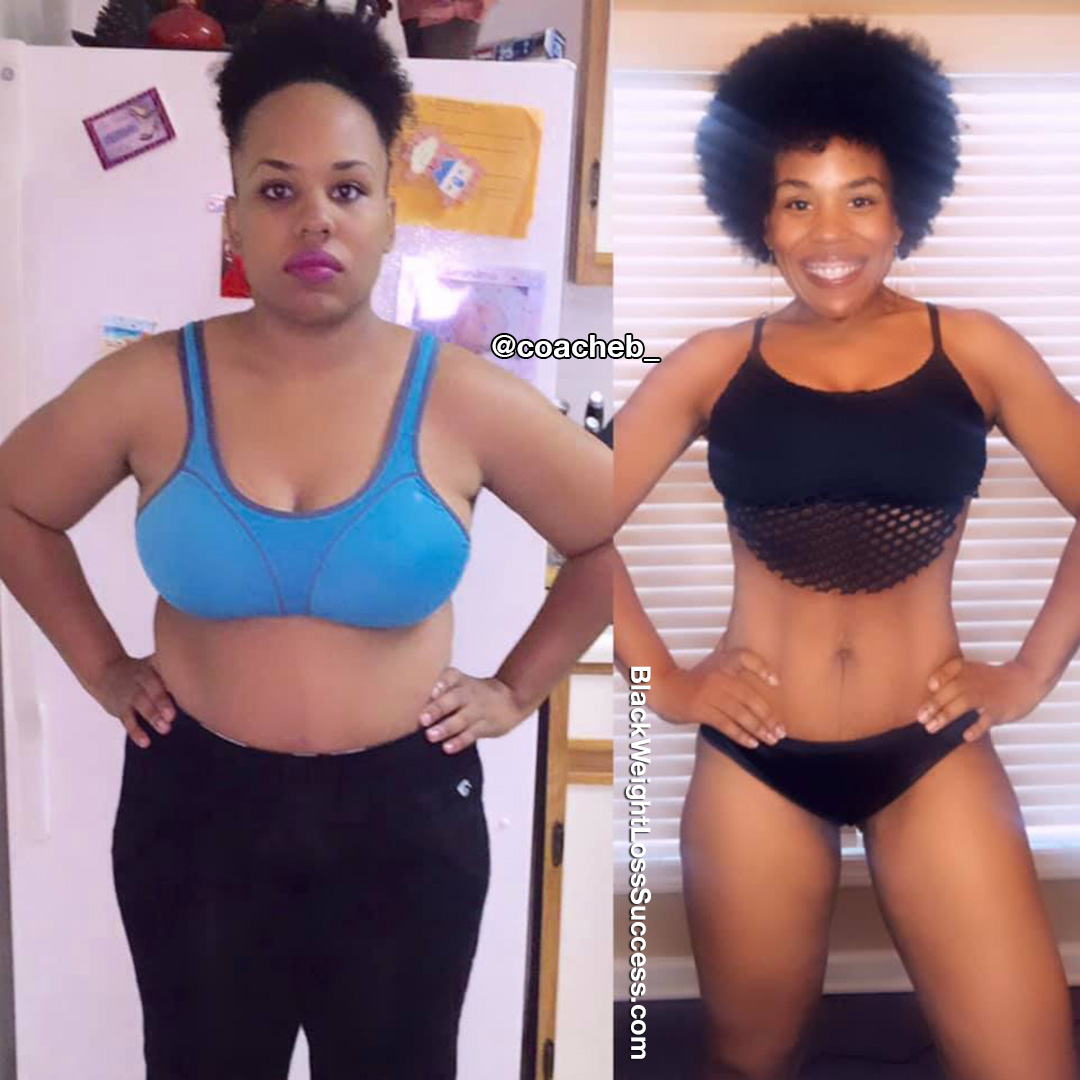 I was a quitter. A SERIAL QUITTER AT THAT. The Queen of Quitters. I was always starting and stopping some new diet. Monday was my magical day. By Wednesday, I had typically fallen off. I was so tired of losing. So tired of failing.
I remember my rock bottom moment came when I was sitting in my car before work. I had on a size 16 pants that were too tight. I made my daily drive-thru stop (I lived in drive-thrus) and got blueberry biscuits with extra icing and a 32 oz sweet tea! I wanted to enjoy my food, so I unbuttoned my pants to let my stomach hang out. The pants were too tight, but I refused to buy a bigger pair. I caught a glimpse of myself in my rearview mirror while I had the biscuit in one hand and the tea in the other hand. I was disgusted with myself. I weighed 205 pounds, and I'm only 5'2″. I had to make a change.
I began to use a home-based workout program and nutrition plan from Beachbody. I used several of their programs, but my main one was 21 Day Fix. I used the Portion Fix Nutrition plan, which taught me how to eat as a lifestyle change. This was so awesome because it wasn't a crash diet. The program teaches sustainable weight loss. I worked out 5-6 days a week, and I incorporated cardio and resistance training. I worked out at home, and it only took only 30 minutes a day.
There were times that I wanted to quit, but I was sick of being sick and tired. I knew what would happen if I quit. I had to see what would happen if I didn't quit!
I was addicted to sweets and carbs. I remember that I'd sneak and eat my son's Cheetos at night! I remember one night, I was sneaking in the cabinet, and it hit me, 'Who am I hurting??' I'M HURTING MYSELF! I'm breaking promises to myself. Broken promises lead to broken confidence. I no longer wanted to be the one breaking my heart by not keeping my word to myself.
I had to do a LOT of talking to myself. That's what got me through. I read a lot of inspirational quotes and memorized the quotes that resonated with me the most. I turned my 'motivation' into DISCIPLINE! You see, motivation is an unreliable friend; A friend who is nice, but never there when you need them! Motivation wasn't there at 11 pm when I wanted to binge on snacks. It was discipline and realizing that I was only cheating myself that made me change.
In my first year, 2015-2016, I lost 50ish pounds. I began on 6/1/2015. I said that was the last time I was starting over. I successfully maintained that loss and began coaching other women to their own weight loss and mindset success. Honestly, this was a huge part of being able to maintain my weight loss. I wanted to be hope for women everywhere to know that we can achieve our goals. I even was selected as a testimonial for Beachbody, flown to LA, and filmed for TV! Wow! Me!
In late 2018, I actually wanted to lose more weight again, but I was enjoying maintenance mode so much that it took me some time to get back into weight loss mode. On 7/29/19, Beachbody launched a new program, and it SPARKED my fire again. It was called the 100 Day Meltdown! Every time I heard '100', it resonated with me that it was time to BE 100 with myself! I geared my clients up, and we went on a journey to melt layers of fat with the new program. We were going to be '100' with ourselves and hold ourselves accountable.
I did 100 workouts in 100 Days! I did yoga for flexibility, upper body and lower bodyweight training, HIIT intervals, and cardio. I used weights four days a week. I also dialed into my Portion Fix Nutrition Plan again.
In those 100 Days, I overcame another level in my mindset. I was laser-focused. My motivation for succeeding was that I wanted to prove that most of the time, there are no physical plateaus, only mental plateaus. When we overcome our mindset, it manifests in our bodies, and we see success!
I went on to achieve one of my most exciting accomplishments physically by reaching a 26-inch waist (even after having a c-section)! I lost 19 more pounds, I was toned, and I had definition all over! My current weight is 142 pounds.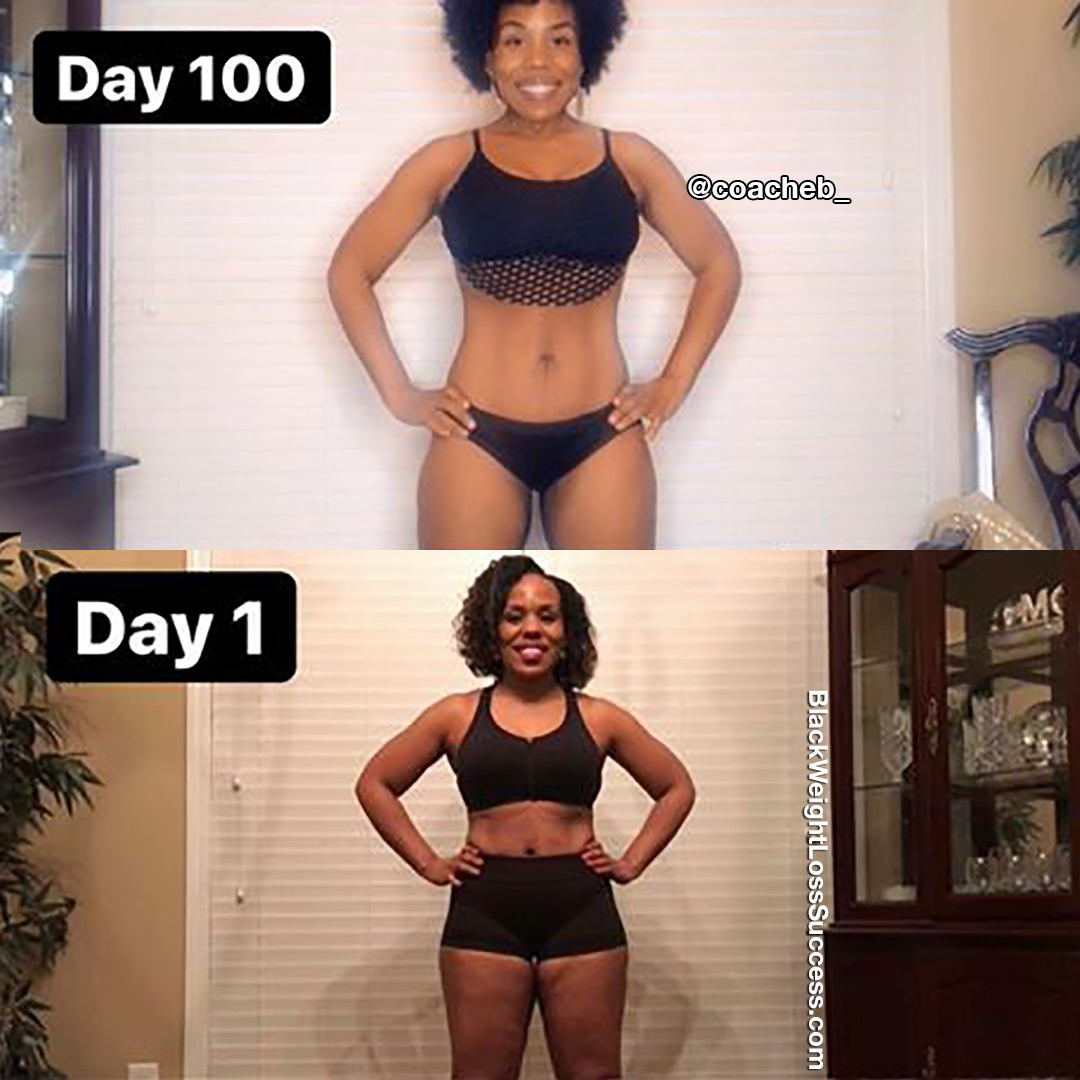 My advice to anyone who wants results is to figure out your 'Why.' Our WHY is what will push us through when we don't feel like it. The hardest thing about weight loss is that it requires so much FAITH. FAITH that it will work!
Love yourself today. Love where you are right now because it's the body you are in NOW that is going to get you to your new body. You are working very hard! Say kind things to yourself. Love yourself enough to hold yourself to a higher level. Self-discipline is the highest form of self-love.
You CAN do this! There's nothing different between you and every other transformation photo you see. Those people just decided NOT to GIVE UP! Remember, we already know what will happen if we QUIT. Let's find out what will happen if we DONT give up!
Instagram: @coacheb_
coachebony.com
 

 

View this post on Instagram

 
Disclaimer: Reference or link to any specific product, diet plan, exercise plan or service mentioned in the weight loss stories we share is for the information of our readers, and does not constitute an endorsement or recommendation by Black Women Losing Weight.