Transformation of the Day: Dr. Ebony lost 49 pounds. This Delta Sigma Theta soror had always been "the chubby one". A desire to live a long, healthy life motivated her to change her "life trajectory". Not only has she lost the weight and maintained her success for more than 9 years, she is helping others to do the same. Check out her story.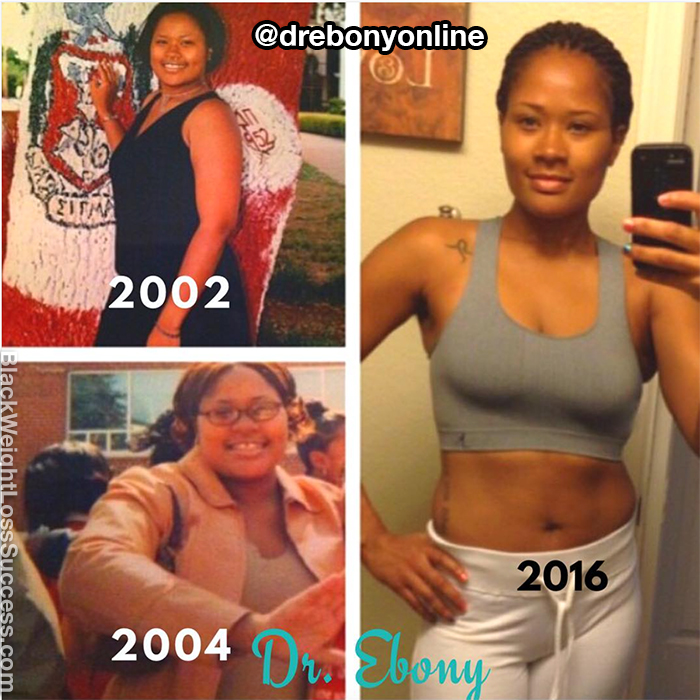 After seeing a picture of myself in 2004, I knew that I had to change how I was eating. I had gotten to the biggest I had ever been. I mean, I was always the "chubby girl", but in 2004, I was at my chubbiest. I come from a family where healthy eating and working out is not the norm. In fact, obesity and poor eat habits are very common. Most women in my family pass away from "natural causes" before the age of 60. I knew I had to try to change my life trajectory. I decided in March of 2004 that I had enough. Almost 13 years later, I have maintained a healthy lifestyle and healthier eating habits! I'm inspired and passionate about helping other women do the same!
How did you change your eating habits?
I changed my eating habits little by little. I first eliminated sodas and juices from my diet. I made sure to have an 8oz glass of water before and after everything I ate. This helped me to kick the need for sodas, juice or extra food at each meal. I also added more veggies to more of my daily meals. I eventually moved to cutting back on breads, pastas and fried foods. Over 12 years later, I still don't drink sodas or juice. I keep my white bread and white pasta intake to a minimum and I rarely eat fried foods.
What did your workout routines look like?
When I first started, my workout routine included pure cardio. I did not weight train because I was afraid of it. I worked out Monday-Friday and ran 2 miles on the treadmill each day. Today,
I workout 5-6 times a week. I train with weights and combine cardio and weights with high intensity interval training routines.
What was your starting weight? What is your current weight?
My starting weight was 184 pounds. My current weight is 135 pounds. My height is 5'5 1/2″.
How long did your transformation take?
I started my journey in 2004 and I lost the majority of my weight between 2004-2007 [lost 52 pounds]. Moving from Mississippi to Texas helped in that part of my journey, as I increased my support network and community of individuals focused on better health.
What advice do you have for others who want to lose weight?
I advise those people interested in losing weight to start their journey by setting goals! I don't recommend huge goals, like I will… "lose 70lbs", "lose 100lbs",  or "lose these last 20lbs". I recommend setting small goals that allow them to take baby steps that will eventually get them to the huge weight loss results they are looking for. I also recommend being realistic. The worst thing that happens to people who start out on their journey is that they think things will, or should, happen fast! Understanding that significant weight loss AND the maintenance of that weight loss is not going to happen fast, and understanding that patience is needed can be a huge help!
Instagram: @drebonyonline

Website: www.mysisterskeep-her.com