Transformation of the Day: Angela lost 40 pounds. She was motivated to get back into shape for the San Antonio Spurs Silver Dancers' 25th Reunion, having been a dancer for two seasons in her twenties. In the past, she didn't know how to lose weight in a healthy way. By joining a local gym, she learned how to fuel her body and train effectively. At 46 years old, she is in the best shape of her life.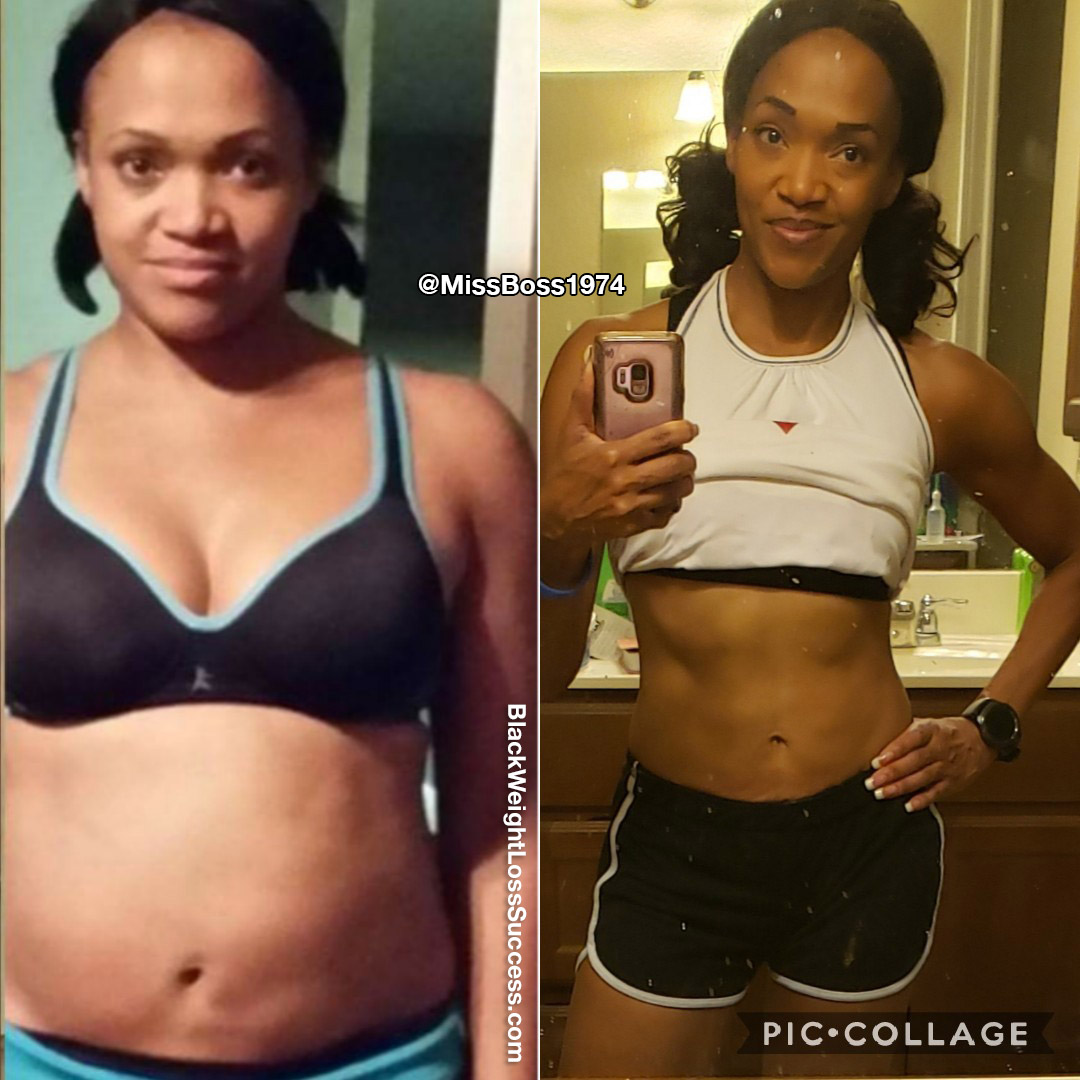 My motivation to get in shape was The Spurs Silver Dancers were having a 25th Reunion. After 19 years, I was going to skip it due to my appearance. I was a Silver Dancer when I was 23 for the 1997-1998 and 1998-1999 seasons. During my second season, I was benched for weight and did not get to return. I weighed 125 pounds. 
I only knew how to starve myself, so I gained a lot of weight when I started eating. In the years since, I was still a dancer. I had been close to 125 lbs but could never get there. Then, I would gain weight again. I was tired all the time and was taking care of both of my parents. Due to my poor health, it was difficult to visit my mom in the nursing home and then go home and take care of my dad. 
I also like to shop at Express. The largest size they have is a size 14, and I could not fit into their clothes for the first time in my life! I was going to have to start shopping at Layne Bryant, which was horrifying to me. I went to my doctor and was told that I was overweight for my height. (something I had NEVER been told before, ever!) Also, because I was so big, my doctor could only picture me at 140 pounds, which is still 25 pounds heavier than I was used to carrying. I showed my doctor pictures of me at my smallest, and he suggested working with a trainer to take the weight off due to my age.
My mom passed away in 2015, and I was in a funk because she was my biggest supporter. I knew she would not want me to go on like I was, so I started to talk with my dad about going to a gym, San Antonio Fit Body Transformation. I saw the gym's pictures on Facebook and knew that the photos were real. I knew that these were the people who could help me. 
My dad encouraged me to contact the gym and said he would be my support system now that my mom was in Heaven. Before joining San Antonio Fit Body Transformation 6.0, I weighed 160 pounds. Even while starving myself to death, I could only get down to 140. I started a regime to take the weight back off. 
My lowest weight as a Silver Dancer was 110 pounds. Now, in my 40's, SAFBT 6.0 was able to get me down to 114 pounds. Currently, I weigh 120 pounds and on my way back to 114 lbs. My height is 5'3″.
My decision to go to my gym has been the BEST decision I have made in my adult life. I wished I had reached out earlier and stopped wasting time being sad and depressed over my many attempts to take the weight off. 
My gym also promotes helping others and rewards members for referrals. Due to my 20 referrals, I won a car! The Chevy Spark I won was my first new car ever! One year later, I started to intern as a trainer. I have been an Assistant Trainer for two years, which is another lifestyle change that I NEVER thought would happen to me.
How did you change your eating habits?
SAFBT6.0 has something different than any gym I have ever attended, Accountability and a Meal Plan. The Meal Plan consists of proteins along with protein shakes. I am allowed to have Coke Zero, Diet Coke, and water as well. The main ingredient for the plan: salt had to go. 
I have realized that you are not able to eat everything that you want. I used to eat out three to four days a week. Now, I don't eat fast food at all. I also used to eat at Mexican restaurants where most foods are very high in fat and cholesterol. You can have a good balance, but not every type of food will help you maintain a healthy lifestyle.
What is your workout routine?
I work out a minimum of three times a week, and with weights and no cardio. At the gym, I use weights, weight machines, and row machines. Every workout has been different, and I have not repeated a workout since I started at SAFBT 6.0 in 2016. During COVID, my gym has many options for members, like Zoom workouts or streaming workouts that are uploaded to a gym Facebook group. 
How long did your transformation take?
I started with SAFBT 6.0 on February 16, 2016. My lowest was June 2016 at 114 pounds. My transformation happened in four months! I have maintained for four years.
What is the biggest lesson you've learned?
I learned not to lose hope, and that you are never too old to make a lifestyle change. I was 42 when I started my transformation, and I am now 46. I feel I am in the best shape of my adult life at 46 years old. When I was younger, I never envisioned myself working out or being in shape after 40.
What advice would you like to share with women who want to lose weight?
Reach out to others to get help. Please do your research and make sure that they have success stories and proven results. My gym had many testimonials of people who have lost. They include transformation pictures on their websites and in their gyms. Do not suffer alone and feel like all is lost. It may take time. However, in my case, the weight came off so fast that people forgot I carried an extra 46 pounds for years.
Instagram: @MissBoss1974