Let's workout together in April.
The goal of this super, straight forward exercise challenge is to add an Intense Burst of Exercise into your day. Add these quick interval workouts to your existing workout routine and feel free to modify the workouts to fit your needs.

The fun starts on April 1st.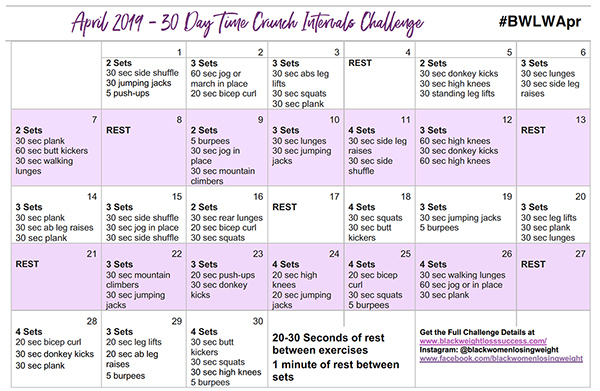 Visit us on Facebook or Instagram daily and check-in after you've completed your workout. We will post a check-in post each morning.
Include the Challenge hashtag: #BWLWApr with your workout selfies. Follow and support other BWLW Ladies as we commit to working out more in the month of April.
This is a self-guided challenge! This means that you can switch up the rest days and modify the exercises to fit your needs. Make the calendar work for you.
---
Leave a comment below and tell us your health and fitness goals for April.
---
Do these workouts at your own pace.
Ultimately, the number of sets you do of each routine will depend on your level of fitness.
If you need more rest between each exercise or between each set, take it!
Don't have an existing workout routine? We suggest that you start by seeking out some beginner routines or by doing 30 minutes of low impact exercise 3-4 days a week.
Can't perform an exercise safely? Chose another exercise instead.
Make modifications if you need to. One modified pushup on your knees is better than no pushups. It's also ok to keep a slower pace if you are a beginner and then build up to doing more over the course of the month. Do what works best for you.
Workout Links – Don't know how to do one of the exercises in the calendar? We've posted videos of the moves.
Workout Timers – There are a number of timers available online and as apps for your phone. Some fitness trackers include interval timers as well. You can also buy a timer on Amazon.
What Should You Eat? That's up to you! Whether you Eat Clean, Paleo, Vegetarian, etc., I suggest that you eat well-balanced meals. Eat meals that are full of healthy, unprocessed foods. Use our Clean Eating Foods List and Clean Eating E-book for guidance. Also, there are a lot of free, healthy meal plans online. Here are a few sources.
Disclaimer: Before starting any exercise program, please consult with your doctor. We cannot be held responsible for any injuries resulting from attempting this exercise routine. If you have injuries that could be worsened, are pregnant, have knee issues, or are suffering neck and back pain, you should speak with a professional trainer about what workouts would be best for you. Do not attempt if you have current injuries, past surgeries or other physical issues/health issues that could be affected by exercise. Don't forget to stretch before and after working out to avoid injuries. If you feel pain or severe discomfort, stop.