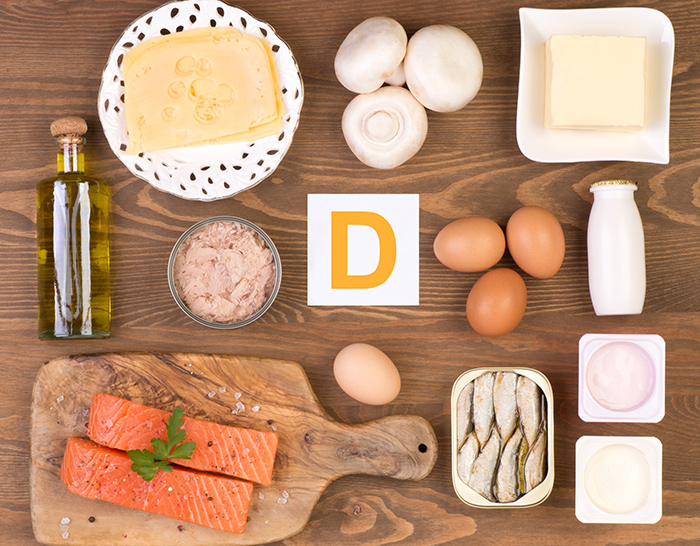 When you think of vitamin supplements, chances are you think about vitamin C, calcium, and zinc. But did you know that vitamin D deficiency is now considered an epidemic?
More specifically, 24 percent of Americans are at risk of inadequate levels of vitamin D. While this means that most Americans do get enough vitamin D, approximately 1 in 4 have low levels. That number is nothing to sneeze at.
Vitamin D is important for the health of your teeth and bones. It also impacts your immune system. Researchers have found a link between obesity and vitamin D.
" According to an Italian team, led by Luisella Vigna of the University of Milan, prior research has shown that vitamin D deficiency is associated with a higher risk of obesity and obesity-related complications." – WebMD

What are the sympoms of vitamin D deficiency?
A lack of the "sunshine" vitamin can leave you feeling blue  —  literally. Depression is one of the potential symptoms of vitamin D deficiency.
Other symptoms include:
Getting sick or infected more often than usual
Persistent fatigue and unexplained tiredness
Bone, back, and muscle pain
Hair or bone loss
Decreased healing ability
Increased blood pressure
Perhaps more alarmingly, new research suggests that vitamin D deficiency could contribute to 17 different types of cancer. The same study indicates that deficiency can also lead to "heart disease, stroke, autoimmune diseases, birth defects, and periodontal disease."
Men with erectile dysfunction (ED) may have significantly lower levels of vitamin D compared to their healthy counterparts.
Brain health can also be affected. A lack of vitamin D doubles the risk of dementia among older adults. Furthermore, people with a vitamin D deficiency are twice as likely to be diagnosed with schizophrenia, according to the reviewed findings from 19 observational studies.
Because vitamin D helps the body regulate calcium concentrations, it's particular important that children get enough. When kids experience a vitamin D deficiency, they're at risk for rickets, which is a softening or distortion of the bones.
What causes vitamin D deficiency?
Vitamin D deficiency isn't something that occurs overnight. This is a health issue that develops when you don't consume the recommended amount over a long period of time.
People who spend a lot of times indoors are at risk of vitamin D deficiency. If you're homebound, work a job that prevents sun exposure, or live in northern latitudes, you are especially at risk.
Ethnicity also plays a factor. The body naturally produces vitamin D when it is exposed to sunlight. However, Melanin reduces the skin's ability to do so because of how well it protects the body from UV rays.
"Melanin protects the skin against ultraviolet light. But by blocking the sun's rays, melanin affects the skin's ability to activate pre-vitamin D. So the darker the skin, the less vitamin D you produce. In the scientific literature, the difference is striking." – The Root
Vitamin D deficiency rates are approximately 82.1 percent among African Americans and 69.2 percent among Hispanics. However, I must not that there is some debate as to whether vitamin D deficiency is being over diagnosed among these populations.
Still, if you think that you may be vitamin D deficient or if you've never been screened for this issue, it's an important topic to discuss with your doctor or primary care provider.
What is the role of sunlight when it comes to Vitamin D?
The sun is hands down your best source of vitamin D.
Did you know that there's cholesterol in your skin? Most people think that cholesterol is only something in your arteries, but when your skin is exposed to sunlight, the cholesterol in your skin cells react. The UVB rays provide the energy that allow vitamin D synthesis to naturally occur.
Even though animal-based foods and plant foods like tofu and mushrooms provide vitamin D, they don't provide enough for you to reach the recommended levels. Some exposure to sunlight is required.
To safely get enough vitamin D from the sun, you'll want to go outside around noon. Fortunately, this is when most people take their lunch break! Noon is when the sun is at it's highest point  —  and therefore has the most intense UVB rays. In other words, you can get more vitamin D with less time in the sun. It's efficient, and you don't have to worry about too much sun exposure!
One study suggests that 13 minutes of sunshine exposure at noon three times a week is all you need to hit the recommended levels of vitamin D. Another study suggests that 30 minutes a day is the optimal amount of sunshine.
Regardless, sunlight is definitely recommended (and necessary!) to hit the recommended daily dose of vitamin D, which is 600 IU.
So… how much vitamin D should you consume? 
Just like anything else, too much vitamin D is too much of a good thing.
Here's how much vitamin D you needto be healthy: (Source: WebMD)
Ages 0 to 6 months:400 IU / day (no more than 1,000 IU / day)
Ages 6 to 12 months:400 IU/ day (no more than 1,500 IU / day)
Ages 1 to 3 years:600 IU/ day (no more than 2,500 IU / day)
Ages 4 to 8 years:600 IU/ day (no more than 3,000 IU / day)
Ages 9 to 70 years:600 IU/ day (no more than 4,000 IU / day)
Ages 71+ years:800 IU/ day (no more than 4,000 IU / day)
The good news is that it's nearly impossible to get too much vitamin D from the sun or from food. (That's not to say that you can't have too much sun exposure…because you can. I don't recommend that you sit in the sun all day, risk sun burn, etc.)
Most incidents of vitamin D overdose (or vitamin D toxicity) is from people who take too many supplements. Too much vitamin D (hypervitaminosis D) can lead to nauseas, vomiting, weakness, and kidney failure.
What foods have vitamin D?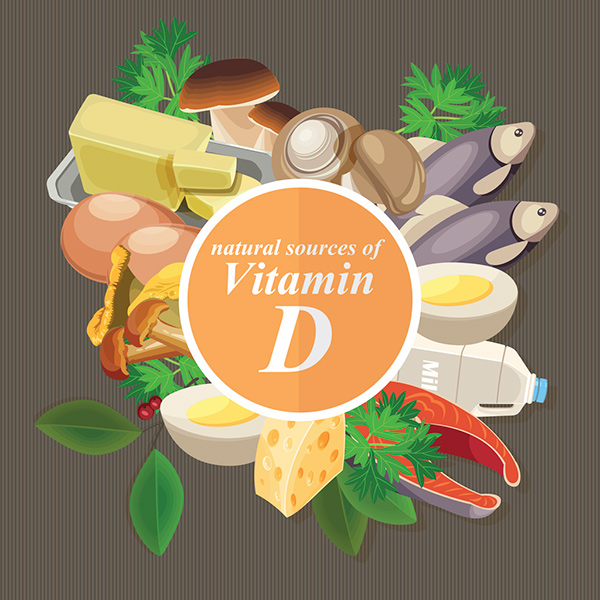 If you work inside all day (i.e. warehouse, hospital, movie theater, mall, etc.) you might not be getting enough sunlight to produce vitamin D.
You can safely get vitamin D (and calcium!) from these foods:
Fatty fish (salmon, tuna, and mackerel)
Cheese
Eggs (especially egg yolks)
Soy milk and cereal
Mushrooms
Beef liver
Vitamin D Fortified Products, like Orange juice, Almond milk or Breakfast Cereal
Like all things related to health and fitness, consistency is key if you want to experience the best results. Just as you won't develop vitamin D deficiency overnight and you won't correct it overnight. It could take a few weeks of healthy eating and sunlight to get the right amounts of vitamin D to feel and function at your best!