Tranformation of the Day: Candice lost 31 pounds. As a nurse, she saw people every day who were suffering due to the side effects of unhealthy lifestyle choices. With the help of an online training program, she embraced healthy eating habits and made exercise a habit. Check out her story.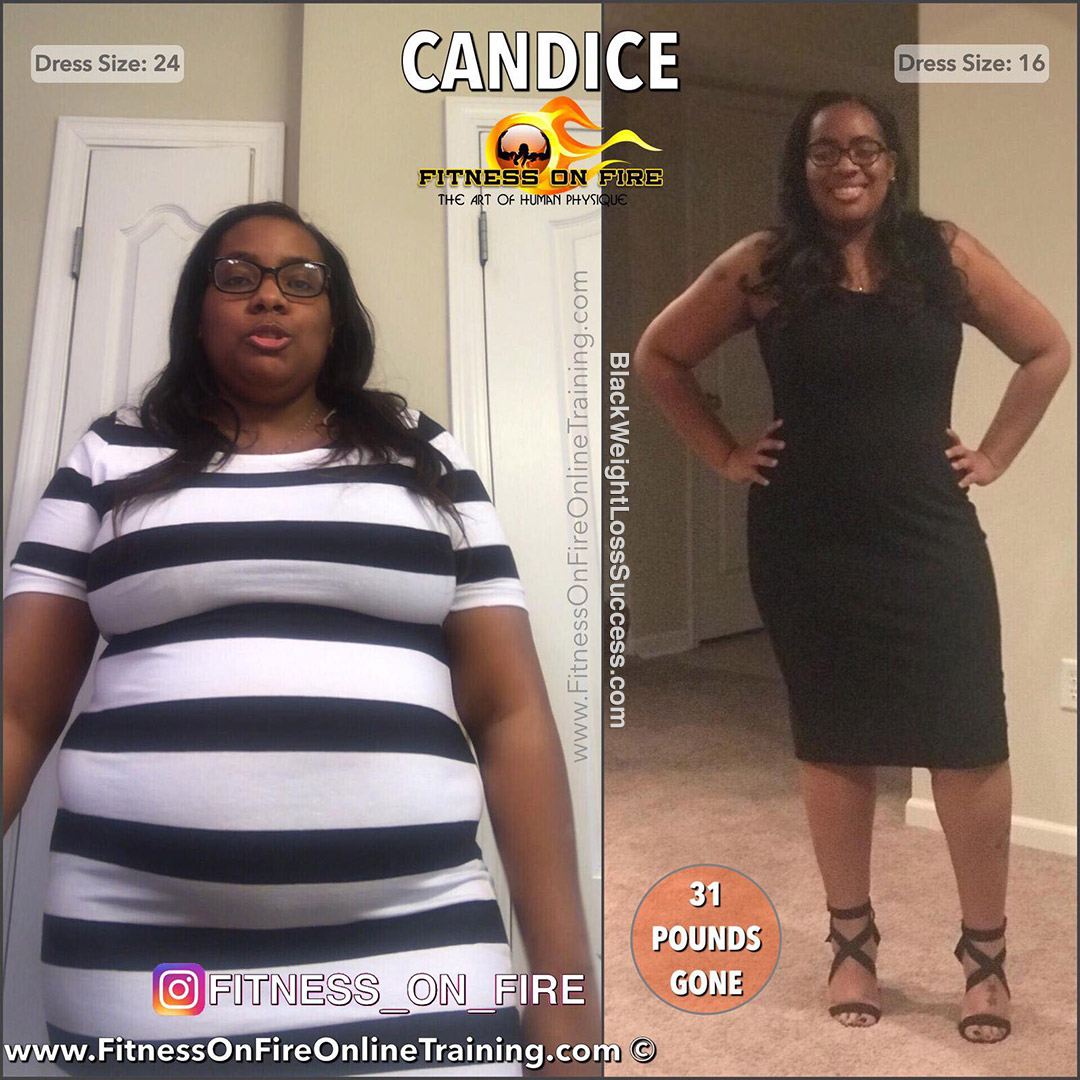 Age: 33
Height: 5'4″
Starting weight: 250lbs
Current weight: 219lbs
Total weight loss: 31lbs
Starting Dress Size: 24
Current Dress Size: 16
What was your motivation?
My family is my motivation. I have struggled with my weight my entire life. This is an issue I didn't want to pass down to my 2 daughters. I wanted to make a change now so that they could see mommy making changes to be healthy, and we could make those changes together.
As a nurse, I encounter patients daily who are suffering from the side effects of being overweight. That has given me an up-close view of what my life would look like if I didn't make the necessary changes to live a healthier life now.
What inspired you to start your weight loss journey?
I got tired of sitting in the house feeling sorry for myself because none of my clothes fit. I got tired of missing out on going out with friends and family because I felt uncomfortable in my own skin. I completely isolated myself from everyone because I was unhappy with the way I looked and how I felt. I knew something needed to change.
How did you change your eating habits?
I started eating 6 meals a day. My snacks are healthy, high fiber snacks. I stopped eating fast food and became more aware of what I am putting in my body. I also increased my water intake.
Stopped: Eating fast food and junk food (cookies, cake, etc.)
Started: Eating more high fiber foods, more veggies, and increased my protein intake.
What did your workout consist of?
I workout 5-6 times a week and my workout consist of 75-90 minutes of resistance training.
How long did your transformation take?
My transformation has taken about 5 1/2 months. I started noticing a difference in the way my clothes were fitting after about 60 days on the "Fitness on Fire" Online Training Program.
What advice do you have for other people who want to lose weight?
DON'T GIVE UP ON YOURSELF! It can be done it just takes time, and determination Slow and steady wins the race!