Staying on track with weight loss and fitness goals during the holiday season can be a serious challenge, but WE can do it.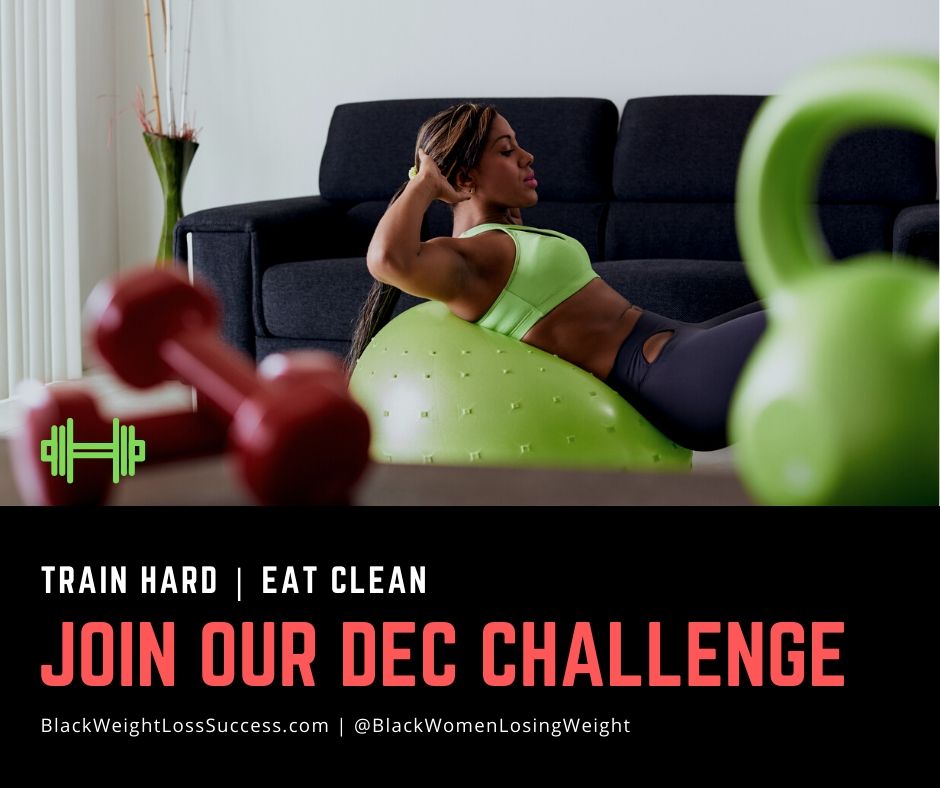 You'll find the link to download this month's 21 Day Tracking Calendar below. Each day, you'll find a task/suggestion that will help you to stay on track. This challenge will begin on Dec 1st.
As a group we are committed to…
Working out four days a week minimum. (Your choice of exercise – Do what works for you.)
Cutting out late-night snacking/eating by creating a daily cut off time. This time should be at least 2 hours before you go to sleep.
Limiting high-calorie drinks, like soda, store-bought juice, and alcohol.
Eating as CLEAN as possible.
Using portion control. Moderation is essential when it comes to the treats and meals that are available this time of year.
Checking-in Daily! We will continue our evening check-ins for accountability, Dec 1 – 21. Visit our Facebook page or our Instagram, and you'll find the daily check-in post.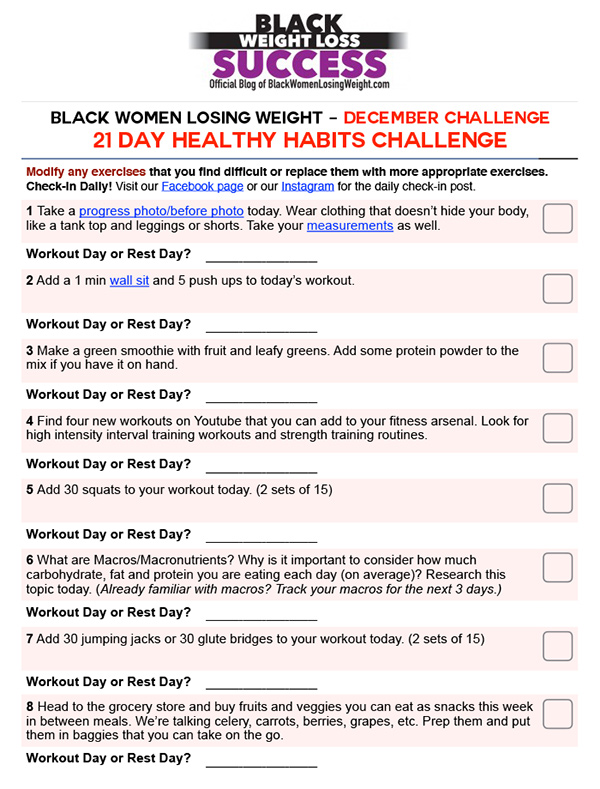 What do we mean when we say, "Eating as CLEAN as possible."? When you eat clean, you'll be eating more unprocessed, whole foods that are prepared in ways that don't add lots of extra chemicals and toxins. We are talking about fresh fruits, fresh vegetables, lean meats, healthy meat substitutes, whole grains, lots of water, healthy dairy, and fresh juice. Avoid fried food, fast food, junk food, bleached white flour, artificial ingredients, soda, commercial juice and sugary drinks, and processed sugar (white sugar, corn syrup, etc.). Also, try to avoid foods with lots of preservatives, toxins, dyes, saturated fat, and trans fat. You will likely be cooking a lot of food at home, making green smoothies, eating salads, and eating healthy snacks.
It's not about perfection. It's about making healthier choices. We know that you are going to eat some great, delicious food in December, and there is nothing wrong with that. We simply want to encourage you to make lots of healthy choices this month and avoid the temptation to abandon your healthy eating goals completely.
Recommended Reading*:
Disclaimer: Before starting any exercise or diet program, please consult with your doctor. We cannot be held responsible for any injuries resulting from attempting this exercise routine or making changes to your eating routine. If you have injuries that could be worsened, are pregnant, have knee issues, or are suffering neck and back pain, you should speak with a professional trainer about what workouts would be best for you. Do not attempt the exercises listed if you have current injuries, past surgeries or other physical issues/health issues that could be affected. Do not attempt if you are pregnant or could become pregnant. Don't forget to stretch before and after working out to avoid injuries. If you feel pain or severe discomfort, STOP.

*This post contains Amazon Affiliate links. We may be compensated if you make a purchase.