Transformation of the Day: Jocelyn lost 64 pounds. The convenience of eating out, balancing all the things that come with marriage, dealing with stress and not being happy with her body all led to her not being happy with her life. The pounds piled on. With her husband by her side, she began to workout, meal prep and take the positive actions that have led to her amazing transformation. Check out her story.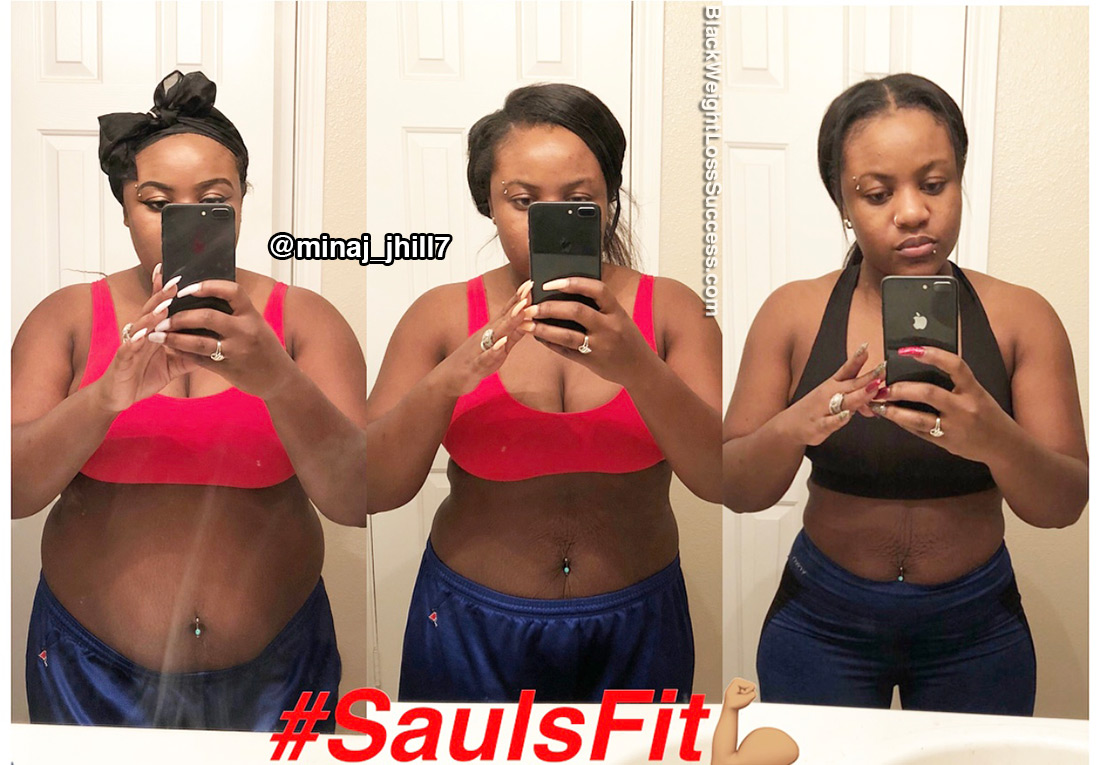 What was your motivation? What inspired you to keep going when you wanted to give up?
I always had weight issues. Like most women, I LOOOVE FOOD so my weight would go up and down. While dancing and cheering professionally, I was always eating a ton during the off season and gaining weight like crazy. Then, I would do a super strict diet and workout when it was time for the season to start back up again. There were also times when I would lose weight for an event or occasion and after it was over I would eat like crazy again. It was a continuous cycle. I hated doing this, but I thought I was at my happiest when I was either eating badly or being thin. Obviously, you can't do both, so it was stressful for me.
I got married and later had my first child at 29 years old. I also have an additional 3 kids who aren't biologically mine but my husband's from a previous relationship. They are now my babies as well. After getting married and having achild, I could not be consistent with weight loss anymore. At the time, I thought it was impossible to lose the pounds. I gained 75 pounds during my pregnancy, going from 170 lbs to 245 lbs. I got down to the mid 180s three months after giving birth. I thought I would keep going, but I didn't.
Married life got to me. The convenience of eating out and having fast food got to me. Not having "enough time" got to me. Just being comfortable got to me. My husband said I looked good, so that was enough to get me by, but I didn't feel or look good to myself. I wasn't happy with my body. Add that on top of other stressors I was facing, and all of this caused me to not be happy with my life (making things even more stressful).
I remember going for my Well Woman exam and seeing that I weighed 212 pounds. I told my doctor that I needed surgery because no matter what this weight would not come off. (In the end, I didn't have weight loss surgery. I know now that I didn't actually need it.)
My husband wasn't interested in losing weight, which made it harder for me to diet because I would want to follow his habits. While I'm eating salad, he would eat nachos. While I would drink water, he would have a margarita or beer. It just didn't work for me. Finally he got on board! We got a membership to our local gym, started dieting together and working out 6 days a week. That's when my motivation came. Once I started to lose pounds, I was happy again. We had some cheat meals but because of our progress we didn't fall back into old habits. We kept going.
My motivation was my family and the person that I saw in the mirror progressing everyday. I also found motivation in people looking up to me and wanting to follow my journey. I can't fall off because now I've invited all these lost people into my life. If I fail, then I've failed them. This is the longest I have been consistent and I will keep going. Now, it's a lifestyle.
How did you change your eating habits?
I always knew how to lose weight through eating healthy and following a certain plan I created. I basically ate 5 meals a day, with 3 main meals and 2 snacks. I ate eggs, yogurt, deli meats, cheese, protein shakes, fruits and veggies. I only eat baked or grilled meats, and I drink at least 64 oz a water a day. I cut out all junk food, sodas and juice. I eat pretty low carb.
I did Keto before, which is also great, but I don't care to cook everyday. I'd rather meal prep once a week, so following my own plan which works for me. I also drink a detox shot in the mornings, which includes cayenne pepper, hand squeezed lemon juice, hand squeezed orange juice and apple cider vinegar. I also made drinks at home with cucumber, mints leaves, lemons and water. I drink dieters tea in the mornings.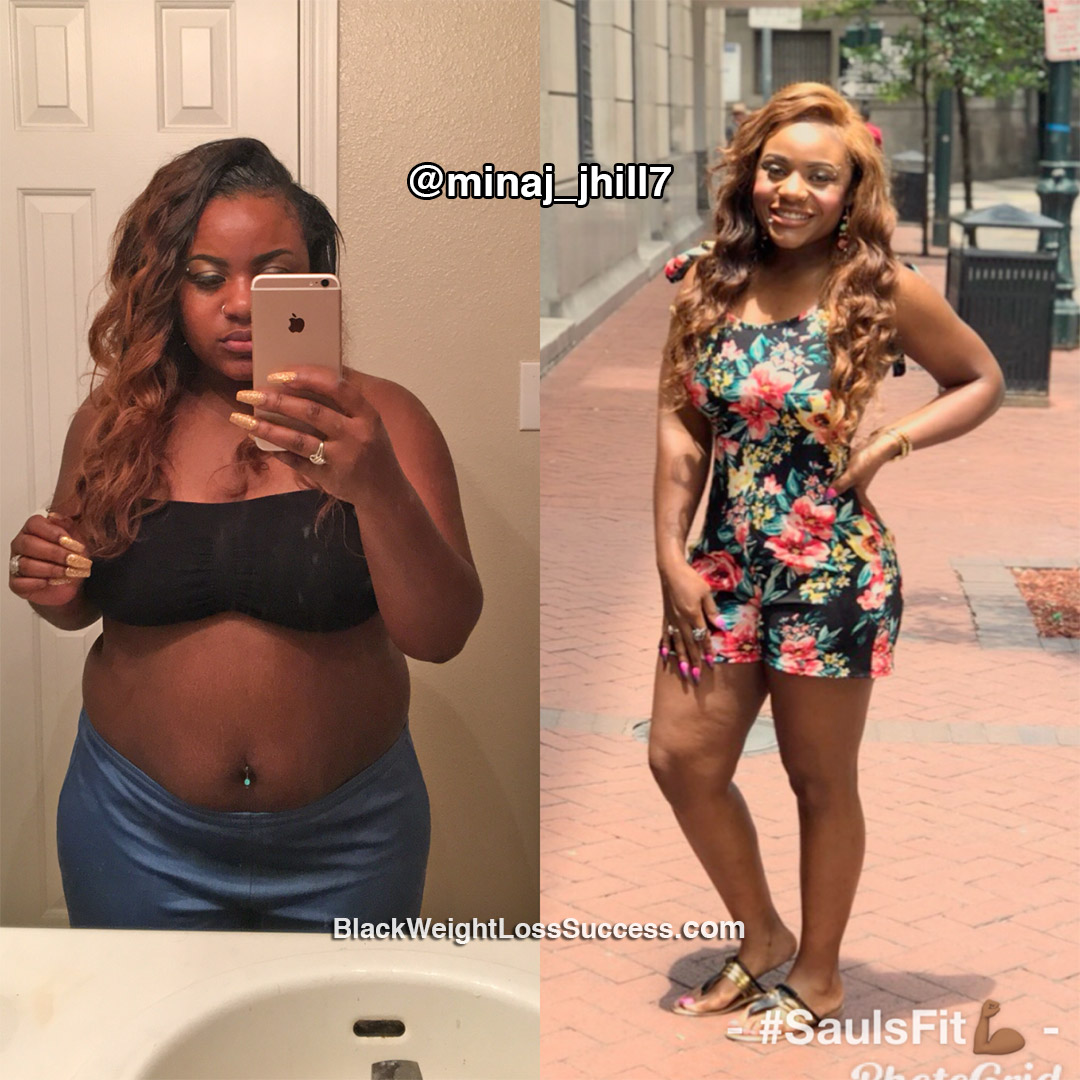 What did your workout routine look like?
I workout 6 days a week and rest on Sundays. I workout for an hour and 15 minutes to a hour and 30 minutes (sometimes less, sometimes more). I mostly lift weights. You'd be surprised how lifting is better than cardio. Some women think they will bulk up or look swole, but that's not true at all. I did cardio at the end of my workouts for about 10-20 minutes (sometimes more cardio but sometimes none at all). I also waist trained. I wear a corset or sweat belt for at least 8 hours a day and while I workout. That helped with shaping my body, sweating out toxins, losing belly and back fat.
What was your starting weight? What is your current weight?
On October 23rd, 2017, I weighed 212 pounds. On April 23rd 2018, I reached my goal weight of 150 pounds. (height: 5'3″) I've been maintaining since then. I now weigh 148 pounds, but I'll start intermittent fasting at the being of August which will help me to continue my weight loss journey. I love my current weight, but I want to improve upon it to be smaller based on my BMI.
What is the biggest lesson you've learned?
To not give up and to stay consistent. You may fall off, but as long as you get right back on track you will keep going forward.
What advice do you have for others who want to lose weight?
Either it's going to be "Day 1″ or "One day…". You have to choose Day 1! You have to start and you can't stop. Hang around with other people who encourage you and want to support you. Don't give up, no matter what. This journey is more mental than physical. The greatest reward is your outcome. Just start!
Instagram: @minaj_jhill7
Snapchat: Minaj_JHill7