Transformation of the Day: Lorinell lost 65 pounds. She wanted to grow healthier as she grew older. No more unhealthy eating habits. No more wasting her gym membership. Her commitment grew as she put in the work in the kitchen and in the gym. She has achieved awesome results. Her results are awesome.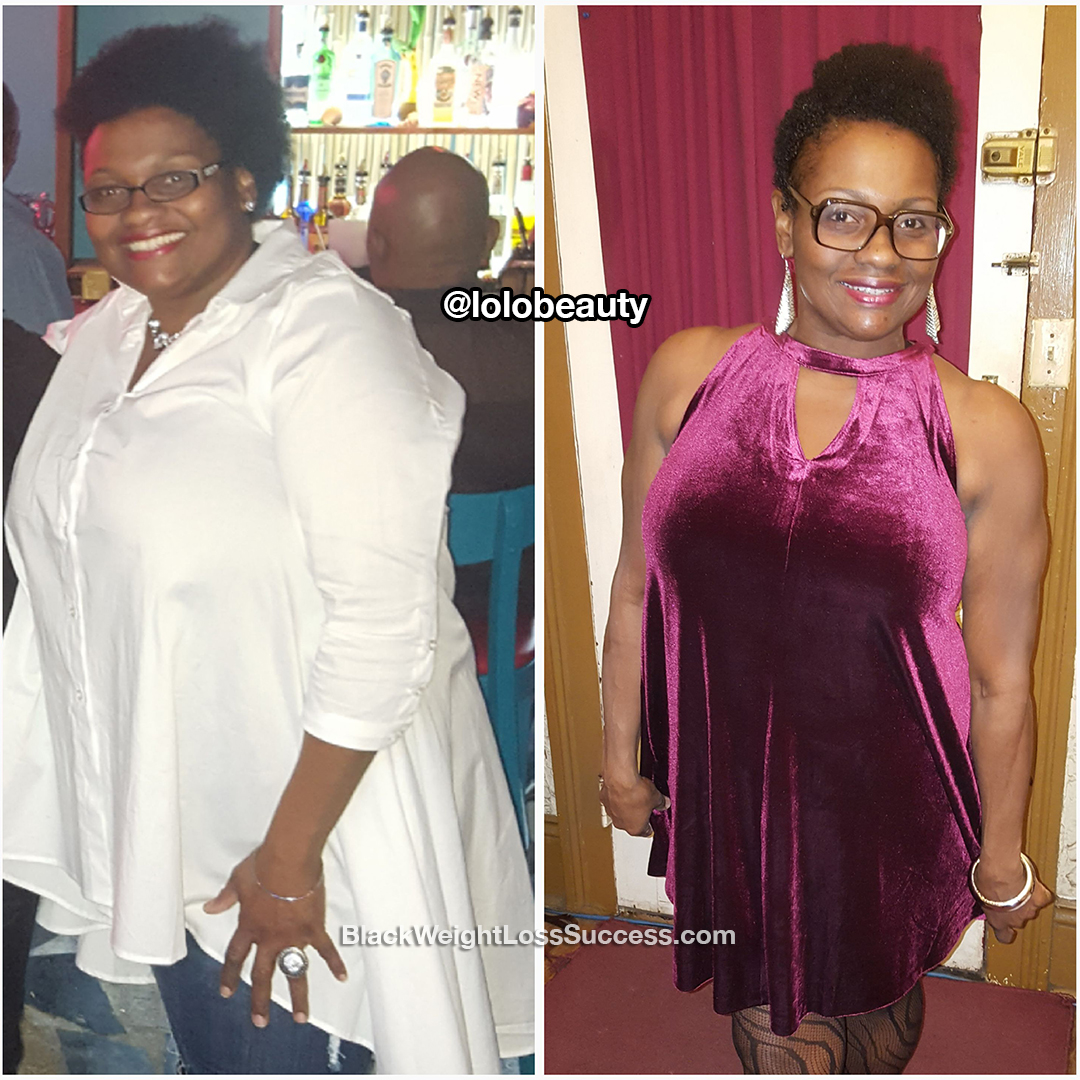 What was your motivation?
I am getting older and don't want to be sick. I saw how diabetes destroyed my mother and I didn't want to follow the same path.
What inspired to keep going when you wanted to give up?
Honestly, my inspiration was simply not wanting to be a quitter, since I have been a quitter so many times in the past. Getting results also kept me on track.
How did you change your eating habits?
I studied how food affects the body and began to give up certain things based on the knowledge I gained. However, I would always revert back to my old habits. When I started getting serious about fitness, I decided to go cold-turkey and quit my unhealthy eating habits. I knew that if I survived the cravings and the pains of a new workout regimen, I could continue and be successful.
I joined a small group class with a certified fitness trainer on March 6, 2017. I started using the basic meal plan that the trainer gave me. During the first week, I lost 11 pounds! Those results hooked me. Of course, the weight loss slowed to a normal pace going forward. I started to pay attention to everything I put in my mouth and how it affected my body.
Then, I discovered that a Keto/Ketogenic style diet gave me the best results in terms of losing weight and having good energy levels. Now, my eating style is high fat/low-carb/moderate protein. I don't eat any simple or starchy carbs. No rice, pasta, bread, potatoes, etc. I don't eat beef, pork or shellfish. I
also don't eat much fruit. I just have a few strawberries in my protein shakes, periodically. I research the nutritional value of everything I eat. I look at my macros and create my own meals each week for meal prep.
What did your workout routine look like?
I started going to a gym on my own, but I really wasn't pushing myself or getting any results. So, I joined a HIIT small group class with a personal trainer. The class is Monday-Thursday. I also go to Bootcamp every other Saturday. So, I had 18 workouts a month. I go to the gym on my own on the Saturdays that I don't have Bootcamp. Yep, I stopped donating my money to the gym… LOL
What was your starting weight? What is your current weight?
My starting weight was 271 pounds and my current weight is 206 pounds. My height is 5′ 5.5″.
How long did your transformation take?
I started on March 6, 2017, so it's been 9 months. I'm still working toward my goal weight.
What is the biggest lesson you've learned?
You have to put in the work and be consistent. It's really easy after you make that mental commitment.
What advice do you have for others who want to lose weight?
Make small changes and keep adding more to your regimen as time goes on. It really adds up to big results.
Instagram: @lolobeauty