Transformation of the Day: Lea lost 40 pounds. When this mom of two was denied cosmetic surgery due to her BMI, that was the last straw. Fasted cardio, strength training and the Ketogenic diet worked wonders for her. Check out her journey.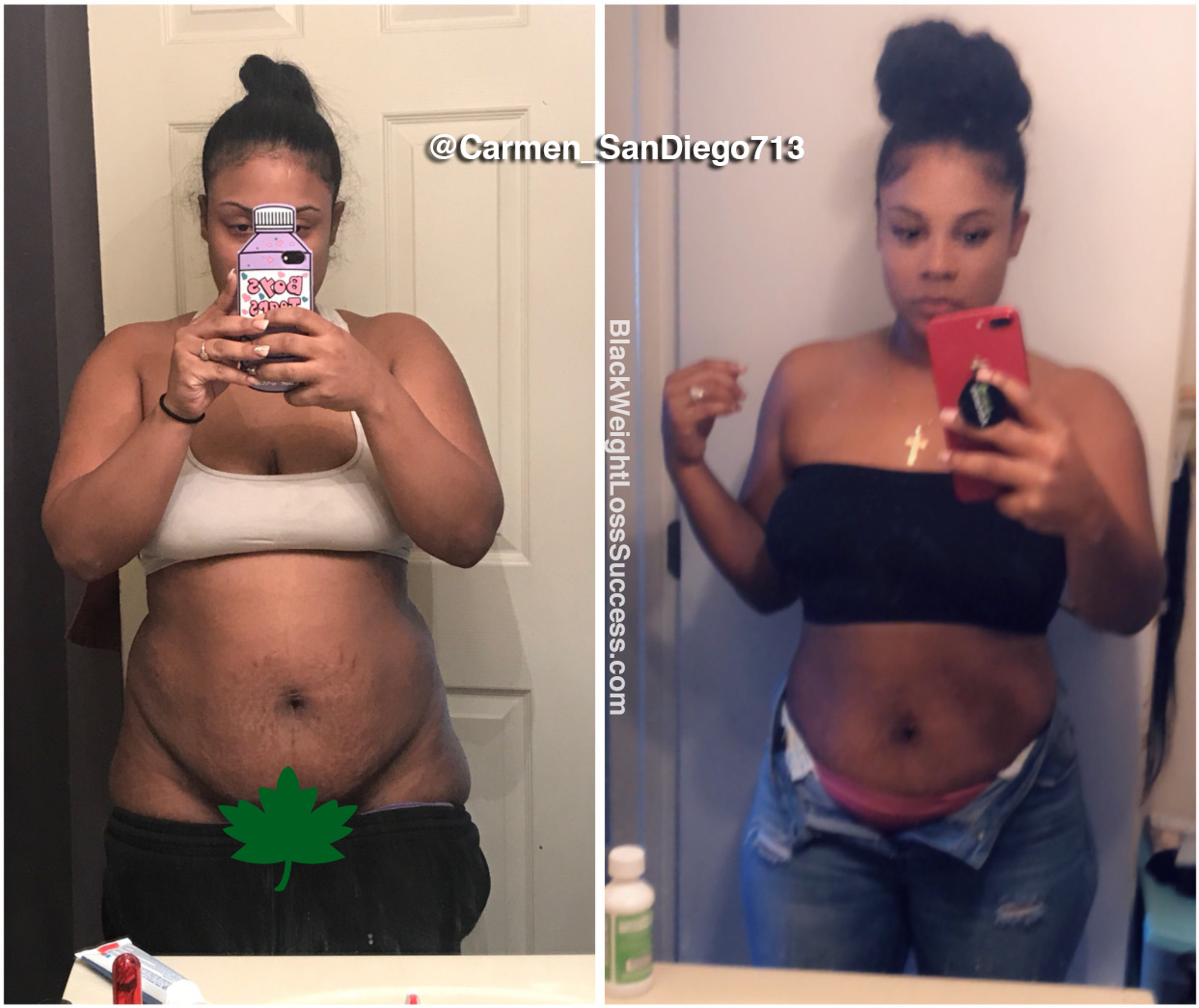 What was your motivation?
Honestly, what got me going is when I went to get a quote for cosmetic surgery. When I received the information back from the doctor, she did not give me a quote for the operation. Instead, she wanted me to diet and exercise to get my BMI down. I was too big to have surgery. That was it!
What inspired you to keep going, even when you wanted to give up?
What inspired me when I wanted to give up was the fact I no longer wanted to be unhappy. I was tired of feeling depressed and sluggish.  When I would walk up the stairs in our building or if I was carrying my son for too long, I would be entirely out of breath. I needed a change.
How did you change your eating habits?
The way I changed my eating habits was by doing the Ketogenic Diet.  I kept my carbs to no more than 20g a day, and I ate a high fat/moderate protein diet.
What did your workout routine look like?
I would wake up in the morning and have black coffee. Then, before eating, I would do 30 minutes of fasted cardio. At night, I would do strength training. I would workout no less than four times a week.
What was your starting weight? What is your current weight?
My starting weight was 215 pounds, and my current weight is 175 pounds. My height is 5'3″.
When did you start your journey and how long did your transformation take?
I started in March 2018, and it took five months. Eventually, I did have a tummy tuck and Lipo.
What is the biggest lesson you've learned so far?
The biggest thing I learned from this journey is the art of balance. Juggling being a mom, a wife, and helping the family businesses… all while trying to get a workout in and lose weight is something that I had to learn to succeed.
What advice would you share with people who want to release the weight?
If you take the time and make an effort, you can do it!  Break it down and approach it as 8 pounds a month or 2 pounds a week to lose.
Instagram: @Carmen_SanDiego713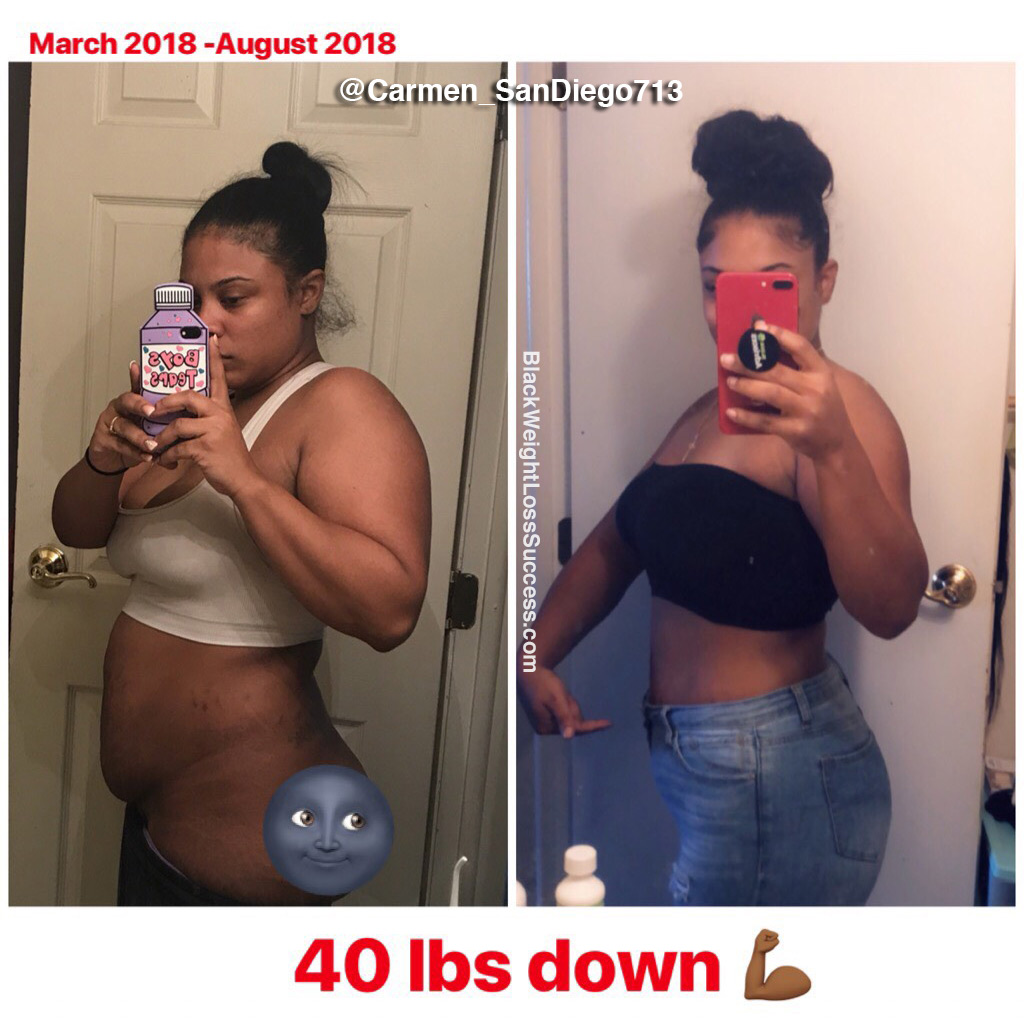 "Over the period of five months I've lost 40 pounds. So many people say before going to get #cosmeticsurgery "make sure you go to the gym", "just workout", "you don't need surgery", "try to do it yourself". Well I did that! So how did I lose my weight? The first thing I did was I just did the regular "diet and exercise routine" we all know which took me from 215 pounds to 195lbs. At 195 lbs I still felt heavy and was still very tired from walking up stairs or carrying my baby for too long. At this point I began to eat a low carb diet and I also began training with @hdtvuc. Hector's plans work very well for me because even though I could not get to the gym to train with him; he makes workout plans for when you go to the gym or for when stay home and workout. My brother @immortal.savage was like my "nutritionist". 😂 He would take the time to teach me about food and what our intakes should be. He also taught me about, what I feel changed my life, FASTED CARDIO! fasted cardio for me I when I wake up I drink and iced black coffee and do about 30-45 mins of cardio Before eating. He also took the time to introduce me to the #KetoDiet. (I'll explain #Keto in another post) The largest help through it all has been my husband @mohesco. My husband understood I was sensitive about my weight so instead of telling me to go to the gym or lose weight he would say hey Lea let's go to the gym TOGETHER hey Lea let's walk the trail TOGETHER! We BOTH did the diets! I really appreciated the fact that he took the time to work with me workout with me lose weight with me! (he actually ended up losing more weight than me). 🤷🏽‍♀️💋❤️ ."