Transformation of the Day: Denise lost 75 pounds. This proud grandmother/great-grandmother will celebrate her 70th birthday in December. She experienced several serious medical challenges, including two strokes. Seeing her siblings pass on due to health issues is also part of her motivation to change her lifestyle. She had Gastric Sleeve surgery in 2020.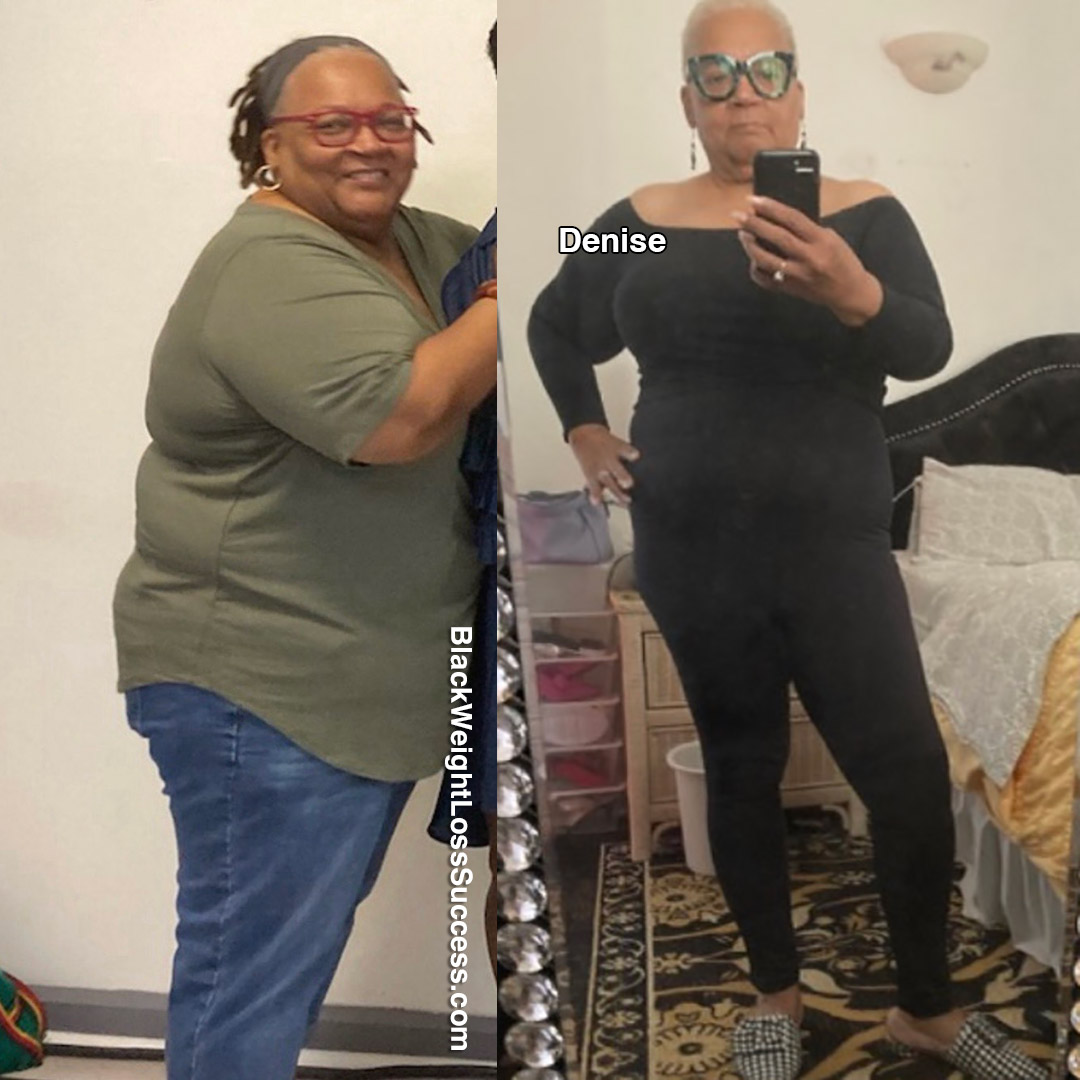 I am the third child of my parents and the only girl. None of my siblings lived to be my age of 69. My 70th birthday is coming up in December. My three brothers (2 older and one younger) all passed on from health-related issues (i.e., high blood pressure, heart disease, diabetes, and complications thereof). Two brothers passed in their late forties and one in his mid-sixties. My parents are deceased also. I decided I wanted to live and break the "curse" of early health-related death.
My children and grandchildren motivated me to get healthier, as well as my health issues. I had two strokes in 2010 (complications of high blood pressure). Then I was diagnosed with Parkinson's in 2012 and diagnosed as a boarder-line diabetic during the same year. All the while, my weight had ballooned upwards to 270 pounds. 
After much thought and grief, I signed up to have gastric sleeve surgery in 2019, following the death of my last living sibling in 2018. However, Covid had shut all elective surgeries down. So finally, in July 2020, I underwent my gastric sleeve surgery.
My gastric surgeon and nutritionist taught me what foods to avoid (sugar and carbs). I learned to eat healthier and began going to the gym. I'm now officially a "gym rat" who works out five days a week. I also joined a water aerobics class three mornings a week. 
I may not have been perfect on my weight loss journey, but I have been faithful. I must give my Lord praise for giving me the strength to keep moving through this journey. 
I weighed 270 pounds at 5'4" in 2020. I am now down a total of 75 pounds. HALLELUJAH!!! It's not over, as my goal is to lose another 25 lbs. Also, I recently had tummy tuck surgery in December 2021.  
I learned that I CAN do all things by having faith in God and myself. I finally love myself! I am now a fashionista who loves clothes, going out, having fun, traveling, and meeting people. I am not ashamed of my body anymore. 
If I can do it, then you can too. Yes, it's a challenging but not impossible journey. Besides, nobody is perfect. So if you fall off, forgive yourself and get back on track asap. You'll see and feel the rewards. You'll be proud of the work you put into reaching your goal(s) and be an inspiration to yourself and others. 
I am no longer pre-diabetic, nor do I have high blood pressure. As for the doctors saying I have Parkinson's, nobody (including me) believes that when they see me moving about! I have more energy than ever before, and my balance and range of motion have improved dramatically too. 
This 69 years young, grandmother and great-grandmother is living a happy and healthy lifestyle.