Transformation of the Day: Nicole lost 55 pounds and became an IFBB Pro competitor in the Bikini Division. After experiencing all the physical and mental changes that come with having children, she decided it was time to get her pre-baby body back. Check out her awesome transformation.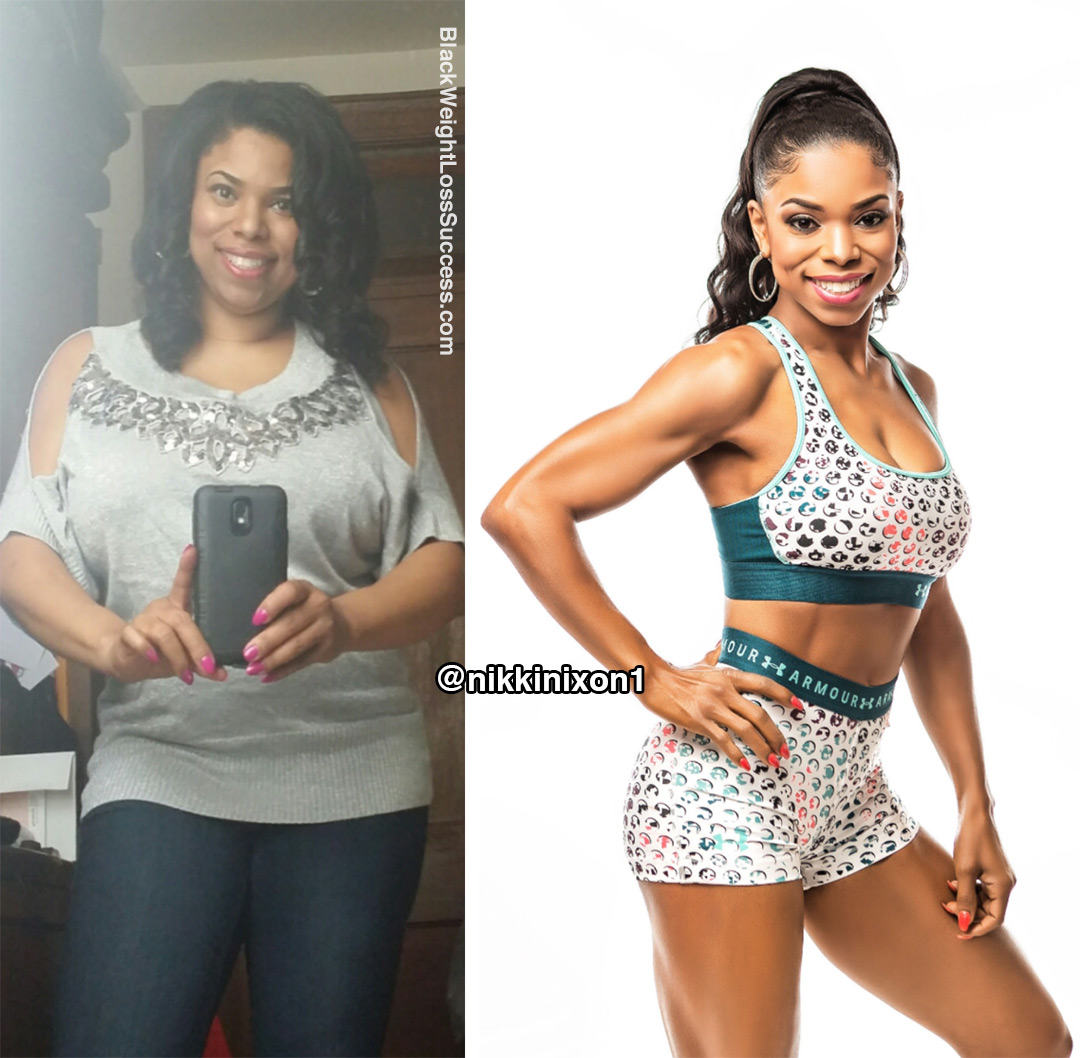 What was your motivation? What inspired you to keep going when you wanted to give up?
Before having children, I never had an issue with weight or body image. In fact, dieting was foreign to me. I was familiar with the gym, but I never worked out on a consistent basis.
Fast forward to motherhood. I had no idea how taxing having children could be on the body. It changes you mentally and physically. It also changes your body chemistry. After having my lower abdominal muscles cut twice from cesarean sections, I wanted to get back to my "pre-baby" body.
I started working out at 8 weeks postpartum. I researched the most efficient ways to burn fat since my time was limited while juggling two children under the age of two years old. I came across High-Intensity Interval Training (HIIT) and put together some workouts.
I was successful at dropping some weight but wasn't satisfied with my shape. I thought I needed the assistance of a personal trainer to recomposition my body, but what I really needed was a nutritionist.
What I thought was clean eating was the total opposite. It wasn't until I was introduced to amateur bodybuilding (the Bikini Division), that I learned all I needed to know to achieve the physique I thought was impossible after having children.
I set a goal to compete in my first amateur bikini bodybuilding competition. After successfully stepping on stage, what was supposed to be a one-time instance, turned into an enjoyable hobby
which brings me to where I am today. I'm an International Federation of Body Building (IFBB) Pro in the Bikini Division.
How did you change your eating habits?
I changed my eating habits by working with my coach who prepared me for my first bodybuilding competition. She provided me with a meal plan full of whole foods. I eat six meals a day (three meals, three snacks) and prep them in advance. It's much easier to stay on track when the food is already prepared.
I learned to make healthier versions of the foods I love, such as Chinese food. When I am not training for a bodybuilding competition, I use the "If It Fits Your Macros (IIFYM)" approach to dieting. I track all of my food in MyFitnessPal. (There are free online calculators that can help you figure out your macros.) I weigh all of my food using a food scale.
If I have to get fast food, I stick to healthier options, such as places that have a healthier fare like grilled/rotisserie chicken, fish, rice, potatoes, and veggies. I rarely eat dairy, and when I do, it's less than once a month on pizza.
What is your workout routine?
Before training for my fitness competition, I worked out five days a week. My routine included 20 minutes of cardio (elliptical, dance, or Zumba), and 30 minutes of a blend of plyometrics and calisthenics. Once I started training for my fitness competition, I did a maximum of 35-45 minutes of cardio six days a week and strength trained for 1 to 1.5 hours 5 days a week.
What was your starting weight? What is your current weight?
My starting weight was 165 pounds, and my current weight is 110 pounds. My height is 5'0.
When did you start your journey? How long did your transformation take?
I started my journey at 8 weeks postpartum and fully transformed into a fitness bikini competitor at 10 months postpartum.
What is the biggest lesson you've learned?
The biggest lesson I learned is that you have to learn your body because everything doesn't work for everyone. For instance, some popular healthy foods bloat me and impede my progress. Another lesson I learned is carbohydrates and fats are not the enemies. In fact, the brain needs carbs and healthy fats to function correctly. Finding the proper amount is the key.
What advice do you have for others who want to lose weight?
Never give up, always set realistic goals, and never starve yourself. Track your foods in an App, such as MyFitnessPal, and don't just rely on the scale. Progress can be monitored by taking your measurements or by getting a body composition scan, such as a Dexascan or Bod Pod.
Cleaning up your diet is the most important aspect to weight loss, as 80% of it is diet, and 20% is exercise. You can't out train a bad diet. Your diet doesn't have to be too strict, it just needs to be balanced. For instance, you can do a healthy meal prep on specific days of the week, but be more relaxed on two days out of the week without destroying all of your hard work. I like to have my relaxed days on the days I train the hardest.
To lose weight, you must be in a caloric deficit. This can be done without denying yourself completely. You just have to make adjustments along the way. For example, If you eat a meal that is not on your plan, then you have to eat clean for the remainder of the day. Always remember that weight loss, training, and dieting are more of a mental challenge than anything else.
Instagram: @nikkinixon1