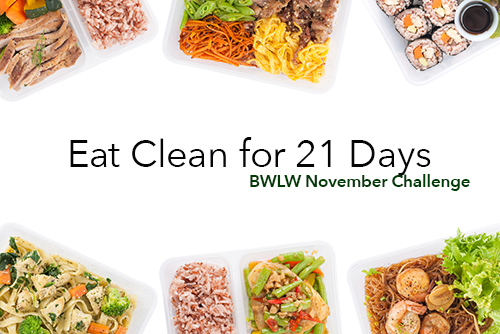 Week 2 of our challenge has already begun. I've heard many happy reports that Challenge participants and DietBet participants are losing the pounds and feeling great just by cutting down on junk and processed foods. Remember, It's not about perfection, it's about progress. Focus on eating clean at least 70-80% of the time and on creating an eating plan that works for you. No fads and no quick fixes, just balanced, healthy meals. The key to long term weight loss is creating a health lifestyle by embracing healthy eating and exercise habits that you can practice for a lifetime.
My Top Tips for Week 2 of our Clean Eating Challenge
Balance Your Meals: You should already have a goal in mind in terms of calories, per the challenge details. This week focus finding the right balance of carbs, fats and protein, instead of just calories. Gram of carbs = 4 calories. Gram of protein = 4 calories Gram of fat = 9 calories.
Keep your carbs to 25-35% of your overall diet. For example, if you eat 1500 cals per day 30% would be 450 calories from carbs or 112.5 grams of carbs. If you are doing very intense exercise 5-6 days a week, you may need to be more in the 40% range.
10/10/10 Meal Planning – Come up with a list of 10 breakfast recipes, 10 lunch recipes and 10 dinner recipes that you love and that fit your calorie/nutrient goals. Take time to research online for new recipes and try them out. Once you have your 30 recipes, create a 30 day meal plan with them. Make these 30 recipes at least 80-90% of what you eat along with healthy snacks and lots of water.
Recipe Resources:
9 Crazy Good Clean-Eating Snacks You Can Make Ahead And Eat All Week
Clean Eating Crock Pot Recipes
Fall Comfort Food: Clean Eating Slow Cooker Recipes
10 Clean Soups and Stews for Fall
5 Southern Classics Remade Healthy
Delicious and Clean Detox Dishes
Emotional Eating
5 Tips for Overcoming Binge Eating
Action Steps: What can you do to stop emotional eating?
5 Tips for Dealing with Stress Eating
General
Eating Clean with a Family of 5
The 11 Cleanest Food Choices You Can Make—And The 11 Dirtiest
Beginners Guide to Once a Week Food Prep
12 Meal Prep Ideas to Free Up Your Time