Transformation of the Day: Princess lost 80 pounds. After seeing many of her family members plagued with chronic illnesses, she knew it was time to get serious about her health. She decided to have Gastric Sleeve surgery and commit herself to a new, healthy lifestyle.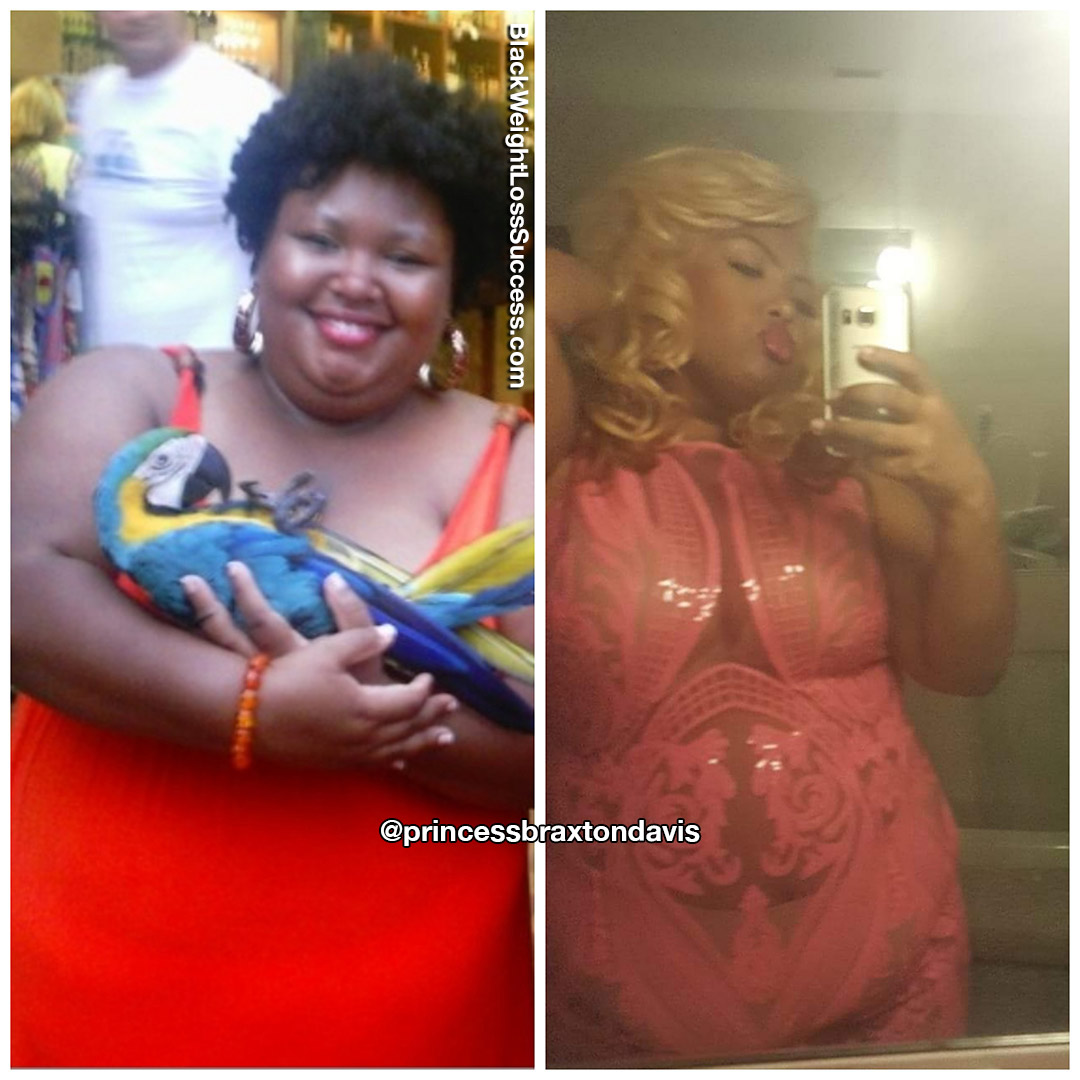 What was your motivation?
My motivation was watching my mother, father, aunts, uncles, and grandparents being plagued with many chronic illnesses without recovery. I've never had trouble losing weight, but I could never reach my goal of good health. I once lost 35 pounds and then gained 70lbs back. After so many attempts at losing weight, it was so traumatizing that I felt paralyzed. I was actually afraid to lose weight, as backward as that may seem. 
Growing up, I was bullied and picked on so much that I detached from my body. People went out of their way to make sure I understood that my body was disgusting. I dressed in oversized clothing to hide my body. I never thought of myself as a liar, but I was. I lied to myself and my doctors! I became more and more withdrawn because I didn't fit in with my peers. I latched onto Academics because I knew I could excel in that area, and I did. 
I never had a date to a dance. I didn't even start dating until I was 25 years old because of my body image issues. Instead of prioritizing my health, I focused on vanity. I wanted to look good and feel attractive, something that I let others make me feel like I didn't deserve. That did motivate me to lose weight, but it was only a temporary solution. Now health is my biggest motivator. I want a better quality of life, and I want to encourage others to want the same. I want my story to inspire people.
When did you start your journey? How long did your transformation take?
My journey began in 2011. That is the year I had Gastric Sleeve weight loss surgery. If anyone is interested in having weight loss surgery, I want them to understand that you will still have to make the same changes that you needed to make before after the surgery. 
I was hospitalized for 42 days after my surgery in Hawaii. I withdrew from my graduate program and went back home to Michigan to recover. I completely changed my course in life, but I don't regret my surgery. It has been a tool to keep me from reaching my highest weight, but I still gain and lose. My surgery has made me acutely aware of the consequences of my actions. For example, now, if I don't pay close attention to my hydration. I will have to go to the ER. (That has happened several times over the years.
How did you change your eating habits?
Over the years, I have done many programs like Weight Watchers, Medical Weight Loss, and Nutrisystem. I've used appetite suppressants as well. I am currently using 310 Nutrition products. (They have a phenomenal support group.) 
I don't drink pop anymore, and I don't eat much fast food. I drink Liquid IV in my water (hydration multiplier). I eat a diet that is high in protein. I try to eat 80/20. I often turn down food, even though people may get offended. I am learning to take care of my needs. Those same people aren't there when I go to the ER or when I have to burn off the extra calories. I am even starting to throw away food that lacks nutrition and is not satisfying and/or delicious. I don't use food as an excuse to celebrate. I have even been using it less as an emotional crutch when I'm stressed.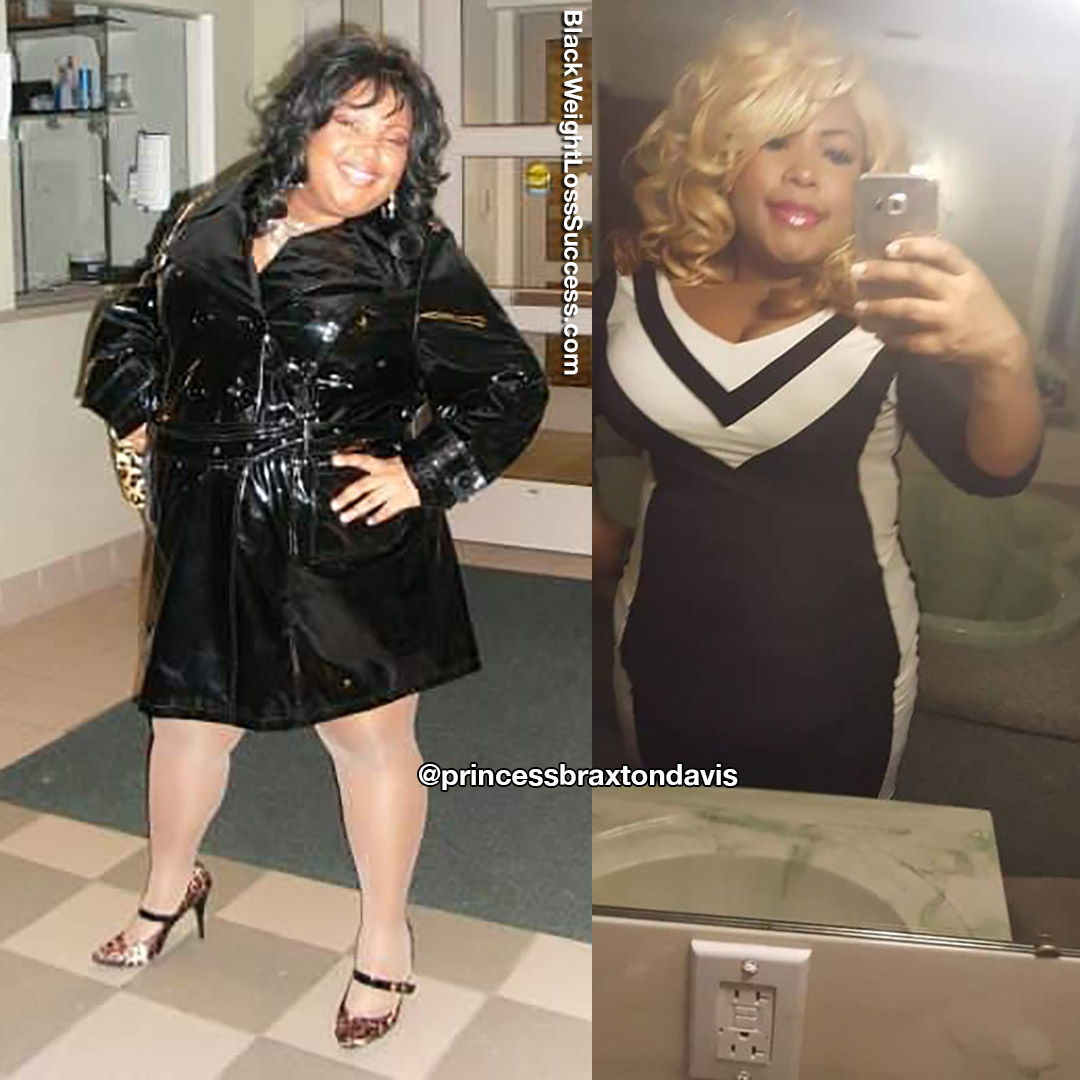 I also practice Intermittent Fasting. Ideally, I fast from 8:30 pm – 3:30 pm. My day;
4:30 am: Wake up around and Shower.

Get my water ready/drink some. 8 -10 bottles a day. One with 310 green juice and sometimes with the lemonades.

Dance while I put my make up on and get dressed. I love my Bluetooth Trekz Air around the neck Headphones.

 5:45 am: Take four bottles of water with me to work at 6 am. Drink those bottles.

10:30 am – 11:15 am: Go home during lunch/break time – NO FOOD. 

11:15 am: Drive back to work by 11:30 am and take a bottle or 2 with me.

11:30 am – 3:00 pm – Drink bottles of water.

3:00 pm – 8:00 pm I am supposed to be out of work at 3 pm, but that rarely happens. It's usually anywhere between 3:15 pm and

4:30 pm: I drive home. It's about 10-15 mins away with traffic. This is when I break my fast.

6:00 pm: Start drinking couple more bottles of water.

8:30 pm: Start getting ready for bed.
What do you do for exercise?
I have an Elliptical at my house. I do cardio when I get home from work.
Starting weight/Current weight
My starting weight was 330 pounds in 2011. My current is 250 pounds. I got to 226 last year. In the previous two weeks, I've lost 11 lbs. My transformation is not yet complete. I want to reach 180 pounds.
What is your height?
I'm 5'4″.
What is the biggest lesson you've learned?
The biggest lesson I learned is that every minute you neglect, abuse, or take your health for granted, it will continue to deteriorate. We are living so much longer, and I refuse to live an insufferable life.
What advice do you have for people who want to lose weight?
Take every opportunity to learn and create healthy habits. Now, I watch everyone's behaviors to see what I can incorporate into or remove from my life to be healthier. My goal is to learn what patterns lead to what consequences over time.
Instagram: @princessbraxtondavis