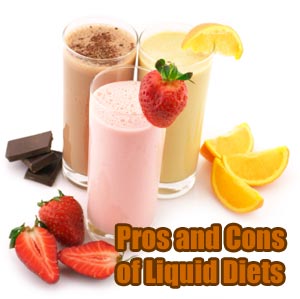 It can be hard to tell what to think about liquid diets. They are both promoted as one of the best ways to rapidly lose weight and criticized for the very same reason. There are two basic types of liquid diets available; store bought and medically supervised. Each of them has their pros and cons. Deciding which will be best for you requires that you understand why a liquid diet works, and how it can backfire as well.
What is a liquid diet?
A liquid diet is a way of radically reducing caloric intake by only consuming foods in a liquid form. This can take the appearance of using powdered or pre-mixed shakes, pureeing foods or restricting your food intake to soups and store bought/prescribed drinks. Due to the lack of solid shape foods, liquid diets mostly reduce calories through eliminating processed carbohydrates, meat and fiber sources.
How well do they work?
The results for a liquid diet are nearly the same whether you are choosing a store bought, over the counter system or using a medically supervised program. With both, there is rapid weight loss due to the sudden caloric restriction. Major weight loss occurs within the first 3 months of a liquid weight loss diet program and then will reach a plateau where the loss is not as great. This is why doctors often prescribed a medically supervised liquid weight loss diet before surgery or to help those who are morbidly obese quickly leave dangerous levels of obesity before assuming a more controlled regular program of diet and exercise. The problem with all liquid diets, store bought or medically supervised, is that there can be a rebound effect. Liquid diets can place the body into a starvation mode which forces the body to transform stored fat into ketones which it can then use as fuel to provide glucose for metabolic activity. If your body experiences starvation mode for too long, it slows the metabolism down. This means that you can stop losing weight even while on a liquid diet. Many people also rapidly regain the lost weight when they go off the diet because it is too restrictive and the body will generate cravings and appetite to promote consumption of food to avoid starvation again.
Pros and cons of medically supervised liquid diets
A medically supervised liquid diet means that you are working with your doctor and nutritionist to make sure that you are getting the right amount of nutrients to sustain your health. Your doctor will also monitor any associated conditions you may have and keep a close watch on your blood sugar levels. Even with a medically supervised liquid diet there is a high risk of malnutrition. In the long term, liquid diets of any kind cannot provide the body with all the carbohydrates, fats and proteins it needs to function well. The main bonus of a medically supervised liquid diet is you have professionals making sure you are getting what you need and who can let you know when it is time to stop. The major drawback of a medically supervised diet is the cost. You can expect to pay quite a bit for the visits and diet supplies. Not all insurances will cover these programs.
Pros and cons of store bought liquid diets
Store bought liquid diets can often provide as much vitamin, mineral and nutritional content as any liquid provided in a medically supervised program. By carefully reading the nutrition information on the package, you can make sure that you are getting the best value for your money. These diets are significantly cheaper than a medically supervised one. The major drawback of a store bought diet is that they may also contain high levels of sugar and other preservatives that are not healthy for you. Some of these drinks are just sugar, synthetic vitamins and protein powder. You also lack the behavioral, one on one support that you would get in a medically supervised program, as well as any monitoring of any associated medical conditions.
Which should you choose?
Due to the cons of liquid diets, I would not recommend them for most people unless they were doing is for a medical reason.  The incidence of gaining the weight back once you start eating solids again is too great for me to suggest it for the average person wanting to lose weight long term.  I would instead suggest a juice fast or smoothie fast for 7-28 days with the understanding that you are detoxing the body and that you'd have to have go on from there to clean eating, low carb eating, low fat vegan eating or make some other substantial change in your lifestyle when it comes to eating to see long term weight loss.
The only way to know which liquid diet is right for you is to talk to your doctor. This form of rapid weight loss dieting may not be beneficial for everyone. Your doctor can help monitor your health if you choose to go on a store bought liquid diet, or they can provide recommendations to a nutritionist for a medically supervised program.