Transformation of the Day: Shari lost 46 pounds. Seeing her mother's declining health made this mom of three realize just how devastating it would be for her children to lose her due to an unhealthy lifestyle. Embracing a plant-based diet and finding a love for boxing were critical to her transformation. Check out her journey.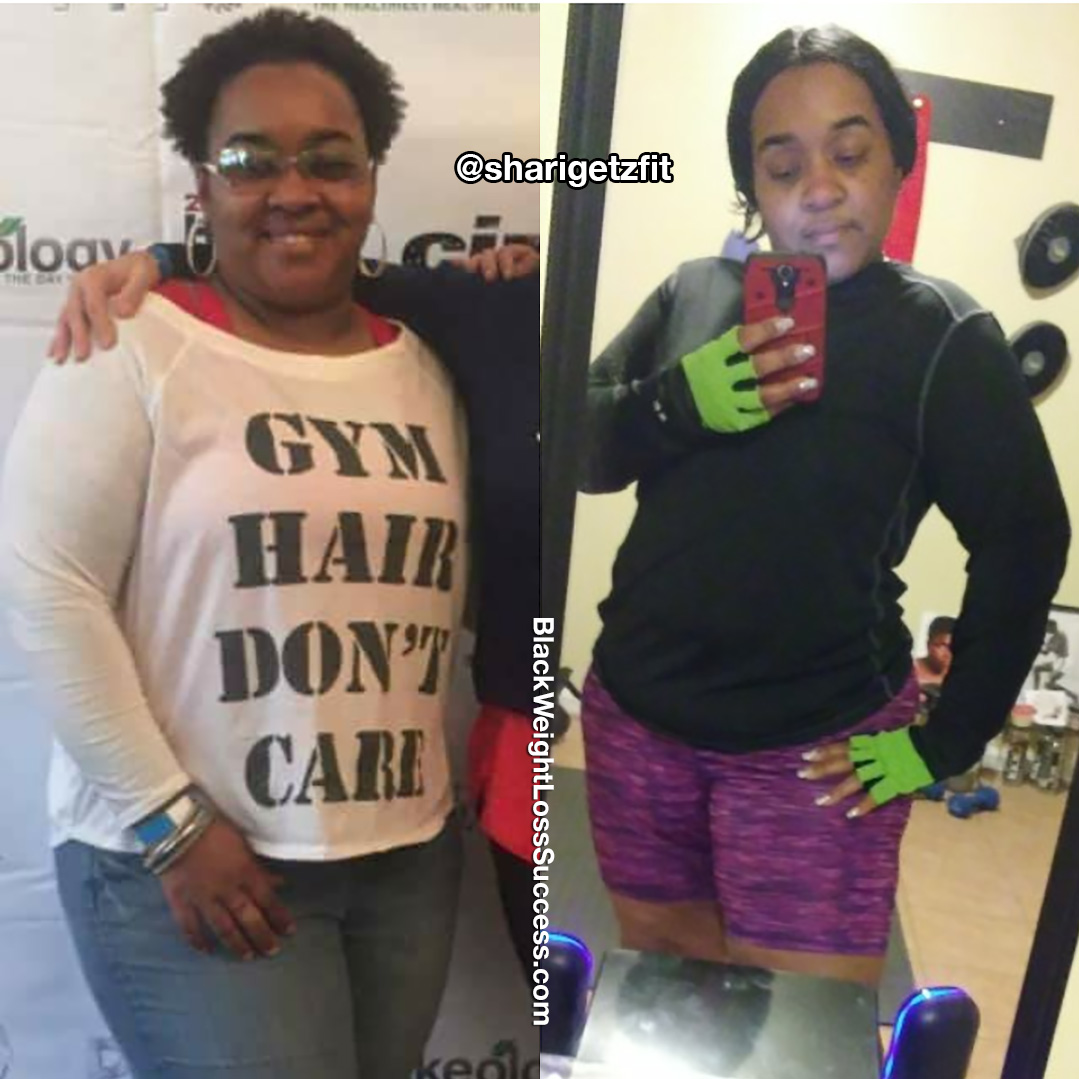 I have been on a weight loss journey for almost two years. I lost weight and gained weight, only to repeat this emotional and stressful cycle over and over again.
What was your motivation?
In August 2017, my mother was diagnosed with severe emphysema. She had a hard time breathing and doing various activities. She got better over time, but she continued to smoke. In August 2018, she was back in the hospital, and this time it was near fatal. She struggled to breathe from years of smoking, having emphysema, and now being diagnosed with lung cancer. The thought of losing my mother scared me to death. Seeing her made me realize that my health should be more important than filling an emotional void with food.
What finally motivated me to get myself in gear to lose weight was
actually picturing myself lying in that hospital bed; fat, sick, unhealthy
and dying. Since I was overweight and dealing with hypertension and lymphedema myself, I thought about my three daughters losing me. I couldn't handle that possibility, so I decided to get it right this time.
How did you change your eating habits?
I stopped eating meat and began drinking more water. I was never a big meat eater growing up, so it wasn't hard for me to give it up. If I had to eat meat, I would have shrimp or baked chicken breast only. (I didn't eat it often and just had it on salad.)I suffered diverticulitis if I ate red meat, so that also helped me with the meatless transition.
I love vegetables, fruits, and green smoothies. I try to have one or two smoothies every day. I drink a shake for breakfast and snack on fruit. Lunch is my biggest meal, and it's mostly veggie loaded salads. I eat a small dinner, like veggies and rice, and I don't eat past 8pm. I never forget to drink lots of water. I shoot for a gallon a day.
Tell us about your workout routine?
I've been boxing off and on since 2011. I'd go train with my trainer for a few hours a day. I also bought a heavy bag and other workout equipment to workout at home. Boxing saved my life. The conditioning workouts my trainer taught me are the reason I have lost weight. These workouts are also the reason why I will become a personal trainer once I meet my weight loss goal.
Some women are intimidated by boxing, but the discipline of the sport not only trains your body, but it also trains your mind in ways you cant imagine. Being focused and in tune with what your body is capable of, takes your mind to new levels of self-awareness and self-love. You'll be surprised how strong you actually are. I'm addicted! Boxing is amazing.
Starting weight/Current weight
My starting weight was 256 pounds. I broke down when I saw that I weighed over 250 pounds. I currently weigh 210 pounds.
When did you start your journey?
I began my weight loss journey in 2016. I fell off the wagon too many times to count. I got serious in August 2018 and finally started dropping the weight.
What is the biggest lesson you've learned so far?
The biggest lesson that I've learned is that Love of Self is True Health. Once you find and feel that internal love, what follows is peace, joy, and happiness. There's no better feeling than that.
What advice would you like to share?
Enjoy the process. Be in every single moment of it. Stay present, stay focused, and find what makes YOU happy.
Take it one day at a time. Get to know who YOU truly are and embrace all of you. Accept who you are, where you are, and just go from there. Also, tackle the hardest obstacle first, and the rest should be easy.
Instagram: @ShariGetzFit