Update Dec 2020: Shout out to Tee! She lost 25 more pounds for a total of 172 pounds gone. She is vegan, juicing is part of her daily routine and she loves to workout.
What is your current weight?
My current weight is 160. I've lost a total of 172 pounds all naturally. (My weight goes up and down 5 lbs)
How have you maintained your weight loss/continued to lose weight?
I'm still juicing, and I'm still vegan. I juice regularly, with juice making up at least half of my meals. I'm a raw vegan, but I enjoy vegan burgers and some other things a few times a month. Juicing helps maintain my weight, along with being a fitness instructor.
I work out 5-6 days a week, anywhere from 30 minutes to 3 hrs some days. It's a passion and not just a workout anymore. Exercise is a release for me, so it's easy to get it going daily. My favorite workout is Spin.
Coming from almost 340 pounds, my workouts are always full-body workouts. I target every area of my body during my workouts. Cardio with heavy resistance helps me drop weight or maintain and tone.
My sugar intake is still limited. Bread and sweets are limited as well. When I crave sweet things, I go for a smoothie or smoothie bowl. I do my best to avoid processed foods, but I'm not a saint. I just monitor what and how much I take in.
Of the lessons you've learned on your journey, which one stands out the most at this point?
Out of all the lessons I've learned on this journey, the top lesson I needed to learn was not to give up before I even tried. We do things temporarily and give up cause we don't see the results, but we never actually put in the effort or time. It takes more than a month to get to where we need to go.
Would you like to offer any new or different advice to women who want to lose weight?
My advice that I live by: Make your health journey your own journey. We all watch the videos and get online to find workouts. We want to do the diets and fads, but they don't always work for us because we aren't those people. We want a flat stomach and perfect body, but we are unique as people, and what works for one may not be for another.
Find what works for you and make it your own. Add things to it, take something out, and flip it. Do it in the morning or do it at night… it doesn't matter if it's a workout or diet. What I'm saying is make it your own. When you do that, you will stick with it and enjoy it. It becomes your norm, and you will happily include these habits in your days. Create a new norm.
---
Sept 29, 2019 – Transformation of the Day: Tee lost 147 pounds. She was tired of hospitalized weekly and taking five different meds. While taking care of everyone else, she forgot to take care of herself. Becoming a Vegan, juice fasting, and becoming a Spin class instructor are key factors in her success story. Check out her story.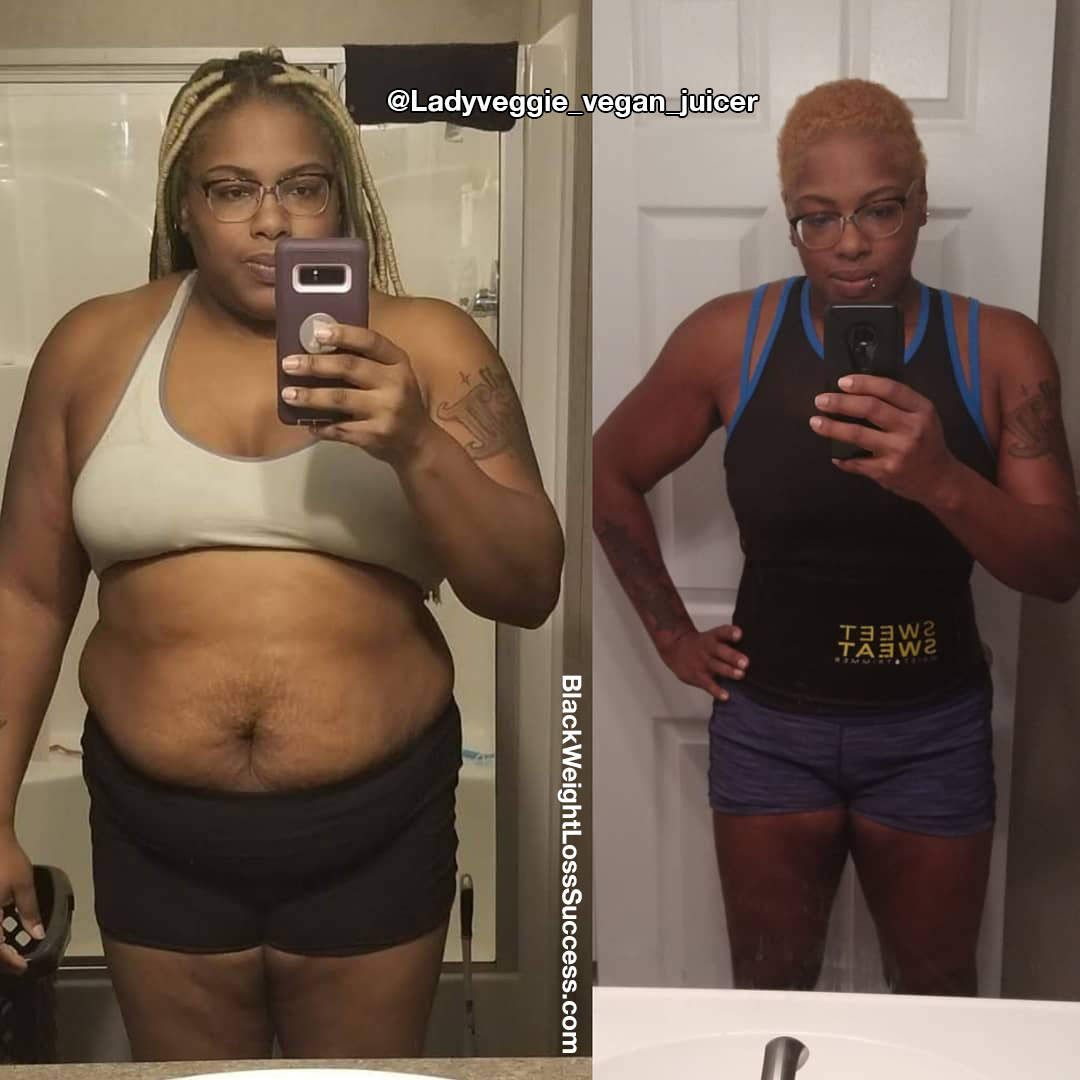 I started my weight loss journey in January of 2018. I weighed 332 pounds, I was taking five different medications, and I had back and leg pain. Being sick in the hospital every week, not being able to keep up with my family and losing myself in the mix made me step up and change.
I remember one embarrassing moment when I was sick in the hospital. My doctor had to lift the extra skin on my stomach to check where the pain was coming from. I was mortified and so embarrassed. Since that moment, I've never looked back.
I changed everything about myself. In January 2018, I just jumped in and went cold turkey on all the things I loved in the past.
I went Vegan and began juicing daily, which I still do.
I also started working out six times a week.
I introduced myself to intermediate fasting and herbs as well.
I only drank water and veggie drinks (which I still live by today).
I go on juice fasts which can last up to a month, and I make sure that if I'm not juicing, I still get three juices in me a day.
I use portion control when I eat solid meals.
Within four months, I had already dropped 40 pounds and was off all medication. I continued my journey, and by the end of the year, I came to a plateau. I began to get bored with working out, and I still hadn't hit my goal. Then, in January 2019, I was introduced to Spin class. From that moment on, I was in love. Spin class helped me hit my goal of 140 pounds gone. I became a spin instructor and continued on.
Now, I work out every day. I have multiple classes, so somedays I'm working out three times daily. I fell in love with better health, working out, and the new me. It's truly become a lifestyle.
I went from 332 pounds to 185 pounds in 19 months with no surgery at all. (height: 5'7″) I just stayed at it, no matter how many times I messed up or had a bad meal. I counted those days and kept moving. I never gave up or started over just because I messed up. Starting over is where a lot of us mess up. I count each mess up and keep it moving. It's been a fantastic journey, and I'm still on it. Can't wait for what's to come
The biggest lesson I've learned is to make time for myself while being a mom and a wife. Going to school, taking care of daily tasks, and being the housewife for 8 yrs, I lost myself. I stopped seeing me. I cared for others and forgot that if I didn't care for myself, I wouldn't be around to care for my family. I lost myself through the years. As I lost myself, I didn't see what I was doing to myself mentally, physically, and emotionally. So, I've learned to love myself.
My Advice: DON'T START OVER! We all mess up. We eat things that we didn't plan for. We all miss a day of working out. We all sneak a snack here and there. Then, we tell ourselves that we will start over after each mistake, but when we do, it's not with the same 100% mindset as before. Or…We fall off, give up, or don't start over at all.
Throughout my two years I've messed up many days, but because I never stopped or started over, I've made it to where I am today. Starting over doesn't fix the problem. We fix it.
If you mess up, count it as a loss and keep the journey going. When we mess up, it shows us the area, foods, or workouts we need to focus on. Take the mess up and carry on. There's no need to announce it because it's not for the world to know and judge you. It's for you to fix and make it better. We can be our own worse enemies if we allow ourselves to be. Be your biggest supporter and show others what happens when you don't give up.
Instagram: @Ladyveggie_vegan_juicer