Transformation of the Day: Darneta lost 81 pounds by adopting healthier eating habits and working out six days a week. She is a single parent of two special needs children under the age of five. Now, she has a ton of energy to play with her children and care for them.
What was your motivation?
I am a single parent of two special needs children under the age of 5. They require a lot of care and attention, which drained the energy out of me quickly, especially weighing in at 250 pounds. My kids already have a lot of things that they will have to learn to control as they become adults. I didn't want bad eating habits to be one of them, so I decided to start making changes while they're young! 
How did you change your eating habits? What is your workout routine?
With that in mind, I knew that I needed to begin by changing my diet. I started with portion control. I still ate what I wanted, just much less of it. 
I also started walking 30-60 minutes a day, with my kids in-tow! While they played on the playground instead of just watching, I played with them or stood to the side and did a round of jumping jacks, running in place, lunges, etc.
Soon, I got up enough confidence to join the gym! They had a daycare for the kids so I could spend a little time concentrating on myself. I joined a Zumba class 3 times a week, one hour per day. Now, I can proudly say I go to the gym six days a week, 2 hours per day. I do one hour of cardio (Zumba still!) and one hour of weight lifting. 
What was your starting weight? What is your current weight?
My starting weight was 250 pounds, and my current weight is 169 pounds. I'm 5'2″.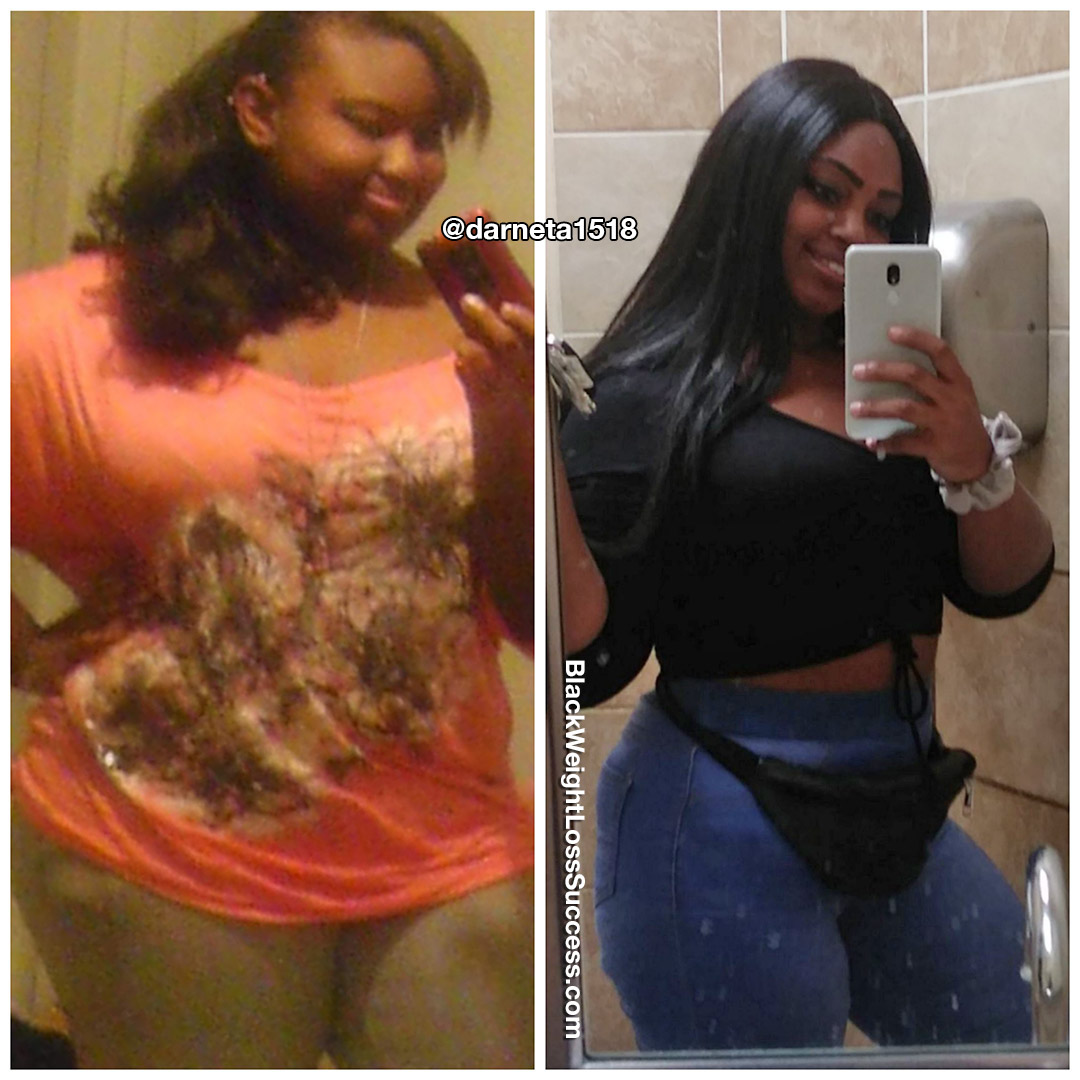 When did you start your journey?
I started my journey in April 2019. I can't say that my journey is over. I still have a few more pounds I want to lose, and I will definitely keep weight lifting for toning purposes.
What advice do you have for others who want to lose weight?
My advice to others who are trying to lose weight is, please don't give up on yourself! The weight someone else loses in 3 months may take you six months, but you can still achieve the same results as long as you have dedication, determination, and consistency! 
If I would've given up six months ago, I wouldn't have a clue of how strong I am mentally and physically. My kids seem much happier now. They're excited to go out and play because they know I'm right behind them. I'm playing tag and duck duck goose, and not just watching them play together. They know Mama is going to run out the energy in all of us! 
Instagram: @darneta1518
Snapchat: black_beauty034