Update April 2019: Shout out to Desjanee. She lost 15 more pounds.
Transformation of the Day: Desjanee lost 50 pounds. The pounds piled on during her college years due to stress, anxiety, depression and unhealthy eating habits. This year, she made the decision to change her life. She is currently pursuing a Master's degree while still striving toward her health and fitness goals.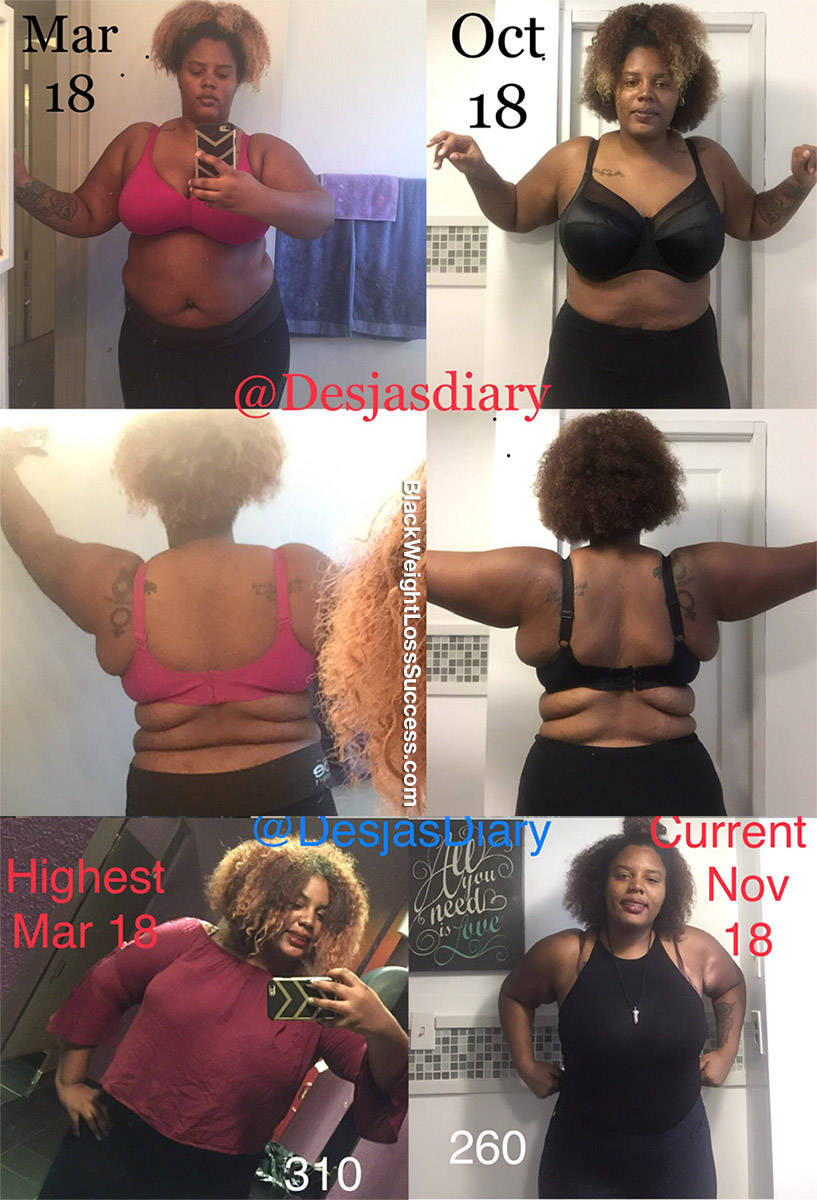 I've been plus sized since I was 9/10 years. I've always had problems with my weight. I started undergrad in 2012 at 198 pounds (height: 5'10″). When I graduated in December 2017, I weighed 310 pounds. I let myself go because of college stress, anxiety, depression, and the family/personal issues that I dealt with throughout undergrad. Along with all of these things, I never really knew much about health and nutrition, so I ate whatever I craved (big mistake).
I started my healthy weight loss and lifestyle journey in March 2018 at 310 pounds. Now it's November 2018, and I weigh 260 pounds; losing 50 pounds. I changed my eating habits, watched my portion sizes, and monitored what I ate (usually through MyFitnessPal). My goal is to be the weight I was when I started undergrad by the time I graduate with my Master's in May 2020
What was your motivation? What inspired you to keep going when you wanted to give up?
My motivation for losing weight was my overall health and well-being. I wanted to get myself mentally, physically, emotionally, and physically aligned. Undergrad for me was stressful, and I felt out of place in my own body.
How did you change your eating habits?
I limited my intake of sweets. I started to watch the portion sizes of everything that I ate. I also stopped eating a lot of fast food. I only eat out 2-3 times a week. I eat a lot of chicken, and I cook more at home.
Tell us about your workout routine.
I work out 4 times a week at Planet Fitness.
30-60 minutes of cardio (treadmill, cycling, stair machine, and elliptical)
30-60 minutes of machines (hip abductor/adductor, leg press, chest press, glutes, shoulder press, row, pull down, triceps, and leg extension/curl).
What was your starting weight? What is your current weight?
My starting weight in March 2018 was 310. My current weight (November 26, 2018) is 260. My 1st goal weight is 250 pounds. 2nd goal weight is 220 pounds, and my final goal weight bracket is 200-180 pounds. I lost weight completely naturally. I haven't had any surgery, done any diets or used any fads.
What is the biggest lesson you've learned?
You have to take care of your body. It is also extremely important to love yourself throughout every step/size in your journey. Self-love is extremely important, and something you should learn no matter your size.
What advice do you have for others who want to lose weight?
Stay motivated and when you fall off track pick yourself up and start over. There will be times when you feel unmotivated. There will be times when life happens, and you do not have time/energy, and when you want to quit. When you are in those situations, remind yourself why you started and stay focused on the positives.
Instagram: @DesjasDiary