Transformation of the Day: Desmeon lost 85 pounds. Faced with sickle cell anemia, high blood pressure, sleep apnea, and other ailments, she decided to take steps to improve her health. She decided to have weight loss surgery in 2020. On her journey, she learned that healthy eating habits are key to releasing the weight.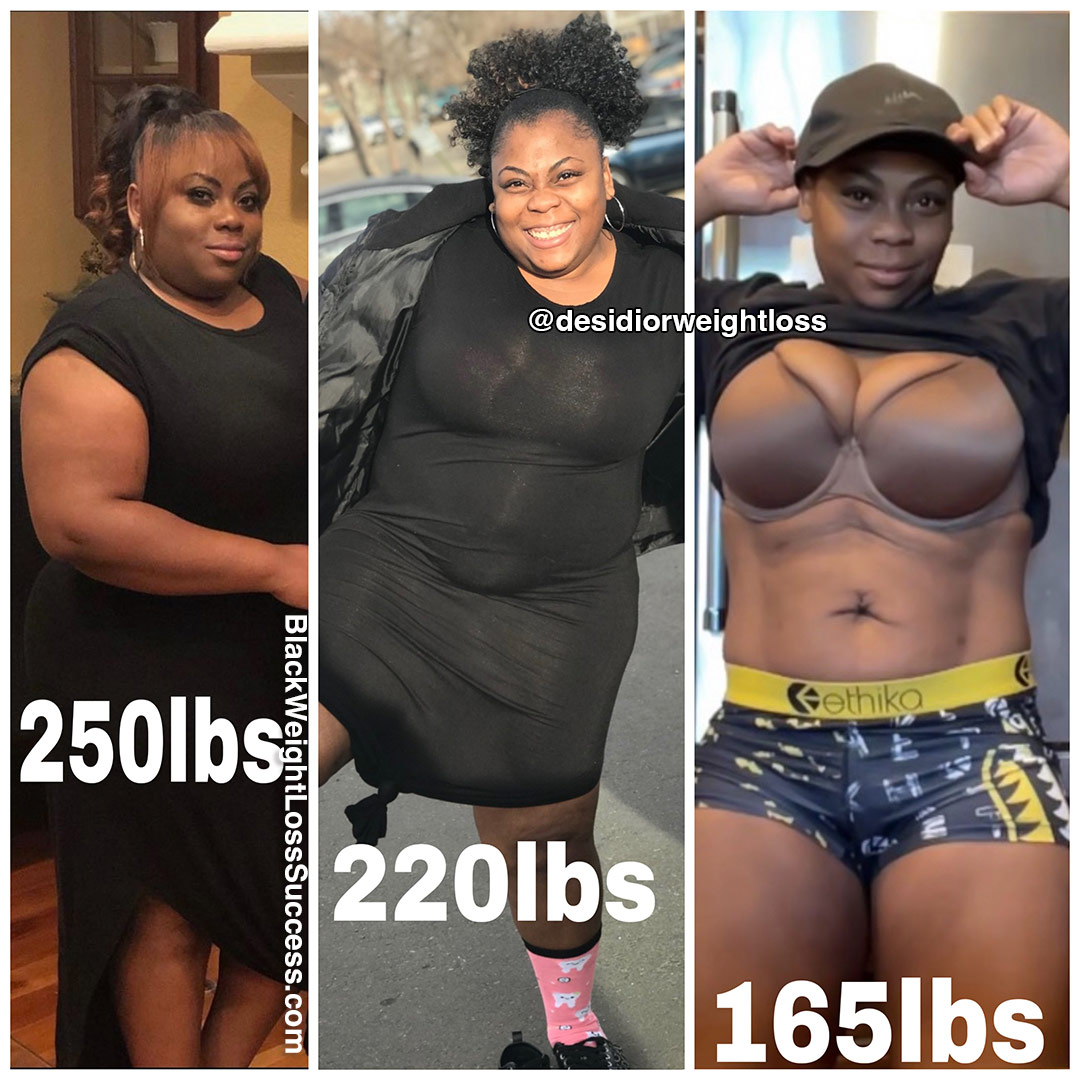 What was your motivation?
The condition of my health was my biggest motivation. My health was worsening. I was constantly in and out of the hospital and had high blood pressure and sleep apnea. In addition, my sickle cell and juvenile rheumatoid arthritis were causing my joints to deteriorate due to my weight.
What inspired you to keep going, even when you wanted to give up?
Being a health care provider and improving my health for myself was my inspiration. 
When did you start your journey?
I've been heavyset since I was a child and have struggled with my weight my entire life. I've tried multiple diets and seen several weight loss doctors and personal trainers. 
Is weight loss surgery part of your journey?
I was one of those people who wanted to have cosmetic surgery but could not because my BMI was extremely high. No surgeon would allow me to have any lipo surgery or cosmetic surgery. I had Gastric Bypass weight loss surgery on February 11, 2020.
How did you change your eating habits?
There is a very strict diet you must abide by when it comes to weight loss surgery. I quit eating fast food and processed food. I also added fresh fruits and vegetables to my diet. 
What did your workout routine consist of?
My workout routine consisted of a lot of cardio. Walking forward and backward on an incline treadmill was my favorite. 
How many days a week did you work out?
In the beginning, I was only doing cardio. Now I've implemented weight training. I work out Monday through Friday doing cardio and weight training. On the weekends, I do cardio and abs.
What was your starting weight?
My starting weight was 250 pounds.
What is your current weight?
My current weight is 165 pounds.
What is your height?
I am 5'1″.
How long did your transformation take?
My transformation has been very successful these past two years.
What is the biggest lesson you've learned so far?
Being successful in losing weight is 80% about eating correctly and 20% about doing the right exercise routine. I've learned that you cannot lose weight with just exercise alone. The diet is the most important part of the equation. 
What advice would you like to share with women who want to lose weight?
My advice would be to stay consistent and trust the process. Take one day at a time. Also, weight loss surgery is only a tool to help assist you. You have to put in the hard work and dedication as well.
Instagram: @desidiorweightloss