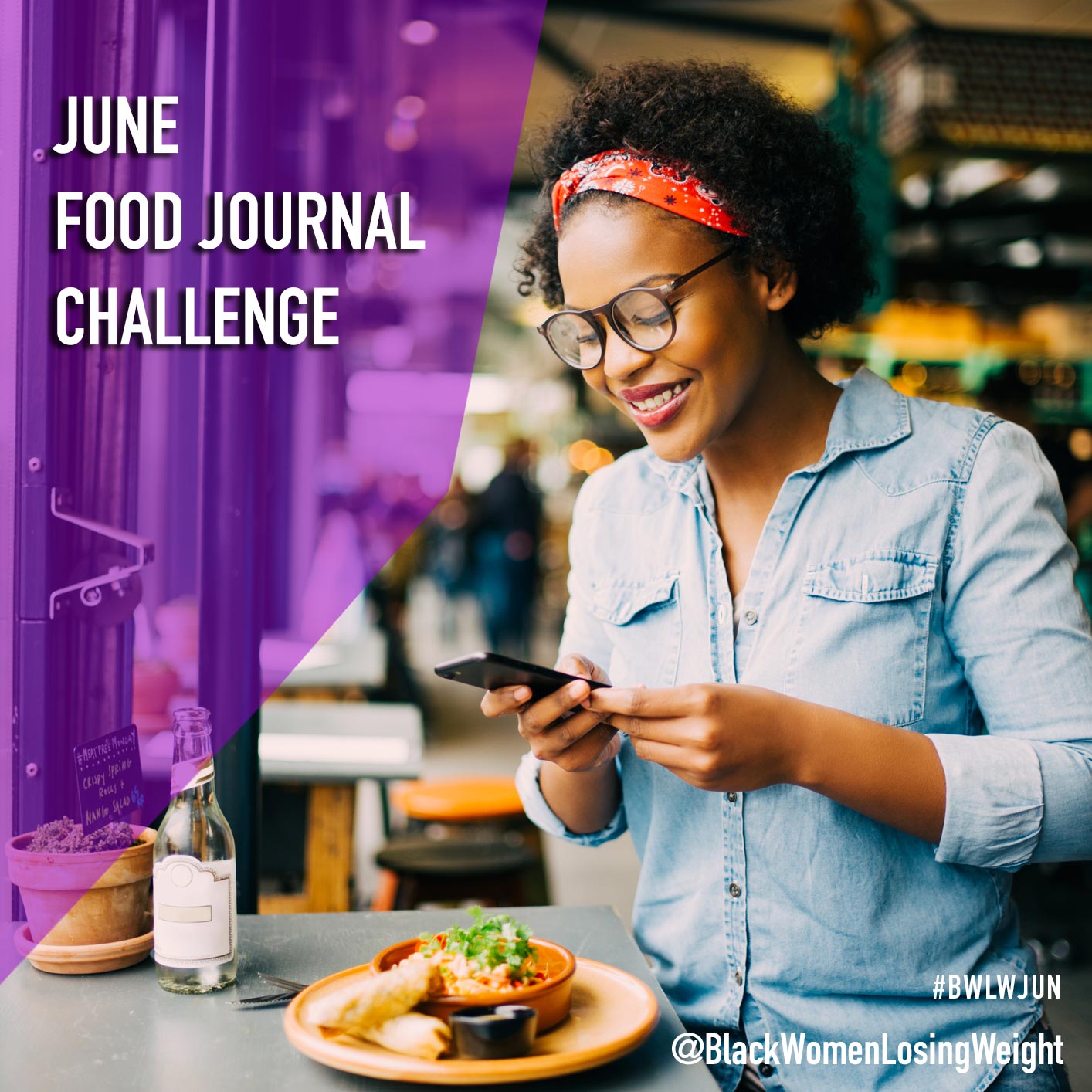 During the month of June, the Black Women Losing Weight sisterhood will focus on Food Journaling to answer a very important question:
What are you REALLY eating?
Challenge Goal: Keep a journal of EVERYTHING you eat and drink for 3 WEEKS – June 1 – 21, 2019. This is a very powerful, self guided challenge that requires daily action.
This month is all about really looking at the food we are putting in our mouths and being able to make food choices that work in favor of our weight loss and health goals, not against them. People tell me all the time about how they are working out consistently and not losing weight. They tell me about how they have made positive changes, like cutting back on junk food, drinking green smoothies or adding more fresh fruits/veggies to their diet,…but they have not dropped pounds. Most of the time, the issue is that they really don't know how much food they are eating and what makes up with food they are eating. They may think that they have made sufficient changes but they are overeating, eating too much highly processed food or eating food that doesn't work with their bodies (i.e. blood sugar issues, food allergies, etc). This month we will work to investigate our eating habits and start making practical changes.
Bottomline: If you want to get results by the end of 2019, you really have to understand what is going into your body. This challenge will help you do just that.
How can you join us?

– No Sign Up required
Decide on Your Method of Journaling. You can use a free mobile app, like Loseit or FatSecret. You can use a free website, like MyFitnessPal or SparkPeople (these are apps as well). You can keep your journal on paper using a notebook or journal, but you will need to look up the nutrition information for what you consume and add it to your written record.
Record everything you eat and drink.
Commit to Checking-In every evening with the BWLW community for 3 weeks. We will post a Check-In post on our Facebook page and Instagram every evening at 7pm (Eastern Standard Time). After dinner, visit one of our profiles and tell us what you ate that day. Feel free to share photos of your food as well. #BWLWJun
Commit to Honesty. This challenge doesn't work if you lie to yourself or lie in your daily check-ins. You need to know what you are eating and drinking if you are going to release the weight and properly fuel your body. There is no getting around that. This challenge isn't about being perfect, it's about being accountable. #nojudgement
---
Challenge Instructions
Week 1 – June 1-7, 2019 Record everything you drink and everything you eat. (Don't forget about snacks, cream in your coffee, etc.) Try not to judge your choices. Just eat the way you've been eating. If you have recently begun a diet, eating plan or weight loss program, continue to follow it. This will serve as a benchmark from which you can improve.
On Day 7 of week 1, visit www.freedieting.com and use their Calorie Calculator to create a daily calorie goal. They also have a Macro Calculator if you want to track carbs, fat and protein along with calories. (There are many calculators and guides out there when it comes to deciding on calorie or macros counts, so if you already have a preference feel free to use a different site, app, etc)
Take a look at the last 7 days of eating and really be real with yourself. What areas need improvement? Are you drinking way too many of your calories? Are carbs making up more than 60% of your diet? Are you eating enough protein? Are you eating more healthy foods or unhealthy foods?
Week 2 – June 8-21, 2019 – For the next 14 days, you will attempt to improve your eating habits and compare your calorie/nutrient counts with what the calculator suggested. Keep track of the amount of calories, fat, carbs, protein and sugar in what you are eating so that you gain a greater understanding of what is really going into your diet. Look at the food labels on the foods you eat and really start investigating the ingredients and nutrient counts. If you are using a paper or photo journal, use a calorie counting site, like calorieking.com, to get calorie/nutrient counts and information on foods that don't have labels.
We encourage you to consider eating clean during the final 2 weeks of the challenge. What is Clean Eating? When you eat clean you'll be eating more unprocessed, whole foods that are prepared or cooked in healthy ways. We are talking about fresh fruits, fresh vegetables, lean meats, meat substitutes, whole grains, lots of water, healthy dairy, homemade smoothies and fresh juice. You will avoid fried food, fast food, junk food, bleached white flour, artificial ingredients, soda, commercial juice and sugary drinks, processed sugar (white sugar, corn syrup), and foods with preservatives, toxins, dyes, saturated fat, and trans fat. You will likely be doing things like doing more cooking at home, eating more veggies, looking for healthy snacks, etc. More info…
Resources – There are lots of resources out there that can help you stay on track with your eating habits. Here are a few…
Clean Eating
Keto
Vegan/Vegetarian/Plant Based
If you are eating according to another method/diet, like low carb, paleo, pescatarian, etc… do what works for you during this challenge. Just make the healthiest choices you can and keep track of how much you are eating.
Let's keep one another accountable to our collective commitment this month. Let's support each other and give encouragement to those who need it. Changing your eating habits can be hard, but you CAN do it. Don't forget to check-in daily.
Are you In? Leave a comment below and let us know why you are joining our
June Food Journal Challenge

.