Update Feb 2020: Shout out to Lana. She lost another 50 pounds for a total of 119 lbs gone. 
"To date, I have lost a total of about 120 pounds. My exciting roller coaster of a journey started with my decision at the beginning of 2019 to have weight loss surgery (gastric bypass). Transitioning from soft cooked meats to a vegan diet has helped my process tremendously. I currently weigh 142 pounds, down from a starting weight of 261 pounds." – @LanaJLuv1
---
Transformation of the Day: Lana lost 69 pounds. This young lady was tired of a lifelong struggle against the pounds. Part of her motivation was not wanting to take medication for both diabetes and hypertension. She took action by having a Gastric Bypass and creating a new, healthy lifestyle. Check out her story.
I struggled with being overweight throughout most of my childhood. I wasn't officially declared obese until my late teens. Today, I am 26 years old, and I would love it if my story could motivate at least one person.
What was my motivation?
My wakeup call came when I was looking at photos of myself, and I got depressed. I was a Type 2 Diabetic, and I was wearing 273-276 pounds on a 5'1″ frame. I was also developing hypertension. I didn't want to take meds to control both diabetes and high blood pressure.
What inspired me when I wanted to give up?
I didn't want to be a disappointment to myself. Was tired of yo-yo dieting and putting all the weight back on that I worked so hard to lose.
When did I start my journey? 
I started my journey in January 2019, when I decided to have bariatric surgery. I talked with my family about my decision, attended a bariatric seminar, met with my surgeon, and then got all my exams, etc. done. I had a Gastric Bypass (Roux-en-Y) procedure on 06/03/2019. Having surgery is one of the best decisions I have ever made.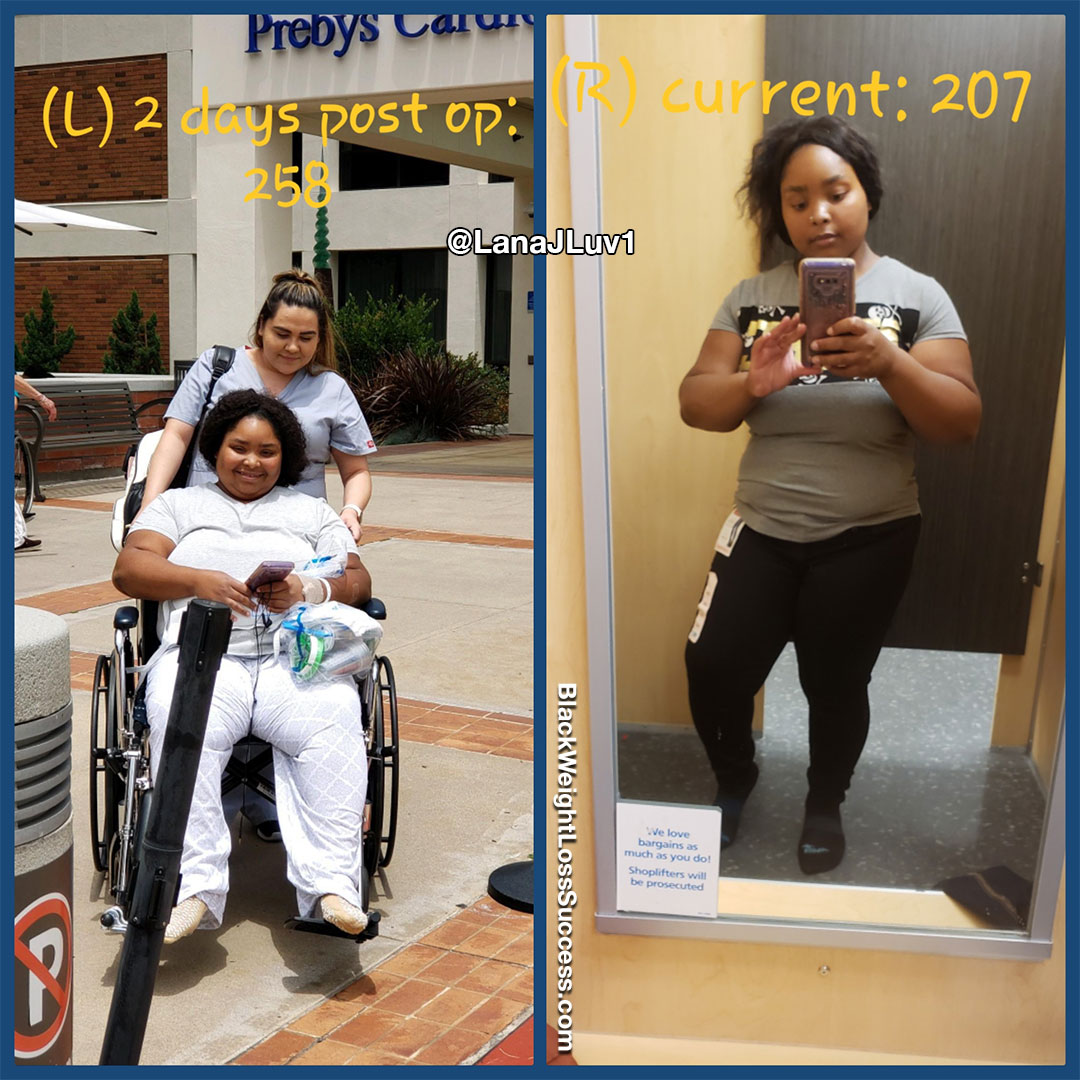 How did I change my eating habits?
I had to give up sugar (my favorite food), pasta, sodas, and greasy foods to avoid complications. I waved goodbye to cakes, cookies, gummy candies, and Little Debbie cakes.
Current eating habits: My dietician stresses the importance of a balanced diet. I currently eat mostly vegetarian/vegan "meats" because I find that they are softer and easier to digest. Loads of fruits and vegetables are also a big part of my meals, in addition to my multivitamin, plenty of water and drinks containing electrolytes. (Sugar-free of course)
The exercise plan I'm following:
My surgeon gave me a goal of 10,000 steps a day. I also go to the gym for cardio and weight training four times a week. I walk anywhere from 2-6 miles on weekends when I'm not working. 
Starting weight/Current weight:
I weighed 276 at my heaviest and wore a size 18-22. In the pre-op holding area, I weighed in at 261 (due to the liver shrinking plan). I currently weigh 207 as of 08/13/2019, and I wear a size 14.
The hardest lesson I learned:
I tend to beat myself up when I don't feel as though I have made necessary progress or adjustments. I beat myself up despite being told that I have surpassed the goal or that I'm right on schedule. To combat this, I look at pictures of myself from before and current photos. (I get a good laugh at myself from looking at the pictures of me drugged up in the hospital.)
My advice for others:
Always, always, always, talk to a physician before starting any weight loss diet or exercise program. You don't want to cause more health issues or injure yourself. Don't let ANYBODY talk you out of what's best and what works for you, as long as it's healthy and sustainable. (Family and friends included).
The decision to have bariatric surgery is not an easy one. Make the decision because YOU want better and need better for yourself. Don't let anybody talk you out of it or make you feel bad for that decision. Do your research and speak with a bariatric surgeon to decide which procedure is best for you. Also, make sure that you are mentally prepared for the serious changes that come with it. You don't want the weight to creep back on so much that you have to consider revision surgery later.
Most of all, believe in yourself. Know in your heart that you CAN do this no matter whether you have surgery or do it all naturally. CAN'T should never be a part of your vocabulary. It also helps to have a great support system. If you don't have supportive people around, there are lots of blogs and vlogs to help you through the journey. I wish the utmost best of luck to everybody starting their journey, and to those who have already started, I say, "Keep going!"
Instagram: @LanaJLuv1