Leslie lost 17 pounds in 30 days with intermittent fasting, low carb meals and lots of exercise. Her  beloved son was diagnosed with Brain Cancer and passed away at the age of 9. In the aftermath of her loss, she realized that she had to do something about her weight gain, breathing issues and high blood pressure. Check out how she took action.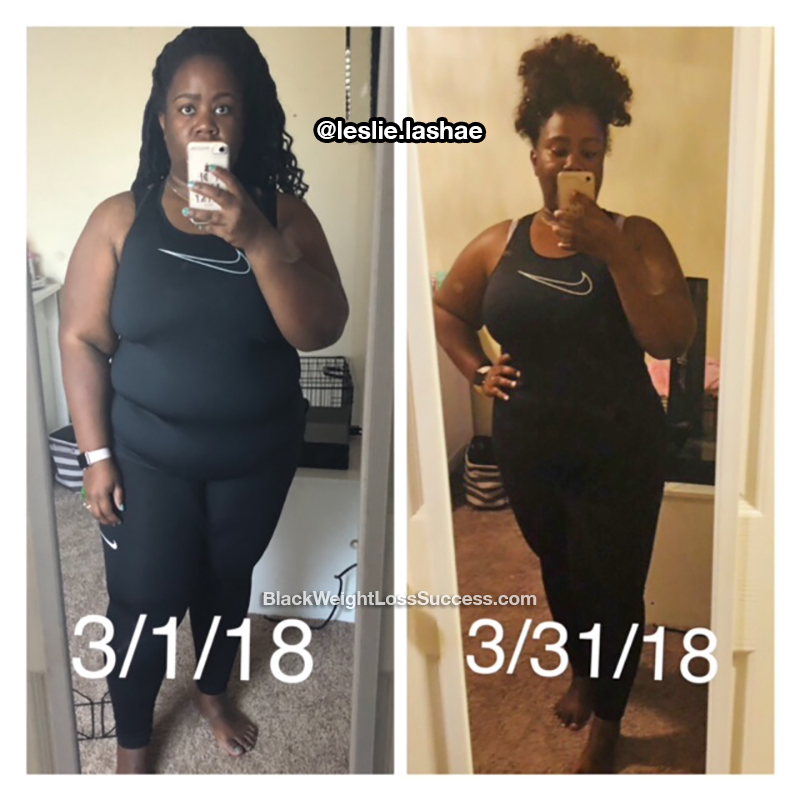 What was your motivation? What inspired you to keep going when you wanted to give up?
My son was diagnosed with Brain Cancer and passed away at the age of 9 on January 8, 2015. I realized through the Cancer journey, that food was my go-to. It was my soother. It was what made me feel "good". After going through that storm, my breathing had gotten horrible. My blood pressure is through the roof and my clothes are too tight.
How did you change your eating habits?
I started by going low carb. I also cut out all sugary drinks and have only been drinking water. I also do intermittent fasting where I only eat during an 8 hour window and fast for the other 16 hours each day. My eating window is 1pm-9pm, so I don't eat breakfast. I usually just water or coffee instead.
For lunch, I keep it super simple. I eat a protein (chicken, shrimp, or fish) with a side of veggies (broccoli, asparagus, zucchini, etc) seasoned with Mrs Dash, Red Pepper Flakes, and garlic powder.
For snacks, I usually have almonds, slim Jim's, fruit, sunflower kernels, and pork rinds (sparingly). Boiled/Deviled eggs are always great too. For dinner, it's the same as lunch, (meat and veggies)
I sometimes replace lunch or dinner with juiced veggies/fruit. My favorite "punch" is a mix of apples, carrots, cucumber, spinach and pineapple.
What does your workout routine look like?
I use simple methods of working out. I have a goal of 10,000 steps a day that I get in by walking my dogs, taking stairs instead of elevators, parking in the farthest parking spot available, etc. When I don't get 10k steps, I workout for 30 minutes… usually through youtube (dance fitness with Jessica, tabata with Keaira LaShae, walking workouts, etc) or I head to the gym.
What was your starting weight? What is your current weight?
My starting weight was 251 pounds and my current weight is 234 pounds. My short term goal is 199 pounds and my long term goal is 160 pounds. My height is 5'2". (No surgery.)
When did you start your journey?
I started on 3/1/18. This part 1 of my 90 journey to reach my short term goal.
What is the biggest lesson you've learned so far?
To keep going. As long as I eat to get full, the cravings will go away.
What advice do you have for other people who want to lose weight?
Just start! Don't procrastinate.
Instagram: @leslie.lashae