Transformation of the Day: Lovelyn lost 52 pounds/23Kg. After having a second child and turning 30, she decided to change her life. She didn't want her daughters to grow up hearing her speaking negatively about her body. She made healthier versions of the Ghanian foods she loves and worked out 5 days a week. Check out her story.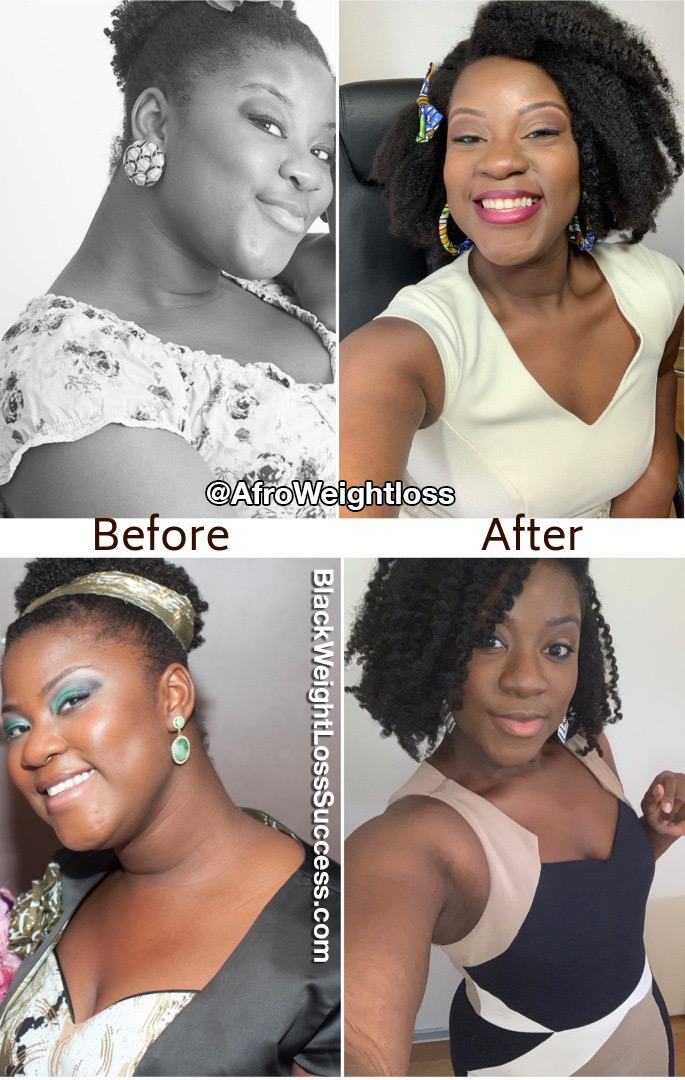 My name is Lovelyn, and I lost 23Kg/52lbs after giving birth to my
second baby in August 2018. I weighed a whopping 93KG/206 pounds at 1m60/5'2″ and I just couldn't go on like that anymore.
What was your motivation?
Deep down I always knew that if I stuck with it, I would succeed but I always gave up before seeing any results. After having a second child and turning 30, I felt like this was my chance to change my life around. I looked at my beautiful daughters, and I did not want them to grow up hearing me speak negatively about my body! I wanted to be an example to them and show them (especially my oldest daughter) that hard work pays off.
What inspired you to keep going when you wanted to give up?
I took some of my before pictures with my daughter, and she asked me almost every day if I worked out. I couldn't let myself and her down!
How did you change your eating habits?
I used the AfroWeightloss program that I created for myself. I am a Ghanian living in France. I have always cooked Ghanaian or African-inspired dishes. When I started my journey, I decided that I would not change that! I looked at all my recipes and swapped out items that were not in line with my weight loss objectives.
I reduced oil tremendously, stopped frying my food and started baking EVERYTHING. I am also a rice lover, so I began using grains that have a lower caloric density than rice, like Bulgur. I substituted Bulger in a lot of my rice dishes. This was really a revelation cause my plate was always full, but the pounds were coming off. I also used African vegetables like Okro to create low-calorie soups and sauces.
Water has also become my best friend. I still drink juices and smoothies are a big part of my diet, but I have cut out all sodas and fizzy drinks. I also do not drink alcohol.
What did your workout routine consist of?
I know you are not supposed to do it, but I started right away in October working out 5 times a week, from Monday to Friday. The only day I missed was Christmas Eve. I have an elliptical bike at home. With the newborn baby, I couldn't go to the gym, so I used what I had. That bike has been faithful! I stay on it for 20 – 45 minutes. I only recently started incorporating lightweight strength training with Fitness Blender videos.
What was your starting weight? What is your current weight?
My starting weight was 93,8KG/206lbs. My current weight is 70KG/154lbs.
When did you start your journey? How long did your transformation take?
I started on October 9th, 2018. My transformation took me 6 months.
What is the biggest lesson you've learned?
That my mind controls my body and not the other way round! I always felt the urges to eat and would give in to the cravings, but this journey taught me that whatever my mind decides my body has to abide by! It is so liberating.
What advice do you have for people who want to lose weight?
Believe in yourself, there is nothing you cannot do, yes it takes discipline, yes it takes a firm decision but whatever you decided you can achieve with the right keys!
Instagram: @AfroWeightloss
Facebook: AfroWeightloss