Tina lost 108 pounds. After years of struggling, she got results by working out consistently and taking control of her eating habits. She also found a coach who gave her the support and guidance she was looking for. Check out her transformation.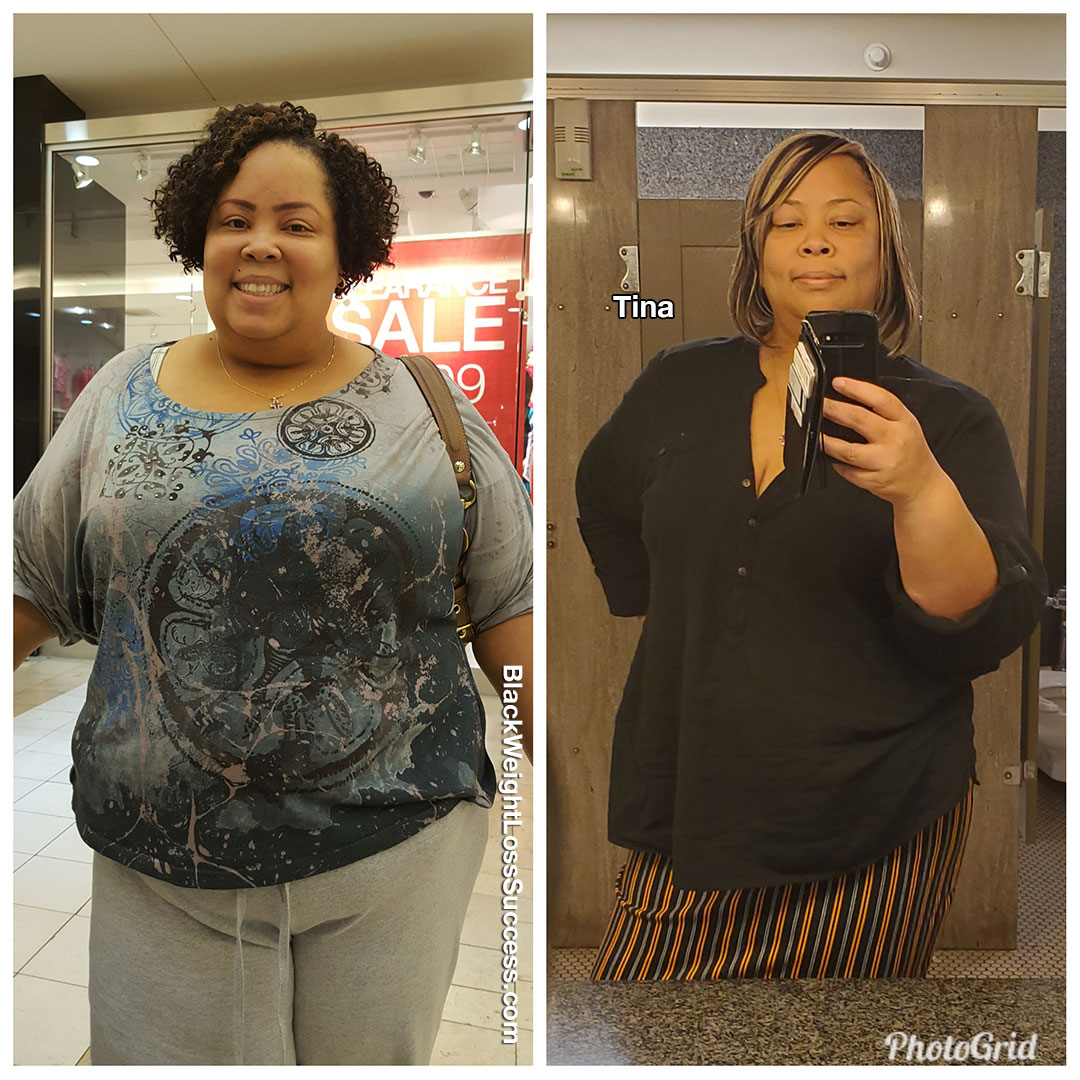 I have struggled with my weight for as long as I can remember. I accepted it, and I felt like this was just who I was. After having my son and being a stay at home mom for two years, I tipped the scale at 399 pounds.
I started going to school and became more active, but the scale only moved slightly downwards. I tried changing my eating habits, but that was short-lived.
I got serious about my journey in August of this year. I had reached out to Terry Starks about five years ago, but I was not mentally ready for a real change. One day in August, while browsing on Facebook, I came across Terry Starks's page and reached out to him again via email.
He set me up with a clean eating meal plan that included fruits, vegetables, salads, grilled chicken, steak, and other foods. I cut back on all fried foods and on snacking.
I did cardio for 30 minutes twice daily. My routine included walking, kickboxing, in-home workouts, and more. I created a playlist of my favorite songs to exercise to, and that kept me pushing through my workouts.
I followed the plan for eight weeks and lost 40 pounds! This plan is the only thing that has worked for me in all my years of trying to lose weight.
Terry kept me motivated with emails and phone calls, and compliments. When I couldn't see the difference, he could. I am very thankful to Mr. Starks for believing in me on the days that I didn't believe in the process. I want to give a big thank you to Terry for showing me that I have the power over my weight loss journey.
I currently weigh 291 pounds at 5'8.5″ (I need all my height). I want to be healthy and live until I am 103 years old. My son is my motivation. I am all he has, and nobody can raise him like his mother can.
My biggest lesson would be that I have control over what goes in my mouth. This has truly been a journey. As with any journey, you are going to have ups and downs. The key is to see it all the way through until you are satisfied.
Never let someone tell you what you can't do. The 1st step is to make your mind up that enough is enough!
Disclaimer: Reference or link to any specific product, diet plan, exercise plan or service mentioned in the weight loss stories we share is for the information of our readers, and does not constitute an endorsement or recommendation by Black Women Losing Weight.