Transformation of the Day: LaShayla lost 98 pounds. She was tired of being overweight and tired of not putting herself first. She shared with us about her two year journey and how she used healthy eating habits, intermittent fasting and lots of exercise to release the weight. She is proof that hard work pays off.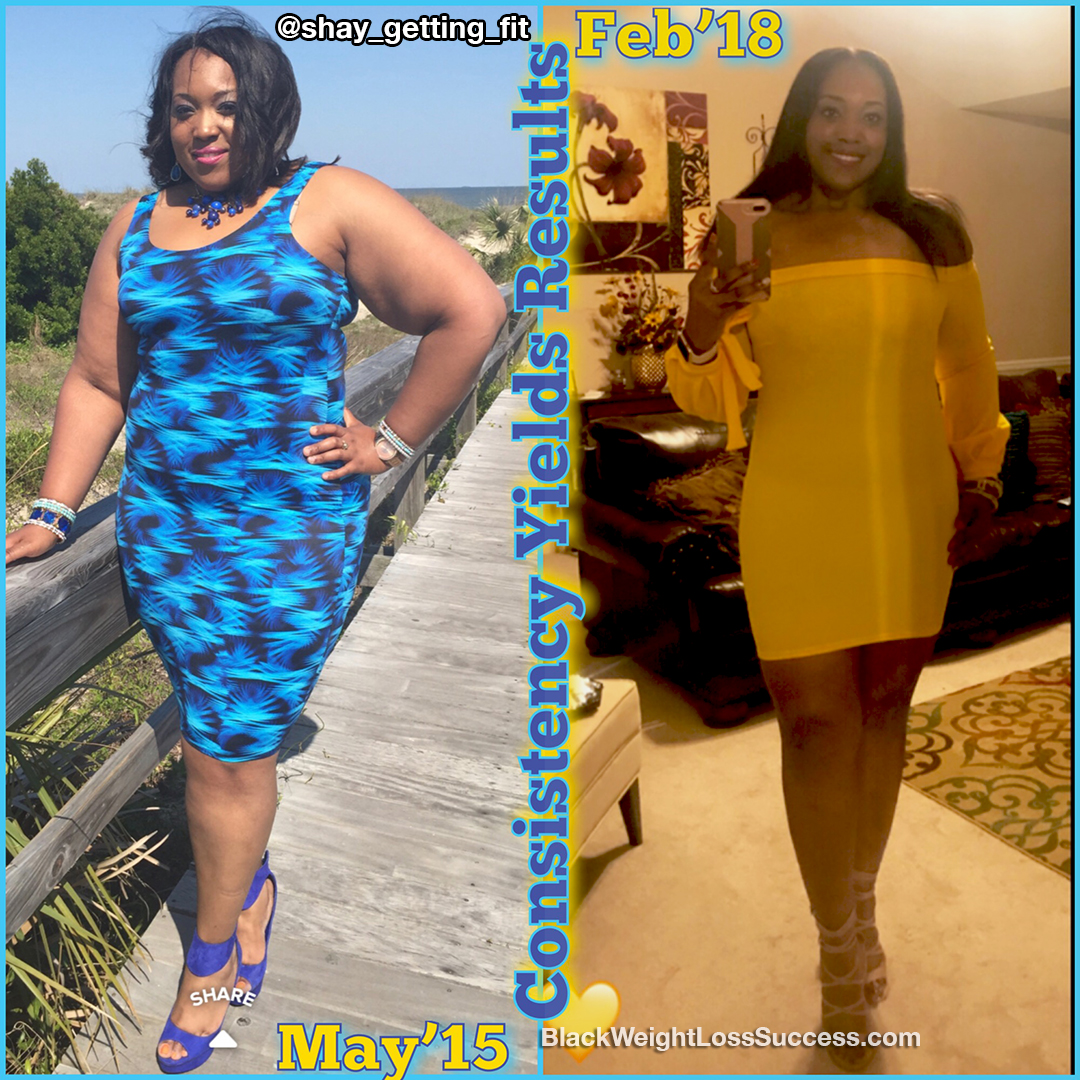 What was your motivation? What inspired you when you wanted to give up?
I sick and tired of being overweight. I looked in the mirror and I no longer knew who I was. I was so accustomed to giving to everyone else that I neglected myself.
When I wanted to give up, I remembered my life at 308 pounds. I remembered how sluggish I was and how unhappy I felt about my body image. I thought about how hard it was to find clothes to fit me. I truly hated shopping in stores because I never could find anything that looked good on me. I utilize my progress pictures daily to keep me motivated and humble. They are a reminder of the hard work I've put in on this journey
How did you change your eating habits?
I started counting calories and eating small portions. This was helpful, but what really assisted me was Intermittent Fasting. I fast between 18-24 hours a day for detox, meditation and weight loss purposes. I have been doing intermittent fasting for 11 months. When I'm done with my fasting period, I still eat healthy food, such as a lean meat and green veggies.
I stopped drinking my guilty pleasure: Mountain Dews and had lemon water instead. I also gave up my daily fix of french fries or some type of potato (I love potatoes). I drink a gallon of water daily to ensure  that I'm cleansing my body of toxins. I often eat salmon, tuna or ground turkey along with some type of green veggies. I'm a picky eater, so I eat the same foods, day in and day out.
What did your workout routine look like?
My workout routine consists of me working out 4-6 days a week. I started by walking 2-3 miles a day and riding the bike for 2 miles. As the weight slowly started to drop, I incorporated incline walking for 30 minutes as well some other type of cardio, such as the bike or elliptical trainer. After 3 months, I lost over 20 pounds and joined a bootcamp for 3 months. This is where my passion for fitness resurfaced.
My trainer, Crystal, always provided vigorous and challenging workouts that pushed our bodies to the limit. I dropped an insurmountable amount of inches during this period. After boot camp, I joined a cycling class and incorporated strength training into my routine for about 5 months. I like to change up my workouts continually because it's helps to put the body in shock and surpass plateaus. After months of cycling, I challenged myself to start running. I always enjoyed the after feeling of running but was never able to run long distance at a nice speedy pace. In June 2017, I remember walking a lap and then testing my body to see if I could run the next lap and the next lap. Eventually, I completed the entire mile. I was so surprised that I could run that I continued running each day afterwards just to keep up my momentum and help increase my speed. Now, I'm running 3-6 miles nonstop at a pace of 10:00-10:15mph. I work out 4-6 days a week. Running is such a natural fat burner. It was the push my body needed to continue to transform.
What was your starting weight? What is your current weight?
My starting weight was 308 pounds and my current weight is 210 pounds. I'm 5'9″. All Natural Weight Loss – No weight loss surgery.
When did you start your journey?
I started my journey on February 7, 2015, so it's been 2 years and counting.
What is the biggest lesson you've learned?
The biggest lesson I've learned is to Believe in Yourself, Trust the Process, Put in the Work, and Be Consistent with your actions. Weight loss starts mentally. Once you change your mindset, losing the weight is easier. The transformation starts inward and then it spreads outward.
What advice do you have for other people who want to lose weight?
Never compare your day one to someone else's day 365. You will not have the same results as someone else. Never mind any critics, because they'll be asking how you did it when they see the results. People tend to think that the only way you can lose weight is via surgery. I want to be the testament that you Do Not have to surgery to get the job done.
If you are consistently eating healthy and working out, in due time you'll see results. (it won't be overnight and it may take months) Once you see results, that will be the fuel to your motivation. Make up in your mind that this is a lifestyle and just have fun with it! Fall in love with fitness and it won't seem like such a hassle! When you lose your motivation, dig deep and let your determination kick in because it will take you far on this journey! Whatsoever you set your MIND to, you shall attain!
Instagram: @shay_getting_fit