Transformation of the Day: Mahaba lost 32 pounds and gained lean muscle for a toned physique. 3 years ago, she had no idea how powerful using weights could be. Now, she has transformed her body with clean eating, high intensity interval training and weight training. Check out her journey.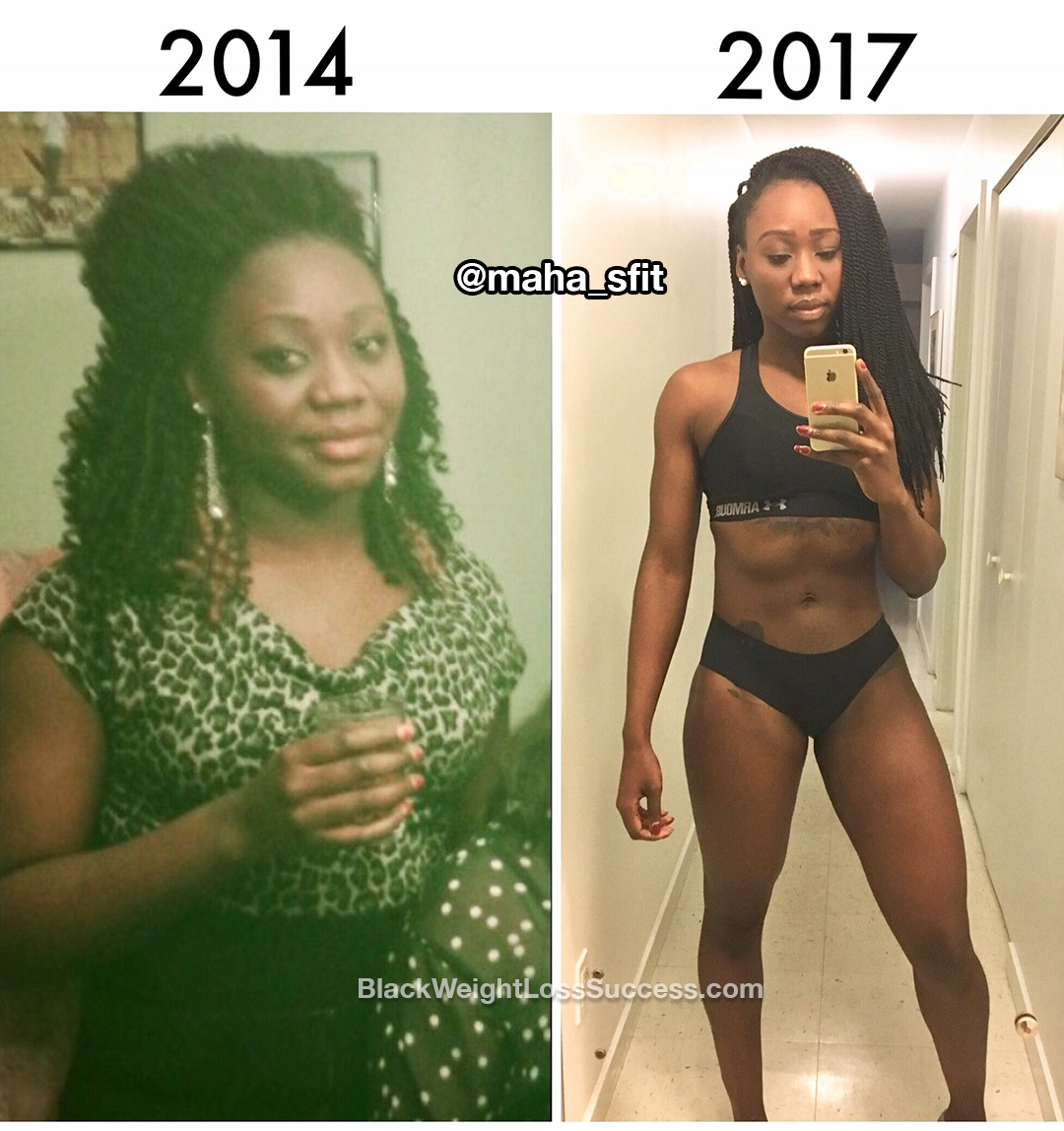 What is your starting and current weight? How long did your tranformation take?
I started my journey at 187 pounds and I got down to 155 pounds. Then, I focused on muscle gain and gained lean, healthy weight. I'm 5'11″ and currently weigh 170 pounds. I've been training for 3 years, but the majority of my weight loss took two and a half months. From 2014 to 2015, I wasn't consistent at all but I managed to lose about 12 pounds. In 2015, I lost 20 pounds, going from 175 pounds to 155 pounds (in 2 1/2 months).
How did you change your eating habits?
I used to eat junk food almost everyday. That's what caused my weight gain. Changing my eating habits was the biggest factor in my weight lost. I was eating pretty clean, which means no processed food. I cooked my meals. I ate veggies, fruits, whole grain foods and food that is high in protein. I still enjoy pizza or cakes sometimes, but I eat healthy most of the time. I think that is the key to maintaining healthy eating habits, It's all about finding a balance. Eat healthy, but allow yourself to eat a piece of cake or slice of pizza from time to time.
What did your workout routine look like?
I did weight training 3 times a week and cardio 3-4 times a week. My cardio mostly consisted of HIIT (high intensity interval training). There were and there still are days when I don't want to train at all. However, when I take a look at my old pictures and see how far I've come, I regain my motivation and tell myself that every workout gets me one step closer to my goal. I'm now trying to gain lean muscle with as little fat as possible, so I do weight lifting 4 times a week and HIIT cardio twice a week to minimize fat gain. I train specific body parts on different days. For example, glutes and shoulders on Monday, back and arms on Tuesday, quads, chest and calves on Wednesday.
3 years ago, I had no idea that you can transform your body by lifting weights. I thought working out meant doing only cardio. I slowly learned a lot about training and nutrition by reading books, reading blogs and watching videos. I started my fitness  journey in 2014 after realizing that I was overweight and I wasn't consistent at all during the first year. I was only training when I felt like it and wasn't really eating healthy. In 2015, I decided it was time to stop playing around and I became more dedicated. I've been consistent for 2 years and all I can say is that every minute spent at the gym worth it.
What advice would you share with other people who want to lose weight?
My advice to anyone who wants to start training is don't be afraid to be a beginner. You'll learn. We all start somewhere. You can start by changing your diet. That's the biggest step. Start watching home workouts video on Youtube and train at home. Also, don't be afraid to get a gym membership. Everybody there is trying to become better and no one will laugh at you for trying.
Instagram: @maha_sfit