Update Oct 2015: Debra shared her story with us in 2013 and now she's given us an update. She's down 10 more pounds, recently ran a half marathon and is still off of high blood pressure meds. – "I shared my story with your page a while back and I just wanted you to know that I am still going strong. I've been on this fitness journey for 4 years now. However, it has been 3 years that I've been off blood pressure medication. Also, I just ran my first half marathon. Woot woot! I have lost a total of 50 pounds so far. I still meal prep because it keeps me accountable, and still workout about 4-6 times a week. Your page continues to inspire me to keep going, so I just wanted to say thanks again for the inspiration!"
Feb 2013 – Debra lost 40 pounds and got off blood pressure medication by embracing running and joining Weight Watchers.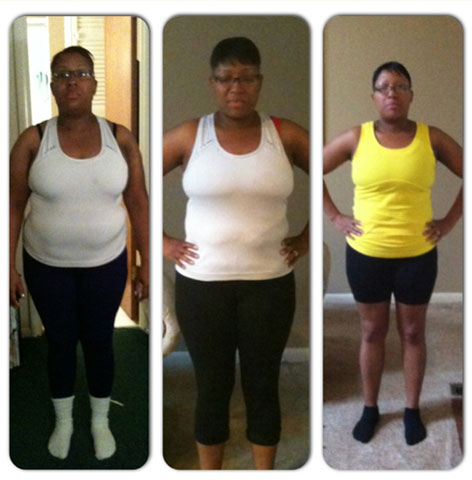 She wrote to us about her weight release story:
"Here's my story…I have struggled with my weight for years.  It wasn't until I was placed on blood pressure medicine that I knew I needed to change my habits. My doctor told me the only way to get off of them was for me to lose weight, and maintain the weight lost. That was my mission…to get off that medicine. It was June of 2011 when I started the blood pressure medicine. I began July of 2011 with my journey (1st pic). The middle pic is July of 2012, and the third pic is Jan 2013. Oh and by-the-way I have been off my blood pressure medicine for 5 months now.
I joined Weight Watchers in 2011. In the beginning, I was not consistent with the plan and my weight loss wasn't happening so I stopped going. In February of 2012 I rejoined and have been consistent. In April of 2012 a friend and I decided to run a 5k. We planned to run it late that summer. So I started training by using the app Couch to 5k. Running the 3 days of week really kicked my weight loss into gear along with making healthier food choices. We ran the 5k in late August and we completed the 3.2 miles in 35 minutes…for us that was great for our first race. I have continued to run to help maintain my weight loss. I have never felt better. In addition, it's pages like BWLW that help to encourage and inspire people to get healthy. Thanks for providing a platform for people to share their stories."