Today's weight loss success story: Donesha lost 59 pounds with the help of a personal trainer.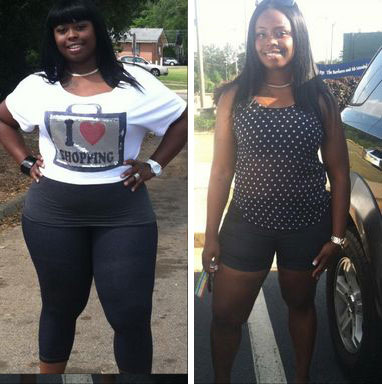 Here is what she shared with us:
"My name is Donesha Bolden and I am a 33 year old teacher in the Atlanta area and I was asked to share my story with the Black Weight Loss Success Site by one of my high school classmates. I try to post daily inspiration to my friends on Facebook as I am on this journey to a healthy life. My media specialist encouraged me to share my story with the AJC newspaper in Atlanta and they accepted and published my story.
I stated out at 215 pounds in October 2011 and I started working with my trainer as well as doing Insanity within my home. I felt a sense of comfort at home with the insanity program because I could be myself while working out. I lost over 30 pounds doing the 60 day program and my trainer Tissilli Rogers helped me keep everything TIGHT. I have since been working with Tissilli on my goal weight of 160 and I reached that weight in December 2012. I am currently 156 pounds with a total loss of 59 pounds. Tissili wants me to weigh 150 pounds so I am currently working on her goal for me. I go to the gym 5 days a week at 5:00am and run two miles, squats, leg press and abs. I am currently enrolled in Tissilli's "Show Ready" group where we train at a high level with weights and cardio. That class takes place on Tue/Thur at 6:00 pm. On the weekends I take part in Tissilli's Tred and Shed class as well as her Buns Buster Class. I have a new found love for running and I am preparing for my first race soon. I realized that it was time to get healthy and that is and always be my goal. I no longer eat for taste I now eat for my health. I can truly say that I am addicted to working out. I pray my story is an inspiration to someone who doesn't think they can make It happen because with dedication, will power and ambition anything is possible."