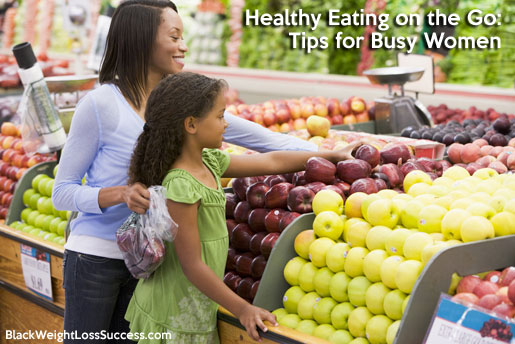 Eating nutritiously has long been a mainstay of remaining in optimal health. This is something we all know. However, as schedules have gotten busier, women have found that eating healthy is not always the timeliest option. After all, between professional responsibilities, hobbies, significant others, children and myriad extra-curricular activities – all that is to be done in a day can easily fill up 24 hours and then some. This means eating healthy may be at the bottom of the to-do list. Breakfast becomes a cup of coffee, lunch is had from the nearest drive-through and dinner is delivered or picked up on the way home. The good news: there are some healthier options other than take out and convenience food for women on the go who may be pressed for time when it comes to meals. Consider these healthy eating tips:
Choose fast but healthy: A 2015 Food and Health Survey determined that 31% of American meals are consumed in the car. The bottom line is that sometimes, there is no avoiding fast food. That being true,  make it the healthiest option available to you. Instead of a burger and fries, try a grilled chicken 6-inch sub on wheat bread or from the local grocery store deli counter. Skip over extras like mayo and replace them with spicy mustard and tons of green veggies. If you are craving a burger, consider opting for a veggie burger or replacing the bun with lettuce, when possible (depending on your eating goals). Go for untried veggies or apple slices over fries (or just omit a side of extra carbs). Replace sugary sodas or juice with water. If you need breakfast on the go, grab a whole grain english muffin with egg whites with your coffee and skip the bagel and cream cheese.  The number one tip in this area: Do your research!  You can visit various restaurant sites online and review the nutrient and calorie information for the foods you eat.  No excuses and no surprises.  Meals on the go can fit into your overall eating goals.
Engage in meal planning: If you are completely adverse to the idea of going through any drive-through (which can be a good thing), then you just need to do a bit of at-home prep to eat healthy on the fly. If you plan meals a week at a time or a few days at a time, you are less likely to find yourself hungry with few options. Just make sure to vary your menus; if you get stuck in a rut eating the same thing all the time, chances are good that you are more likely to start abandoning your planned meals in favor of pizza delivery. People get bored at times and variety can help keep you interested.
Get your family involved and educate them about healthier eating. They can help with meal planning and meal prep to make cooking/prep time go faster.
Use spices – even exotic ones – to jazz up otherwise bland dishes.
Incorporate veggies and proteins that you don't normally use.
Experiment with healthy starches like bulgur or quinoa.
Use your Crockpot to save cooking time – you can simply add your ingredients in the morning and come home to a fully-cooked meal after work.
Invest in containers and insulated bags to keep your food fresh on the go.
Cut up fruits and veggies and always have at least a sandwich bag of healthy snacks that you can go to instead of less healthy snacks on the go.
Keep your fridge stocked with easy snacks: The best way to eat healthy is keep nutritious choices at the ready. Slice carrots and celery and store them in plastic baggies. Keep nuts, raisins and dried berries for an instant energy fix. Avoid sugary granola and energy bars, as the influx of sugar can cause your energy to bottom out after your blood sugar drops. Opt for whole food snacking choices when possible.
Eliminate added sugar where possible: You might be surprised to find out how often added sugar pops in your diet. Enjoy sweetened cereal or coffee with creamer and sweeteners at breakfast? Perhaps a fruit cocktail with your lunch salad? Or maybe you down a can of Coke and energy drink after lunch for an afternoon boost? These are all sneaky ways that sugar enters your diet. Opt for whole foods where possible; this doesn't have to be a time-consuming endeavor. Nestle, for instance, now makes a natural creamer with minimum added sugar for your coffee. Instead of canned fruit cocktail, slice some bananas and strawberries for a whole fruit option and swap out the can of Coke for black coffee (if you need the caffeine) or a big glass of caffeine free tea.
Stay hydrated: Hunger pangs can sometimes be misinterpreted; your body may actually be trying to tell you that you're thirsty. Drink water throughout the day, starting with a nice tall glass when you first wake up in the morning. You are less likely to overeat or reach for unhealthy snacks if you are properly hydrated.
Treat yourself: This might seem like an odd inclusion on a list of healthy eating tips, but the fact is that regular treats are an important part of a healthy eating regimen. After all, not only are you learning to choose more nutritious options, but also you are learning moderation and portion control. Small indulgences are fine – in moderation. In fact, some indulgences – such as dark chocolate, for example – have nutritious properties. Treating yourself is an important part of maintaining a balanced diet. The key is that you can't let your cheat meals turn into cheat weeks. That is where planning and goals come in.  Having a clear understanding of how your cheat meals figure into your overall goals for your intake of protein, fat, sugar, fiber, carbs and sodium is key.  If you don't have goals in mind and limits in mind, then how do you really know that you are eating in moderation.