Update: Bianca lost 15 more pounds for a total of 50 pounds gone.
After two months out of the gym and getting adjusted to the new "normal" of this pandemic, I gained weight, lost muscle, and felt pretty terrible about it. I developed a toxic relationship with food because I felt like all of the hard work I had put in before Covid had been for nothing.
Fortunately, I was able to dig deep, hold myself accountable, and make some much-needed changes. As SOON as the gyms opened back up, I started training four days a week. With my trainer's help, I was able to repair my relationship with food and get back to lifting heavy. I started consistently tracking my macros and being really intentional about getting back to a healthy lifestyle.
I feel amazing, both mentally and physically, since getting back into the swing of things. I'm not quite where I want to be or where I had hoped to be at this point before this pandemic. However, I am very proud of how quickly I have snapped back from a pretty tough situation. I look forward to all that the future holds, including my next powerlifting meet. @bia_merc
---
Transformation of the Day: Bianca lost 35 pounds. Six months ago, this Navy veteran joined a powerlifting gym and hired a trainer who helped her changed her eating habits. She will compete in her first powerlifting meet next month. Check out her story.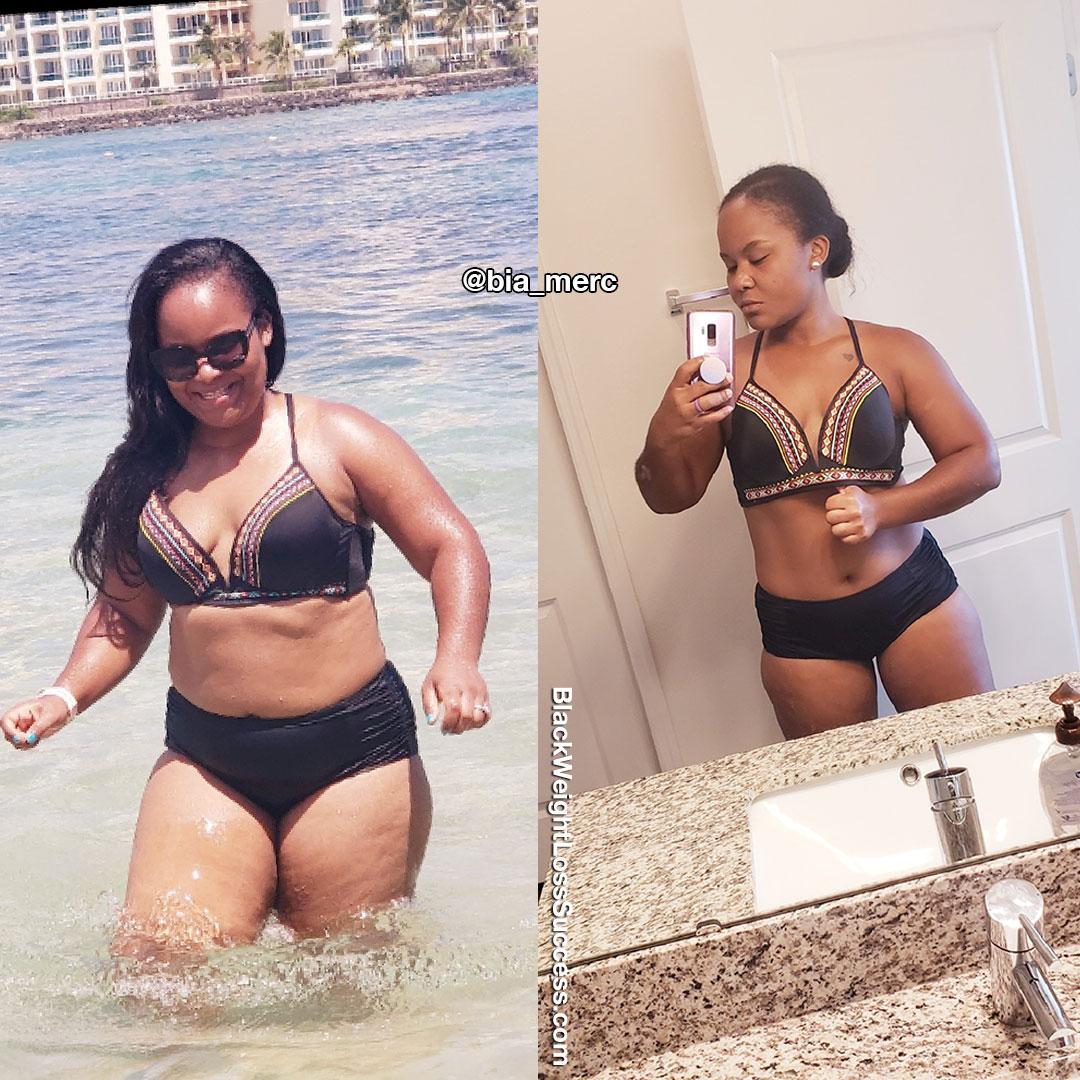 I am a wife, Navy veteran, and mother of a two-year-old son. After getting out of the Navy and having my son in 2017, I was in a miserable place both mentally and physically. At 5'7″, I was heavier than I had ever been in my life. I was also struggling with all of the transitions I was experiencing in my life at the time. I started college using my GI Bill, and things only got worse. I used the fact that I was so busy as an excuse.
Six months ago, I finally decided to make some serious changes in my life. I hired a personal trainer and started working out with her four times a week at a powerlifting gym in my area. Once I got into the habit of simply making it to the gym each day that made every other aspect of this journey that much easier.
I changed my diet so that all of the hard work I was putting in wouldn't go to waste, and I changed my perspective on working out. I put in 110%, and I consider being active and fit to be a privilege because some people have disabilities that don't even allow them to move. I also decided that I was going to make the best of my life since some people aren't blessed to wake up in the morning.
Here I am six months later, STRONGER, 35 pounds lighter, and getting ready to compete in my first powerlifting meet next month.
Eating Habits: In the beginning, I changed my eating habits by following various healthy cooking/eating pages on Instagram since I spend a lot of time using the app. I also began writing out grocery lists based on the low carb meal plan my trainer gave me. I do not keep anything in the house that will tempt me, and I prep my meals in advance. I cut carbs, sugary drinks, sugary foods, and fatty and fried foods.
After a few months on the plan my trainer gave me, I decided to go Vegan. It makes eating and preparing food fun, in my opinion, because it forces you to do some work in the kitchen and eat fresh, REAL food.
Workout Routine: Initially, I did a lot of HIIT, cardio, and some weight training. As I progressed, I decided to seriously get into powerlifting, and I am hooked! I am excited to be competing in my first meet next month. My training for the past few weeks has been competition prep plus cardio, with one day of circuit training per week.
Biggest Lesson: The biggest lesson I have learned throughout this journey is that the inner work is more important than ANYTHING you do in the gym. Most of us who have struggled with our weight may also struggle with self-esteem, depression, and anxiety. While working out definitely has a positive impact on those things, you still have to do work outside of the gym to combat them. You can lose weight and change what you look like on the outside but still be in shambles inside, so DO THE WORK.
Advice: My advice to women who want to lose weight is do not be afraid to start. I remember feeling fearful and ashamed of how far I had let myself go. I took a leap of faith, pushed through, and here I am. I can't imagine where I would be today if I hadn't.
Never give up. You can do anything you set your mind to if you want it bad enough.
Instagram: @bia_merc