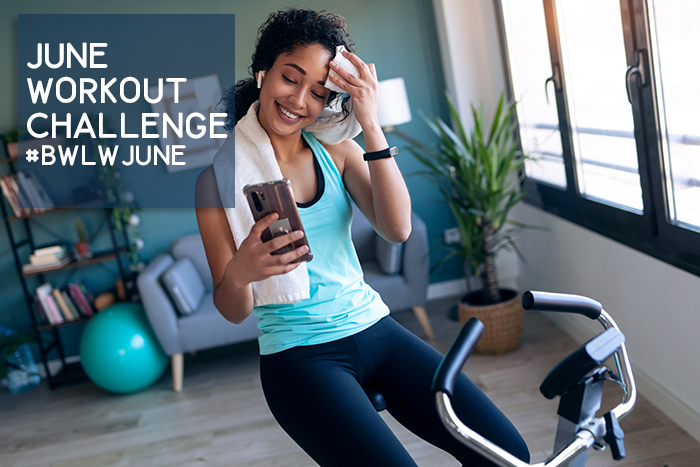 Let's work out for a minimum of 21 days during June 2021. This is a very flexible challenge. You choose the 21 days, and you choose the workouts. No excuses!
You'll find the daily tracking calendar for June below. Include the Exercise of the Day listed in the calendar as part of your regularly scheduled workout for that day, or complete the daily task in addition to your workout. Work out at your own pace.
This challenge is all about Consistency. We want you to make fitness a priority in June and commit to working out on a regular basis. Many of us fell out of a routine of going to the gym and being active during the lockdowns. Now is a great time to get back on track. Work out at home, at the gym, outside… just get active.
We will post a daily encouragement post every morning, June 1 – 21, on Facebook and Instagram. We would love to get your feedback and hear about how you are doing during the challenge. 
Goals:
Exercise for at least 21 days during the month of June and keep track of your workouts. (minimum of 30 minutes per workout.)

If the 

Exercise of the Day

 is not an exercise you can do, pick another exercise. (We have posted videos of all the exercises.)

We suggest that you take at least one rest day per week.

Stay hydrated: Drink at least 64 oz of water each day. (If you drink much more than that or have medical limitations (due to kidney issues or other ailments), that's ok. Do what works best for you.)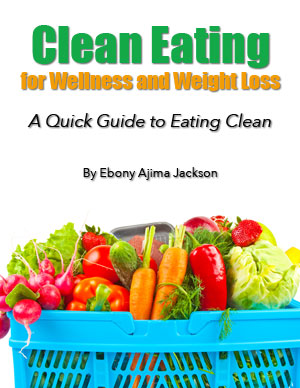 What should you eat during this challenge? If you have a nutrition plan/diet that is working for you, stick with it. If you don't have a plan, start with the basics – Clean up your eating habits and eat more healthy, whole foods. If you would like to learn how to cut out processed food and fast food while not feeling deprived, read our helpful E-Book, "Clean Eating for Wellness and Weight Loss".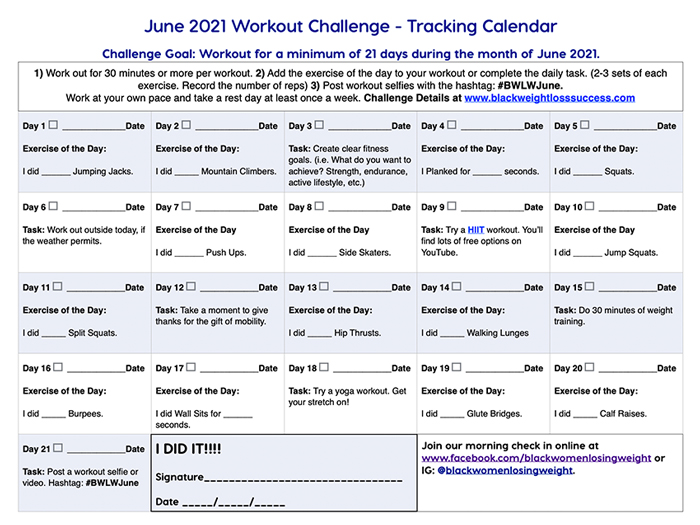 Leave a comment
below and tell us why you are joining this month's challenge.
Disclaimer: Before starting any exercise program, please consult with your doctor. We cannot be held responsible for any injuries resulting from attempting this exercise routine. If you have injuries that could be worsened, are pregnant, have knee issues, or are suffering neck and back pain, you should speak with a professional trainer about what workouts would be best for you. Do not attempt if you have current injuries, past surgeries or other physical issues/health issues that could be affected by exercise. Don't forget to stretch before and after working out to avoid injuries.  If you feel pain or severe discomfort, stop.