Transformation of the Day: Jamya lost 20 pounds. When she began her first year in college, she decided that she would reverse the idea of gaining the Freshman 15 by losing weight instead. She learned how to release the weight in a healthy and practical way. Now, this 20 year old fitness enthusiast is aspiring to become a certified personal trainer. Check out her story.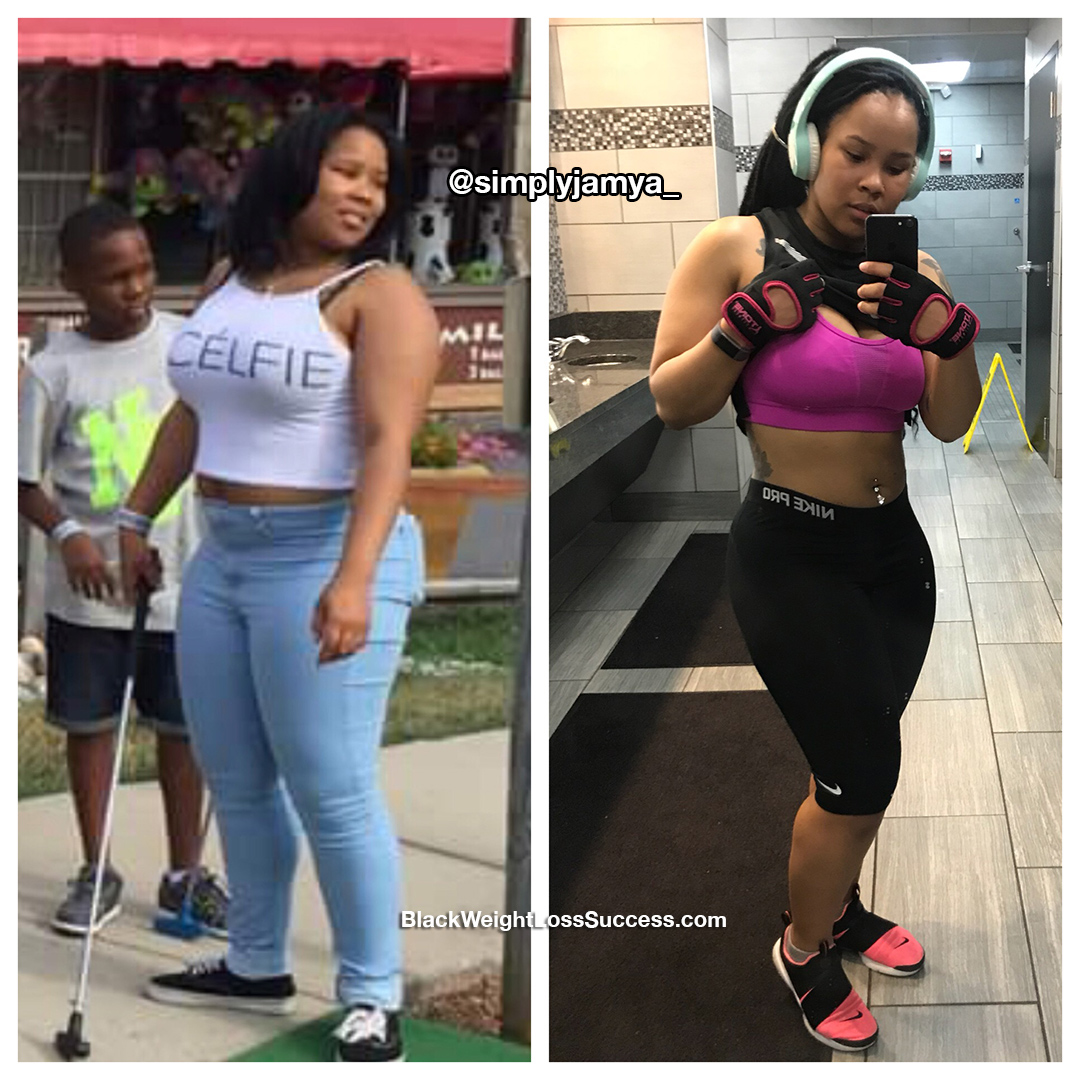 What was your motivation? What inspired you to keep going when you wanted to give up?
My motivation was my health and wellness. I started my journey in 2015 when I went away for my first year in college. I told myself I was going to completely reverse the idea of gaining the Freshman 15. I was at my heaviest at the time, weighing 174 pounds at 5'1″. I didn't realize how heavy I had gotten over the years and that number scared me. So, I made the necessary changes to fix my life.
What inspired me whenever I felt like giving up was my weekly progress pictures. Sometimes I would look in the mirror and see no changes, but my before and after pictures really helped keep me going. I was also inspired by the way I was feeling about life as well.
How did you change your eating habits?
I tried many fad diets in the past… probably every one you could think of. It wasn't until I did real research that I learned that those diets only work temporarily. I was practically starving myself, especially since I would go cold turkey. I'd also eat junk food all week and start a diet on Monday. My body wasn't reacting well to those dramatic changes so I started out with small, simple changes, such as cutting out soda, cutting out fast food, swapping white flour with wheat flour and drinking more water. I used MyFitnessPal to track my calories, which also helped me drop the weight fast.
What did your workout routine look like?
When I started working out three years ago, I did the basics. I used the elliptical, the treadmill and the bicycle. I did 2 rounds of Jillian Michaels 30 Day Shred program and that definitely helped me begin to get definition in my body. I worked out 5 times a week, Monday-Friday and took the weekends off. Now, I do a lot of HIIT training, heavy lifting and have hired two personal trainers. Now, I work out 6 times a week and I have a passion for running as well.
What was your starting weight? What is your current weight?
My starting weight was 174 pounds. My current weight is 154 pounds.
How long did your journey take?
Started my journey in 2015, so this transformation took 3 years.
What is the biggest lesson you've learned so far?
The BIGGEST lesson I've learned: Don't beat yourself up about a day when you eat a bad meal or miss the gym. I used to be so hard on myself whenever I felt like I messed up. What I used to do was continue with the bad habit that I picked up for one day, which resulted in more weight gain and anger with myself. I've learned that everyone has off days. Self discipline is about having more On days than Off days. If you get off course, just restart with the good habits that you've taught yourself and keep working towards your goals.
What advice would you share with other people who want to lose weight?
Take the time to really figure out why you want to lose weight or live a healthier lifestyle. Nobody else's transformation or journey will tell you your Why. Your Why is what's going to keep you pushing and motivated. You must have the motivation to keep going. Use your resources, the people around you and amazing social media sites (like Black Women Losing Weight) as motivation. DON'T GIVE UP!
Instagram : @simplyjamya_