Transformation of the Day: Gwen lost 62 pounds. After being diagnosed with Type 2 Diabetes, she took her meds, checked her blood sugar and went to doctors appointments for years. One day, she decided it was time to take control of her health through exercise and clean eating. Now, her diabetes is under control and she's never felt better. Check out her journey.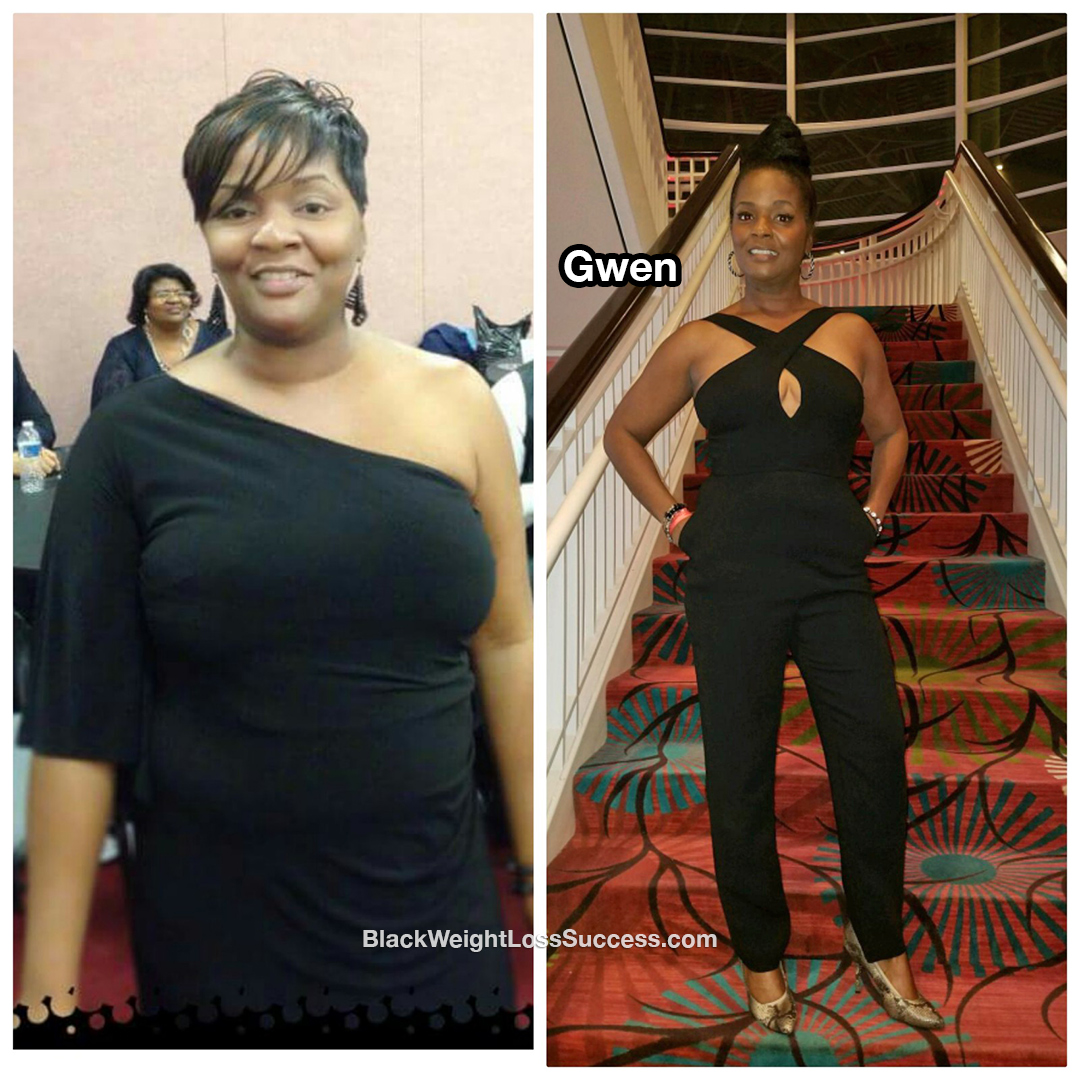 What was your motivation?
I was diagnosed with Type 2 Diabetes in 2005 and prescribed Metformin. I was taking two pills a day to regulate my blood sugar. I was also given instructions to check my blood sugar each morning and follow a nutritional meal plan. For years, I went to doctor appointments and sat in the waiting area. I began thinking to myself, "How did I get here?" One day, I decided that the doctor's office was not a place for me.
I loved myself enough to take control of my health by taking control of my life. I found motivation in the fact that I have a family who needs me. When I wanted to quit, I reminded myself of the reasons that I was on this journey.
What did your workout routine look like?
I started this process by incorporating exercise into my weekly routine. I started attending boot camps and walking/running at least 3 times a week. Later, I developed a love for working out. I started working out 6 to 7 days a week. Many times, I did 3 workouts in one day. My workout routine included Spin class, Zumba, Sha'bam (hip hop cardio), kickboxing and weight training. Now, I workout consistently on my own. My current routine is made up primarily of cardio and weight training. I workout for at least an hour and a half, 5 to 6 days a week.
How did you change your eating habits?
I would eat clean 5 days a week. On the other 2 days, I would eat what I wanted and I viewed this as a reward. I later hit a plateau. A few months ago, I reached out to a trainer who developed a clean eating meal plan especially for me. Now, I allow myself to have a cheat meal once a week. During my first month on this plan, my calorie intake was 1400 per day. I lost a total of 4 pounds. During the second month, my calories were reduced to 1240 calories a day. I struggled with the reduced calories at first, but I continued to work hard at it. I have lost an additional 5 pounds. I eat plenty of vegetables, sweet potatoes, grilled chicken, tuna and ground turkey. I limit my fruit intake due to high sugar content. I drink plenty of water and 0 calorie tea.
What was your starting weight? What is your current weight?
My starting weight was 223 pounds. My current weight is 161 pounds. I'm 46 years old and my height is 5'6″. I've lost a total of 62 pounds. Presently, I am not on any medications. My diabetes is well under control since I lost weight. I love the improved me. I have more energy and I feel great!
How long did your transformation take?
I started my journey in 2007, but I wasn't consistent until 2014. My transformation has taken 4 years and I'm still not at my goal. My mindset has changed about weight loss along the way. I am not focused on my weight or on what the scale is saying as much as before. I am focused on toning my body.
What's the biggest lesson you've learned so far?
The biggest lesson I've learned on this journey is that it's difficult to change old habits, like bad eating habits and making poor choices. (I call this unclean eating.) You can eat clean and overeat at the same time, but you'll get little to no results. Clean eating, portion control and working out goes hand in hand for effective weight loss.
What advice would you share with other people who want to lose weight?
My advice for people who are thinking about losing weight or those who are currently on their weight loss journey: Stay consistent and the results will come. It is not easy but it's definitely worth it. Accountability partners can help when you are all on the same journey. Like minds achieve much!
If I can do it! So can you!