Update Aug 2021: Shout out to Dorothy! We featured her story in September 2020 after she lost 65 pounds. She has maintained her success by watching what she eats, working out, and being consistent.
Whenever I am being hard on myself, I look at old photos and remind myself how far I've come. Playing sports in middle school, high school, and college really got me in shape. However, once I stopped playing sports, then boom, I gained all this weight. I will never allow myself to fall into that hole again. I'm still not perfect and will never be. With that being said, it's very important to stop being our own worst critic and learn to celebrate minor and major milestones. 
What is your current weight?
I weighed 220 pounds the last time I weighed myself, which was a few months ago.
How have you maintained your weight loss/continued to lose weight?
I have been able to maintain my weight due to watching what I eat and working out a lot—especially weight training. 
Of the lessons you've learned on your journey, which one stands out the most at this point?
I've learned that it's a process, and timing is key. The most important lesson I've learned so far is to STOP depending on the scale. I have not weighed myself in few months, and for the very first time, I feel free. I can eat healthy and have cheat meals without being scare to step on a scale the next day. – @dbodied_fitness 
---
Transformation of the Day: Dorothy lost 65 pounds. Every year, she would restart her weight loss journey, but she'd eventually fall back into unhealthy habits. In February 2020, she broke the cycle and learned the power of consistency. Weight training and whole food-focused eating worked for her.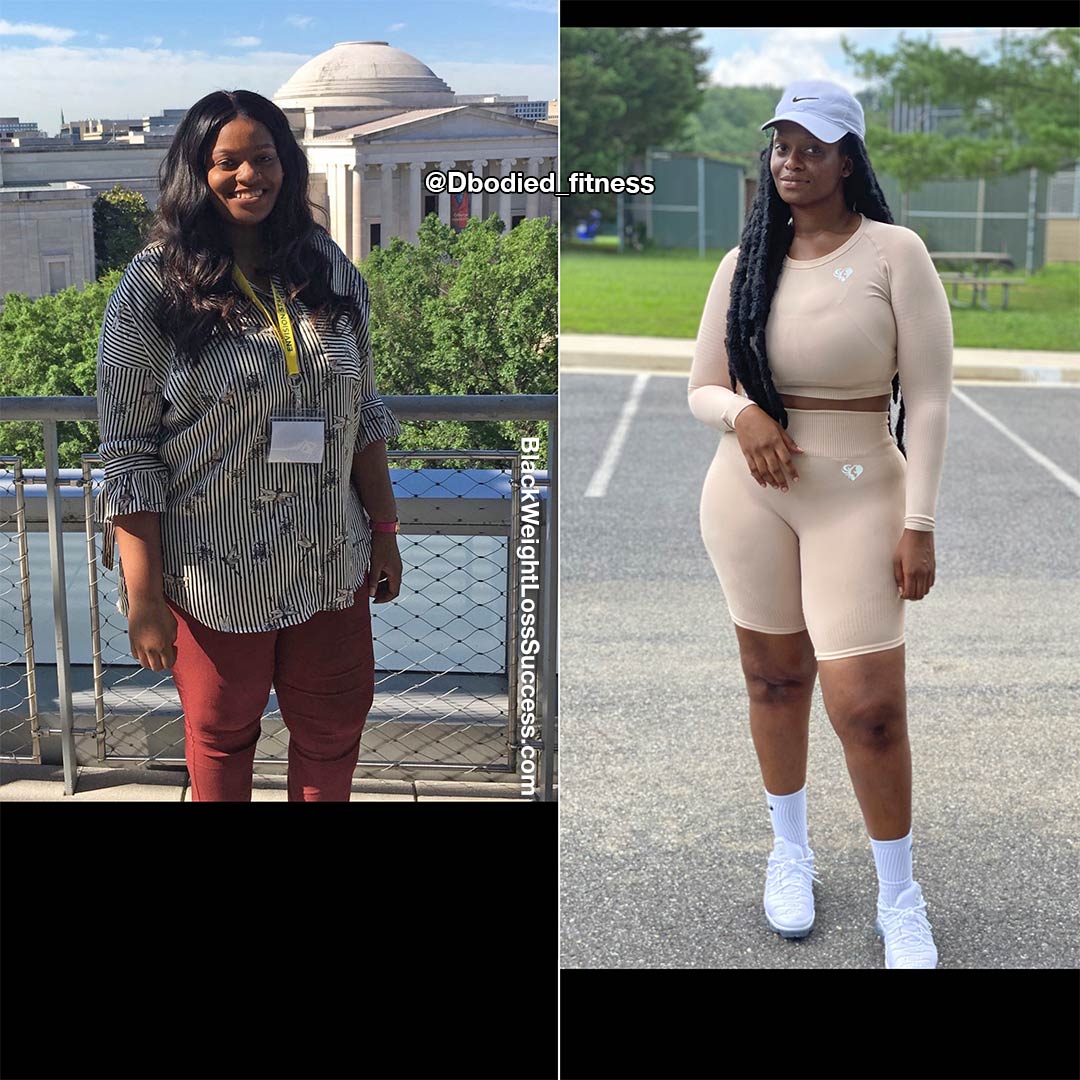 What was your motivation? What inspired you to keep going, even when you wanted to give up?
Every year, I began a weight loss journey, and every year I would never accomplish my goal because I fell back into old habits. I would always work out and then give up.
I took things seriously this year. My journey started in February 2020. This time around, once I kept seeing the weight drop off, I knew giving up was not an option. 
How did you change your eating habits? 
I tried the Keto diet. It worked for a while, but eventually, I stopped. Then, I started doing the Whole30 diet, and that changed my eating habits. I stopped eating fast food and eating out in general. When I do eat out, I make sure that it is a low carb meal. In addition to this, I cut out rice, bread, pasta, sugar, juice, dairy, and potatoes. 
What did your workout routine consist of? How often did you work out?
I work out 5-6 days a week, and I focus on strength training. 
What was your starting weight? What is your current weight?
In August 2018, I reached my highest weight of 281 pounds. During February, I weighed 272 pounds, and now I weigh 216 pounds.
What is your height?
5'10"
How long did your transformation take? 
In August 2018, I weighed 281, and then I lost 45 pounds. However, I gained it all back. As I noted, I started again in February, and I currently weigh 216 pounds (the smallest I have been). It took about seven months of consistency to achieve this goal. I have 15 more pounds to lose. Then, I will be at my goal weight. 
Is weight loss surgery part of your journey?
No! It was done naturally.
What is the biggest lesson you've learned so far? 
I have learned that when it comes to your weight s journey, there are no short cuts. Consistency has been my new favorite thing to keep up with. Also, diets are only difficult if you don't try various recipes that work for you.
What advice do you have for women who want to lose weight? 
Just stop overthinking it and go for it. It will not be easy, but I promise you that the experience will change you for the better. 
Thank you @blackwomenlosingweight, for creating a platform for women who look like me who are losing weight. I feel motivated by watching other black women lose weight and feel confident.
Instagram: @Etureellis
My fitness IG: @Dbodied_fitness